19th Century Europe: A Cultural History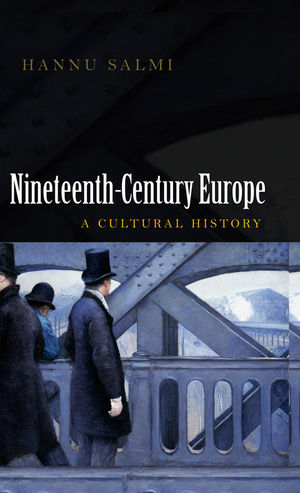 19th Century Europe: A Cultural History
ISBN: 978-0-745-65859-9 April 2013 Polity 200 Pages
Description
Nineteenth-Century Europe
offers a much-needed concise and fresh look at European culture between the Great Revolution in France and the First World War. It encompasses all major themes of the period, from the rising nationalism of the early nineteenth century to the pessimistic views of fin de siècle. It is a lucid, fluent presentation that appeals to both students of history and culture and the general audience interested in European cultural history.
The book attempts to see the culture of the nineteenth century in broad terms, integrating everyday ways of life into the story as mental, material and social practices. It also highlights ways of thinking, mentalities and emotions in order to construct a picture of this period of another kind, that goes beyond a story of "isms" or intellectual and artistic movements.

Although the nineteenth century has often been described as a century of rising factory pipes and grey industrial cities, as a cradle of modern culture, the era has many faces. This book pays special attention to the experiences of contemporaries, from the fear for steaming engines to the longing for the pre-industrial past, from the idle calmness of bourgeois life to the awakening consumerism of the department stores, from curious exoticism to increasing xenophobia, from optimistic visions of future to the expectations of an approaching end. The century that is only a few generations away from us is strange and familiar at the same time – a bygone world that has in many ways influenced our present day world.
Table of contents
Acknowledgements vi
Introduction 1
1 Industrialization: Economy and Culture 12
2 The Faustian Man: A Society in Motion 29
3 From the Cult of Genius to Worship of Art 43
4 On the Cultural History of Nationalism 58
5 A Century of Family and Home: Daily Routines and Country Excursions 72
6 Baudelaire in the Department Store: Urban Living and Consumption 88
7 The Breakthrough of Mechanical Reproduction 99
8 Colonial Culture and European Identity 112
9 Fin de Siècle: The End of a Century 124
10 Conclusion: 'Things to Come' 140
Notes 148
Bibliography 165
Index 184
Reviews
"A very readable and insightful introduction."
European History Quarterly
"Nineteenth-Century Europe's reworking of familiar textbook themes in the light of recent cultural history will doubtless win it a place on many reading lists."
English Historical Review
"[Hannu's] survey manages to compress a good range of concisely expressed insights into its limited compass. Among the most noteable features are its astute use of literary quotation and its consistent concern with the differences between male and female perceptions of the social and intellectual developments at issue ... it is also enlived by what most anglophone readers will encounter as some refreshingly unfamiliar citations of Finnish evidence."
History
"This concise but wide-ranging essay on the cultural history of nineteenth-century Europe is lucid, fluent, and written in an attractive, personal way, illustrating many arguments from well-known works of literature. The author's recurrent use of Finnish examples offers something new to readers from other parts of Europe."
Peter Burke, University of Cambridge
"Hannu Salmi's ambitious, brilliantly synthesized book on the innumerable cultural histories that constitute nineteenth-century Europe is to be recommended to specialists and non-specialists alike. Above all, its cosmopolitanism, and its vital attention to everyday lives as well as to the world-historical events that ultimately motivate them, make it an indispensable, and highly readable, introduction to this important field of scholarship."
Matthew Beaumont, University College, London
"This book is a thoughtful, well written and clear alternative to the standard textbook treatment of nineteenth century Europe. Unified in its vision, instead of the grand political narrative, it offers a rich survey of the perceptions and meanings that Europeans developed to make sense of a changing world. Salmi uses popular fiction of the day particularly well to illustrate his themes of modernization and its attendant anxieties."
Lenard R. Berlanstein, University of Virginia
Features



A brief history of one of the most vibrant periods of European culture.



Connects European culture of the period, including literature, art and philosophy, to broader themes of industrialisation, commercialisation and empire.



Written in a very fluid and readable style and brings in a wealth of cultural examples.



Will be ideal for fleshing out the cultural elements of a European history survey class, or as background reading for students of literature and art history.