2007 Microsoft Office System: A Resource for Teachers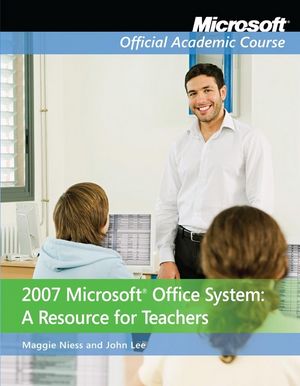 2007 Microsoft Office System: A Resource for Teachers
ISBN: 978-0-470-47114-2
Jan 2009
288 pages
Product not available for purchase
Description
Maggie Niess has written this text to be most useful for teachers beyond initial experiences within Microsoft Office 2007 applications. The first edition text is organized in two parts: Part I sets the stage to explore the applications and focuses on teaching and learning with digital technologies. Part II focuses on teaching and learning with the Office System, specifically working in Word, PowerPoint, Excel and Access.
1 Teaching and Learning with Digital Technologies 1
2 Microsoft Office—A Tool for Teachers and Students 16
3 Planning for Learning with Word 36
4 Guiding Learning with Word 64
5 Planning for Learning with PowerPoint 89
6 Guiding Learning with PowerPoint 106
7 Planning for Learning with Excel Spreadsheets 125
8 Guiding Learning with Excel Spreadsheets 159
9 Planning for Learning with Access Databases 196
10 Guiding Learning with Access Databases 218
Appendix 239
References 249
Index 250
Each chapter includes a "Chapter Challenge Problem" classroom problem, situation, or example to set the stage for the emphasis in the chapter.

Chapter Guiding Questions providing basic outlines of the important facts presented within the chapter.

Chapter Skills Matrix: in every chapter, the Microsoft Office 2007 basic features are summarized in a matrix form to provide a quick reference to  specific  ideas in the chapter.

Expand Your Digital Filing Cabinet: each chapter includes ideas you might consider for adding to your personal digital filing cabinet. These ideas are described in Resource Cards, Lesson Plans, or even in descriptions for you to put them in the form you prefer.

End-of-Chapter Activities. Each chapter concludes with:
      Practice Activities
      Reflection and Discussion
These activities provide learning challenges to extend knowledge and skills with the particular applications.