21st-Century Modernism: The ""New"" Poetics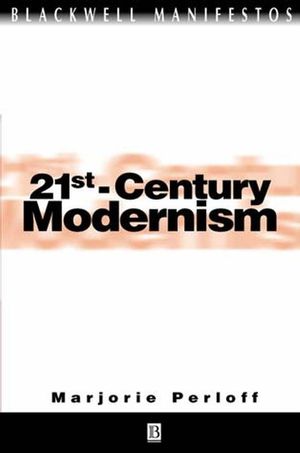 21st-Century Modernism: The ""New"" Poetics
ISBN: 978-0-631-21970-5 February 2002 Wiley-Blackwell 232 Pages
Description
This revisionist narrative of poetic change in the twentieth century challenges the accepted notions of what poetry is and can be in the new century and makes the case for the seminal place of poetry in contemporary culture.
Table of contents
List of Plates.
Acknowledgments.
Introduction.
1 Avant-Garde Eliot.
2 Gertrude Stein's Differential Syntx.
3 The Conceptual Poetics of Marcel Duchamp.
4 Khlebnikov's Soundscapes: Letter, Number, and the Poetics of Zaum.
5 "Modernism" at the Millennium.
Notes.
Bibliography.
Index.
Reviews
"Perloff's newest work offers refreshingly frank, controversial, and even inspiring ideas ... Perloff's readings refuse to reaffirm orthodoxies, presenting innovative perspectives on poets, early modernism and its relation to the current scene. Far from being a reactionary call to return to the past, Perloff's work envisions a bold continuation of modernism's earlier revolutionary impulses.
21st-Century Modernism
is vital and necessary reading for anyone interested in the history of modern poetry and where it is going." PN Review
"The book commands respect, [...], not only for its energy and the precision of its readings, but for its refusal to surrender powers of arbitration from the artist to the teacher or theorist." Times Literary Supplement

"The heart of [Perloff's] book is her enthusiasm - a well-researched and carefully argued enthusiasm" The Virginia Quarterly Review
Features


Offers a revisionist treatment of contemporary poetics and its place in the history of twentieth-century poetry.


Argues for a close link between Modernism and present-day poetry.


Relates poetry to the visual arts and contains numerous illustrations.


Written by one of the most distinguished critics of twentieth-century poetry and poetics.


Part of the prestigious Blackwell Manifestos series.