24 and Philosophy: The World According to Jack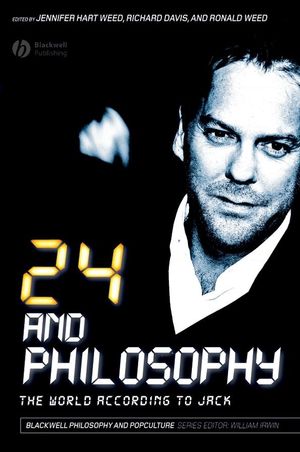 24 and Philosophy: The World According to Jack
ISBN: 978-1-405-17104-5 November 2007 Wiley-Blackwell 224 Pages
Description
24 and Philosophy
is a book you just can't do without. It's all here, folks: the reason Presidents trust him; how Jack cuts through the lies and ambiguities; why he puts his life on the line for others; and how he knows which knee cap to blow out to get that all-important next lead. With the help of twenty "
24
crazed" philosophers, you'll figure out what makes this guy tick, and much much more.


A witty, but philosophical exploration of the popular television series 24, now in its sixth season

Addresses pressing ethical issues relating to torture, terrorism and warfare

Raises fascinating questions about knowledge, loyalty, and suspicion

Explores in-depth the character and behaviour of Jack Bauer

Written by philosophers who are all serious fans of the show
Table of contents
The following takes place between 12:00 A.M. and 12:00 A.M.:.
12:00 A.M.-1:00 A.M. CLASSIFIED: Table of Contents.
1:00 A.M.-2:00 A.M. Dedication: To Edgar.
2:00 A.M.-3:00 A.M. Foreword: Philosophy? If You Don't Know 24, You Don't Know Jack! Tom Morris (Morris Institute for Human Values).
3:00 A.M.-4:00 A.M. Introduction: CTU Orientation.
Ronald Weed (Tyndale University College).
4:00 A.M.-5:00 A.M. Acknowledgements: Chloe, We Need You!.
5:00 A.M.-9:00 A.M. Special Agent Jack Bauer.
What Would Jack Bauer Do? Moral Dilemmas and Moral Theory in 24.
Randall M. Jensen (Northwestern College).
Between Hero and Villain: Jack Bauer and the Problem of "Dirty Hands".
Steve de Wijze (University of Manchester).
Beyond the Call of Duty.
Richard Davis (Tyndale University College).
Truth and Illusion in 24: —Jack Bauer,: Dionysus in the World of Apollo.
Stephen Snyder (Saint Louis University and Washington University).
9:00 A.M.-12:00 P.M. The Oval Office and the Halls of Power.
President Palmer and the Invasion of China: The Beginning of a Just War?.
Jennifer Hart Weed (Tyndale University College).
Jack Bauer as Anti-Eichmann and Scourge of Political Liberalism.
Brandon Claycomb (Marian College) and Greig Mulberry (Mississippi State University).
Palmer's Pickle: Why Couldn't He Stomach it?.
Georgia Testa (University of Leeds).
12:00 P.M.-3:00 P.M. CTU Headquarters.
The Ethics of Torture in 24: Shockingly Banal.
Dónal P. O' Mathúna (Dublin City University).
Loyalty and the "War of All Against All" in 24.
Eric M. Rovie (Georgia State University).
Who Dares Sins: Jack Bauer and Moral Luck.
Rob Lawlor (University of Leeds).
3:00 P.M.-6:00 P.M. Moles, Double-Agents, and Terrorists.
Living in a World of Suspicion: The Epistemology of Mistrust.
Scott Calef (Ohio Wesleyan University).
The Cruel Cunning of Reason: The Modern/Postmodern Conflict in 24.
Terrencey Kelly (University of Alaska, Anchorage).
The Knowledge Game Can Be Torture.
R. Douglas Geivett (Biola University).
6:00 P.M.-9:00 P.M. Technology, Objectification, and the Clock.
How the Cell Phone Changed the World and Made 24.
Read Mercer Schuchardt (New Forest Institute).
24 and the Ethics of Objectification.
Robert Arp (National Center for Biomedical Ontology) and John Carpenter (Florida State University).
Jack in Double Time for Jack: 24 in Light of Aesthetic Theory.
Paul A. Cantor (University of Virginia).
9:00 P.M.-10:00 P.M. CLASSIFIED: CTU Personnel.
10:00 P.M.-11:00 P.M. CLASSIFIED: Assets and Sources.
11:00 P.M.-12:00 A.M. CLASSIFIED: The Codes
Reviews
"This book is a witty exploration of the methods and motivations used by characters in the highly charged television drama and how some questions can be answered in our own lives." (Colleges.com)
Features


A witty, philosophical exploration of the popular television series 24, now in its sixth season


Addresses pressing ethical issues relating to torture, terrorism and warfare


Raises fascinating questions about knowledge, loyalty, and suspicion


Explores in-depth the character and behavior of Jack Bauer


Written by philosophers who are fans of the show