3ds max 5 Bible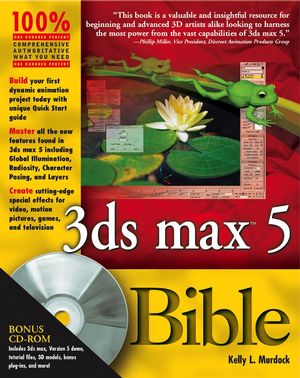 3ds max 5 Bible
ISBN: 978-0-764-53703-5
Dec 2002
1168 pages
Product not available for purchase
Description
* Shows how to build an animation right away.
* Gives users valuable hands-on experience under the expert guidance of 3D master Kelly Murdock.
* Includes a 16-page full-color insert explaining how to push the limits of max.
* Explores the major program changes that are expected with the next release of 3ds max.
* Provides tutorial files from the book, trial versions of related software, and exclusive plug-ins on the enclosed CD-ROM.
Preface.

Acknowledgments.

Part I: Getting Started with 3ds max 5.

Quick Start: Animating a Space Shuttle Re-Entry.

Chapter 1: Exploring the Max Interface.

Chapter 2: Working with the Viewports.

Chapter 3: Working with Files.

Chapter 4: Customizing the Max Interface.

Part II: Working with Objects.

Chapter 5: Using Primitive Objects.

Chapter 6: Selecting Objects and Setting Object Properties.

Chapter 7: Cloning Objects.

Chapter 8: Grouping and Linking Objects.

Chapter 9: Transforming Objects.

Chapter 10: Using Modifiers.

Part III: Modeling.

Chapter 11: Modeling Basics.

Chapter 12: Drawing and Using 2D Splines and Shapes.

Chapter 13: Working with Meshes and Polys.

Chapter 14: Creating Patches.

Chapter 15: Working with NURBS.

Chapter 16: Building Compound Objects.

Chapter 17: Creating and Controlling Particle Systems.

Part IV: Materials and Maps.

Chapter 18: Exploring the Material Editor.

Chapter 19: Creating and Applying Materials.

Chapter 20: Using Material Maps.

Part V: Cameras and Lights.

Chapter 21: Controlling Cameras.

Chapter 22: Working with Lights.

Chapter 23: Advanced Lighting and Radiosity.

Part VI: Animation.

Chapter 24: Animation Basics.

Chapter 25: Working with the Track View.

Chapter 26: Using Space Warps.

Chapter 27: Restricting Movement with Constraints.

Chapter 28: Animating with Controllers.

Chapter 29: Using Expressions.

Chapter 30: Creating a Dynamic Simulation.

Part VII: Character Animation.

Chapter 31: Working with Bones and Skin.

Chapter 32: Working with Characters.

Chapter 33: Creating and Using Inverse Kinematics.

Part VIII: Rendering and Post-Production.

Chapter 34: Rendering Basics.

Chapter 35: Working with Environments and Atmospheric Effects.

Chapter 36: Using Render Elements and Render Effects.

Chapter 37: Raytracing.

Chapter 38: Network Rendering.

Chapter 39: Using the Video Post Interface.

Part IX: Adding Functionality with MAXScript and Plug-Ins.

Chapter 40: Using MAXScript.

Chapter 41: Using the Visual MAXScript Editor.

Chapter 42: Using Third-Party Plug-Ins.

Part X: Appendixes.

Appendix A: Configuring a System for 3ds max 5.

Appendix B: Max Keyboard Shortcuts.

Appendix C: Exclusive Bible Plug-Ins.

Appendix D: What's on the CD-ROM.

Index.

End-User License Agreement.
Chapter
Page
Details
Date
Print Run
Errata page
View the errata page.

---