3ds max 6 Bible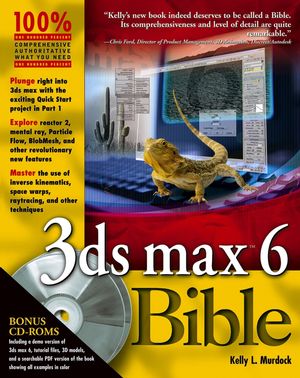 3ds max 6 Bible
ISBN: 978-0-764-55763-7
Apr 2004
1310 pages
Product not available for purchase
Description
* Shows beginning users how to create an exciting animation their very first day with 3ds max, the world's most popular animation modeling and rendering software for film, television, games, and design visualization
* 3ds max is used to create high-profile animations for feature films such as X-Men 2, Minority Report, and Tomb Raider, and in the creation of popular games such as Dungeon Siege, Spiderman, Command and Conquer: Renegade, and Grand Theft Auto
* More than 150 tutorials give readers valuable hands-on experience under the expert guidance of 3ds max master Kelly Murdock
* A valuable CD-ROM will include a demo version of the new 3ds max release, tutorial files, 3D models, bonus plug-ins, and more
* A sixteen-page, full-color insert shows how contributing artists are taking max to the next level
Preface.
Acknowledgments.
Part I: Learning the Max Interface.
Quick Start: Animating a Monster Truck at the Beach.
Chapter 1: Finding Your Way—Exploring the Max Interface.
Chapter 2: Seeing It All—Working with the Viewports.
Chapter 3: Working with Files and Xrefs.
Chapter 4: Customizing the Max Interface and Setting Preferences.
Part II: Working with Objects.
Chapter 5: Creating and Editing Primitive Objects.
Chapter 6: Selecting Objects and Setting Object Properties.
Chapter 7: Cloning Objects and Creating Object Arrays.
Chapter 8: Grouping and Linking Objects.
Chapter 9: Working with the Schematic View.
Chapter 10: Transforming Objects—Translate, Rotate, and Scale.
Chapter 11: Introducing Modifiers for Basic Object Deformation.
Part III: Modeling.
Chapter 12: Modeling Basics.
Chapter 13: Drawing and Editing 2D Splines and Shapes.
Chapter 14: Working with Meshes and Polys.
Chapter 15: Creating and Editing Patches.
Chapter 16: Working with NURBS.
Chapter 17: Building Compound Objects.
Chapter 18: Creating Particles and Particle Flow.
Part IV: Materials and Maps.
Chapter 19: Exploring the Material Editor.
Chapter 20: Creating Simple Materials.
Chapter 21: Creating Advanced Multi-Layer Materials.
Chapter 22: Adding Material Details with Maps.
Chapter 23: Controlling Mapping Coordinates.
Part V: Cameras.
Chapter 24: Working with Cameras.
Chapter 25: Matching and Tracking Cameras.
Chapter 26: Multi-Pass Camera Effects.
Part VI: Lighting.
Chapter 27: Basic Lighting Techniques.
Chapter 28: Advanced Lighting and Light Tracing.
Chapter 29: Advanced Lighting and Radiosity.
Part VII: Animation.
Chapter 30: Animation Basics.
Chapter 31: Animating with Constraints and Controllers.
Chapter 32: Using the Expression Controller.
Chapter 33: Working with the Track View.
Part VIII: Character Animation.
Chapter 34: Character Modeling.
Chapter 35: Rigging Characters.
Chapter 36: Animating Characters.
Chapter 37: Using Inverse Kinematics.
Part IX: Dynamics.
Chapter 38: Using Space Warps.
Chapter 39: Creating a Dynamic Simulation.
Chapter 40: Animating with reactor.
Part X: Rendering.
Chapter 41: Rendering Basics.
Chapter 42: Using Atmospheric Effects.
Chapter 43: Using Render Elements and Effects.
Chapter 44: Raytracing and mental ray.
Chapter 45: Network Rendering.
Part XI: Compositing and Post-Production.
Chapter 46: Using External Compositing Tools.
Chapter 47: Using the Video Post Interface.
Part XII: MAXScript and Plug-Ins.
Chapter 48: Automating with MAXScript.
Chapter 49: Expanding Max with Third-Party Plug-Ins.
Part XIII: Max in Action.
Chapter 50: Max and Games.
Chapter 51: Max and Visualization.
Chapter 52: Max and Special Effects.
Appendix A: What's New with Max 6.
Appendix B: Installing and Configuring 3ds max 6.
Appendix C: Max Keyboard Shortcuts.
Appendix D: What's on the CD-ROMs.
Index.
End-User License Agreement.
Companion Site
Welcome to the 3ds Max 6 Bible companion Web site.
This site provides additional links to useful info and resources.

Links
| | |
| --- | --- |
| 3ds max 6 pages at Discreet.com | |
| Max underground | |
| 3d Buzz | |
| CG Talk | |
| Siggraph | |
| Digital Animators | |
| CG Networks | |
| Digimation | |
| Max3D | |
| BoboLand | |
| Max Plugins.De | |
| Pluginz.com | |
| Turbo Squid | |