43rd Conference on Glass Problems, Volume 4, Issue 3/4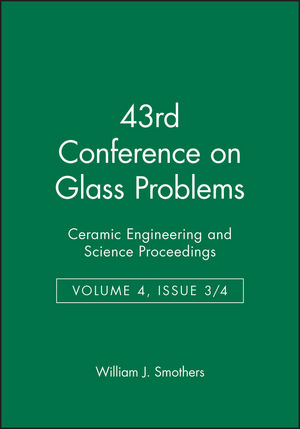 43rd Conference on Glass Problems, Volume 4, Issue 3/4
ISBN: 978-0-470-31882-9
Mar 2008
141 pages
Description
The Ceramic Engineering and Science Proceeding has been published by The American Ceramic Society since 1980. This series contains a collection of papers dealing with issues in both traditional ceramics (i.e., glass, whitewares, refractories, and porcelain enamel) and advanced ceramics. Topics covered in the area of advanced ceramic include bioceramics, nanomaterials, composites, solid oxide fuel cells, mechanical properties and structural design, advanced ceramic coatings, ceramic armor, porous ceramics, and more.
Current Status and Outlook for Electricity Supply and Its Cost 205
Richard P. Braatz
A New Look at Energy Supply 215
Riad N. Yammine
The Gas Supply Outlook for Industrial Users 222
Daniel A. Dreyfus and Edward S. Tabb
Batch Briqueting-A Production Trial 236
James R. Brown
Recuperators on Insulation-Glass Unit Melters 247
Thomas F. Stark
Energy-Efficiency Improvement by Raw-Material Use 258
H. R. Carroll and James J. Angelo
Experimental Evaluation of NO, Control Using a Glass-Tank Simulator 270
Hamid A. Abbasi, Mark J. Khinkis, Richard T. Waibel, and William D. Boyd
Utilization of Infrared Thermometers to Achieve Improved Melter-Temperature Control 294
Richard W. Marshall
Gas-Burner Firing Practices 305
Glenn Neff, Jr.
The First Campaign of a Cold-Top Electric Furnace 321
Carl W. Hibscher and Richard C. Carle
Operational Evaluation of the Dual-Glass-Depth Melting Concept 340
C. Philip Ross