68th Conference on Glass Problems, Volume 29, Issue 1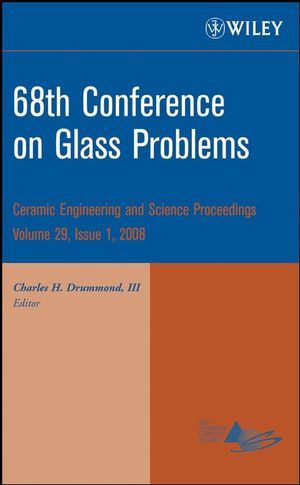 68th Conference on Glass Problems, Volume 29, Issue 1
ISBN: 978-0-470-34491-0
Apr 2008
278 pages
Description
This book is a state-of-the-art collection of recent papers on glass problems as presented at the 68th Conference on Glass Problems at The Ohio State University. Topics include manufacturing, glass melters, combustion, refractories, and new developments.
Buy Both and Save 25%!
Original Price:$230.95
Purchased together:$173.21
save $57.74
Cannot be combined with any other offers.
Foreword ix
Preface xi
Acknowledgments xiii
Batch Plant Dust Collection—An Engineered Approach to Dust Reduction 1
Don Feuerstein, Barney Olson, and Natalie Gaydos
Forehearth Coloring Advancements 11
John M. Bauer
Gob Temperature Control 23
Brent lllingworth, Jim Knope, Steve Nixon, Alan White, and Julian Railey
Applications and Challenges for Infrared Temperature Measurement in Glass Manufacturing with an Emphasis on Tempering of Low-Emissivity Glass 39
James Earle and Frank Schneider
Industrial Experiences with a New Surface Treatment Technology 47
Heiko Hessenkemper
What is the Ideal Glass Batch Depth of a Glass Furnace? 57
E. Muijsenberg, M. Muijsenberg, J. Chmelar, and Glenn Neff
Effects of Surface Structure on Wetting of Patterned Superhydrophobic Surfaces 65
Bharat Bhushan and Yong Chae Jung
Critical Thinking 75
David Kaiman and Alison Lazenby
Glass Melting at Coming's Research Facility 85
David McEnroe and Michael J. Snyder
Small Scale Melting Platforms for Problem Solving 93
Michael J. Snyder and David McEnroe
Solving Glass Problems 101
Melissa Mesko and J. T. Fisk
Numerical Simulation of the Submerged Combustion Melting Process 115
Bruno A. Purnode, Raj Venuturumilli, Jaydeep Kulkarni, Lewis Collins, and Grigory Aronchik
Operation of a Pilot-Scale Submerged Combustion Melter 125
David Rue, Walter Kunc, and Grigory Aronchik
Development of an Advanced Batch/Cullet Preheater for Oxy-Fuel Fired Glass Furnaces 137
H. Kobayashi, E. Evenson, and Y. Xue
Innovations in Container Glass Production in Central and Eastern Europe 149
Günter Lubitz
Tin Bath Bottom Blocks—Challenges and New Solutions 159
Götz Heilemann, Bernhard Schmalenbach, Thomas Weichert, and Klaus Santowski
Electric Forehearths for Borosilicate Glasses—A Recent View 171
Peter R.H. Davies, Alex J.R. Davies, Douglas H. Davis, Christopher J. Hoyle, and Larry McCloskey
Low NOx Combustion in Regenerative Glass Furnaces 187
Ruud Beerkens and Hans van Limpt
Advanced Cleanfire® HRi™ Oxy-Fuel Boosting Application Lowers Emissions and Reduces Fuel Consumption 203
Michael Habel, Kevin Lievre, Julian Inskip, Jan Viduna, and Richard Huang
Oxygen Enrichment: Recognizing and Addressing the Hazards 213
Robert L. Martrich, Joseph W. Slusser, and Kevin A. Lievre
Chromium VI: Concerns, Compliance and Controls 221
Terry L. Berg and Carlos E. Davis
Examination of a Used Chrome-Alumina Monolithic Lining from an insulation Fiberglass (C-Glass) Electric Melter 229
Howard Winkelbauer and Mathew Wheeler
Structure, Microstructure and Refractory Performance 249
Nigel Longshaw
Author Index 263