69th Porcelain Enamel Institute Technical Forum, Volume 28, Issue 10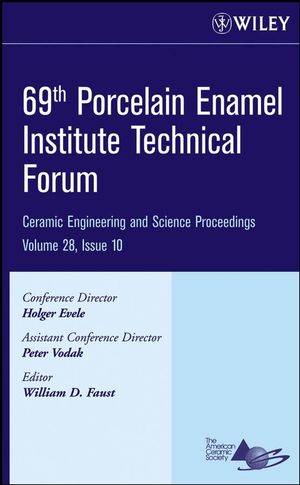 69th Porcelain Enamel Institute Technical Forum, Volume 28, Issue 10
ISBN: 978-0-470-19641-0 March 2008 118 Pages
Description
Based upon conference proceedings, including papers, from the 69th Annual Porcelain Enamel Institute Technical Forum, which was held in Nashville, Tennessee in May 2007.
Preface.
2007 PEI Officers.
2007 Technical Forum Committee.
Past Chairs of PEI Technical Forums.
Surface Tension and Fusion Properties of Porcelain Enamels (Charles Baldwin and Sid Feldman).
Status of Porcelain Enameling Market (Kim Frey).
Gage Reduction and the Impact on Porcelain Enamel Parts (Larry Steele).
Cast Iron Process Control in a Developing Market (Liam O'Byme).
Recycle- Friendly Aqueous Cleaners (Elizabeth J. Siebert, William G. Kozak, and William E. Fristad).
Cost Driven Development of New Cleaners (Kenneth Kaluzny).
2C/1F Enameling Process- A Growing Demand (Hans- Juergen Thiele).
Powder Coating Colors: Porcelain Enamel Versus Paint (Holger F. Evele).
Power Enameling Control Systems (Phil Flasher).
Advanced Porcelain Enamel Coatings with Novel Properties (Charles Baldwin and Jim  Gavlenski).
Absorption and Emissivity of Radiant Energy by Porcelain Enamels (William D. Faust).
New Product Design, Development, Validation, and Launch: Getting it Right the First Time! (Kara Joyce Kopplin).
Update on Current EPA and OSHA Issues that Will Impact Your Industry (Jack Waggener).
Case Study: Benefits of a New High Efficiency Furnace (Jason Butz).
Chemical Bonding of Concrete and Steel Reinforcement Using a Vitreous Enamel Coupling Layer (Larry Lynch, Charles Weiss, Jr., Donna Day, Joe Torn, Phillip Malone, and Cullen Hackler).
Importance of Rheology in Enamel Application (Michael Sierocki).
Author Index.