70-270 Installing, Configuring, and Administering Microsoft Windows XP Professional Package, 2nd Edition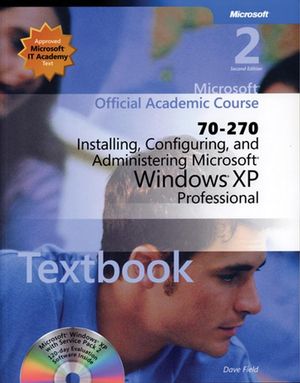 70-270 Installing, Configuring, and Administering Microsoft Windows XP Professional Package, 2nd Edition
ISBN: 978-0-470-90784-9
Feb 2012
880 pages
Product not available for purchase
Description
A complete program of textbook, lab manual, and software, this Microsoft Official Academic Course provides everything students need to build the knowledge and skills necessary to implement, administer, and troubleshoot information systems that incorporate Microsoft Windows XP Professional. In addition, this textbook will help students to prepare for Microsoft Certified Professional (MCP) Exam 70-270: Installing, Configuring, and Administering Microsoft Windows XP Professional. A complete set of instructor resources supports the book.
Chapter 1: Introducing Windows XP Professional.
Chapter 2: Installing Windows XP Professional.
Chapter 3: Managing Disks and File Systems.
Chapter 4: Managing Devices and Peripherals.
Chapter 5: Configuring and Managing the User Experience.
Chapter 6: Configuring and Managing Printers and Fax Devices.
Chapter 7: Configuring and Managing NTFS Security.
Chapter 8: Configuring and Managing Shared Folder Security.
Chapter 9: Supporting Applications in Windows XP Professional.
Chapter 10: Connecting Windows XP Professional to a Network.
Chapter 11: Configuring TCP/IP Addressing and Security.
Chapter 12: Managing Internet Explorer Connections and Security.
Chapter 13: Managing Users and Groups.
Chapter 14: Configuring and Managing Computer Security.
Chapter 15: Backing Up and Restoring Systems and Data.
Chapter 16: Managing Performance.
Textbook –
Learning objectives for each chapter correlate to certification exam objectives. 
            Case Studies in each chapter present students with real world challenges.
            Hands on exercises reinforce skills.
            Chapter summaries.
            Chapter review questions.
            Lab Manual –
            Non prescriptive labs promote discovery
            Lab objectives that map to textbook chapter objectives
            Lab review questions
            Challenge labs to build advanced skills.
            Troubleshooting labs to problem solve cumulative issues.
            Student CD ROM-
            Certification examination practice test engine for exam prep
            EBook versions of the textbook and the Microsoft Learning Encyclopedia of Technology
            Instructor Support-
            PowerPoint Slides with annotated instructor notes
            Test bank and additional questions in ExamView and Word
            Sample Syllabi
            Lesson Plans
            Lab Set up guide, lab notes, and lab solutions
            Virtual PC lab image files
            Top 10 Changes in Windows Server 2003 training video
            Implementing a Windows Server 2003 Networking program training Video