70-741 Networking with Windows Server 2016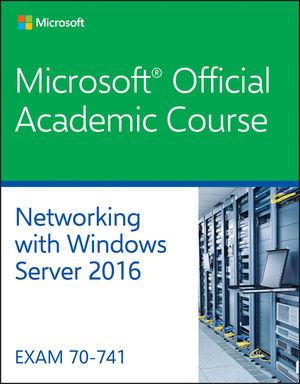 70-741 Networking with Windows Server 2016
ISBN: 978-1-119-29835-9
Jun 2017
384 pages
Description
The Microsoft Official Academic Course (MOAC) textbook for Networking with Windows Server 2016 Exam 70-741 is focused primarily on the networking features and their functionality that is available within Windows Server 2016. MOAC offers an official MLO lab environment and Lab Manual to further aid in your study for this exam. Successful skills mastery of Exam 70-741 can help students with securing a career within an IT enterprise and help them to differentiate job hunters in today's competitive job market. This exam will cover considerations into the following:

• High performance network features and functionality

• DNS, DHCP, and IPAM implementations

• Remote access solutions such as VPN and Direct Access as well as DFS and BranchCache solutions

• Implementation of software-defined networking (SDN) solutions, such as Hyper-V Network Virtualization (HNV) and Network Controller

The MOAC IT Professional series is the Official from Microsoft, turn-key Workforce training program that leads to professional certification and was authored for college instructors and college students. MOAC gets instructors ready to teach and students ready for work by delivering essential resources in 5 key areas: Instructor readiness, student software, student assessment, instruction resources, and learning validation. With the Microsoft Official Academic course program, you are getting instructional support from Microsoft; materials that are accurate and make course delivery easy.
1 Implementing IPv4 and IPv6 Addressing 1
2 Installing and Configuring DNS Servers 29
3 Creating and Configuring DNS Zones and Records 59
4 Installing and Configuring DHCP 99
5 Managing and Maintaining DHCP 130
6 Installing and Configuring IP Address Management (IPAM) 145
7 Managing and Using IPAM 166
8 Implementing Network Connectivity Solutions 181
9 Implementing Virtual Private Network (VPN) and DirectAccess Solutions 196
10 Implementing Network Policy Server (NPS) 244
11 Implementing Distributed File System (DFS) and Branch Office Solutions 276
12 Implementing High?]Performance Network Solutions 319
13 Determining Scenarios and Requirements for Implementing Software?]Defined Networking (SDN) 334
Index 351