70-744 Securing Windows Server 2016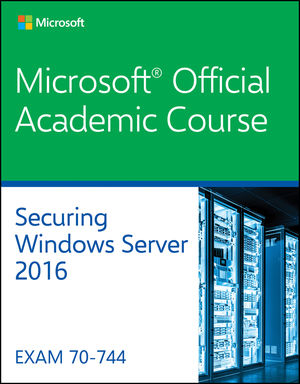 70-744 Securing Windows Server 2016
ISBN: 978-1-119-42463-5
May 2018
416 pages
Product not available for purchase
Description
The Microsoft Official Academic Course (MOAC) textbook for Securing Windows Server 2016 Exam 70-744 is focused primarily on how to secure Windows Server 2016 environments. MOAC offers an official MLO lab environment and Lab Manual to further aid in your study for this exam. Successful skills mastery of Exam 70-744 can help students with securing a career within an IT enterprise and help them to differentiate job hunters in today's competitive job market. This exam will cover considerations into the following:
• Methods and technologies for hardening server environments and securing virtual machine infrastructures using Shielded and encryption-supported virtual machines and Guarded Fabric.
• Protection of Active Directory and identity infrastructure with the Enhanced Security Administrative Environment (ESAE) Administrative Forest design approach.
• Management of privileged identities using Just-in-Time (JIT) and Just-Enough-Administration (JEA) approaches.
• Privileged Access Workstations (PAWs) and Local Administrator Password Solution (LAPS).
• Threat detection solutions, such as auditing.
• Implementing Advanced Threat Analytics (ATA).
• Understanding of Operations Management Suite (OMS) solutions.
• Workload-specific security including the use of Nano Server for particular server workloads.
The MOAC IT Professional series is the Official from Microsoft, turn-key Workforce training program that leads to professional certification and was authored for college instructors and college students. MOAC gets instructors ready to teach and students ready for work by delivering essential resources in 5 key areas: Instructor readiness, student software, student assessment, instruction resources, and learning validation. With the Microsoft Official Academic course program, you are getting instructional support from Microsoft; materials that are accurate and make course delivery easy.