75 Years of Social Science for Social Action: Historical and Contemporary Perspectives on SPSSI's Scholar-Activist Legacy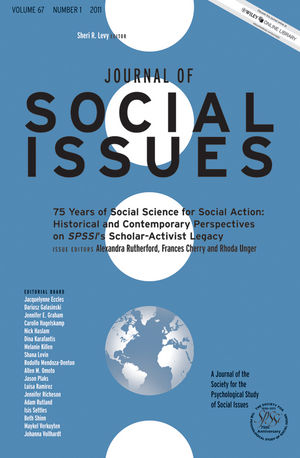 75 Years of Social Science for Social Action: Historical and Contemporary Perspectives on SPSSI's Scholar-Activist Legacy
ISBN: 978-1-444-35048-7
Apr 2011, Wiley-Blackwell
200 pages
Description
This issue focuses critical attention on a number of topics (e.g., he environment, homosexuality, international relations) that have not been taken up in previous historical issues of the journal.
INTRODUCTION.
"Society Very Definitely Needs Our Aid": Reflecting on SPSSI in History (Alexandra Rutherford, Frances Cherry, and Rhoda Unger).
Looking Again at SPSSI: History, Activism, and Advocacy (Martha T. Mednick).
SECTION I: GETTING STARTED: WORLD WAR II AND BEYOND.
"Education for Democracy": SPSSI and the Study of Morale in World War II (Cathy Faye).
Psychologists, Race, and Housing in Postwar America (Wade E. Pickren).
Reclaiming SPSSI's Sociological Past: Marie Jahoda and the Immersion Tradition in Social Psychology (Alexandra Rutherford, Rhoda Unger, and Frances Cherry).
SECTION II: SCHOLAR-ACTIVIST DEBATES.
Value Neutrality and SPSSI: The Quest for Policy, Purity, and Legitimacy (Andrew S. Winston).
SPSSI Leaders: Collective Biography and the Dilemma of Value-Laden Action and Value-Neutral Research (Rhoda Unger).
The SPSSI Task Force on Sexual Orientation, the Nature of Sex, and the Contours of Activist Science (Michael Pettit).
A Wrinkle in Time: Tracing a Legacy of Public Science through Community Self-Surveys and Participatory Action Research (Mar´ia Elena Torre and Michelle Fine).
SECTION III: SPSSI'S ONGOING COMMITMENTS: THE THREE P'S.
SPSSI and Peace-Building: A Participant's Perspective (Paul R. Kimmel).
SPSSI and Racial Research (Thomas F. Pettigrew).
SPSSI and Poverty: Reflections at Seventy-Five (Heather E. Bullock, Bernice Lott, and Shirley V. Truong).
SECTION IV: FROM SPSSI'S PAST INTO ITS FUTURE: WORLD COMMUNITIES AND THE ENVIRONMENT.
"Cautious Courage": SPSSI's Connections and Reconnections at the United Nations (Frances Cherry, Holly Ellingwood, and Gisell Castillo).
Foreground and Background: Environment as Site and Social Issue (Susan Opotow and Jen Gieseking).
SPSSI's Living Past (James H. Capshew).
SECTION V: 2009 SPSSI PRESIDENTIAL ADDRESS.
Introduction to Susan Opotow's SPSSI Presidential Address (Daniel Perlman).
How This Was Possible: Interpreting the Holocaust (Susan Opotow).