7Twelve: A Diversified Investment Portfolio with a Plan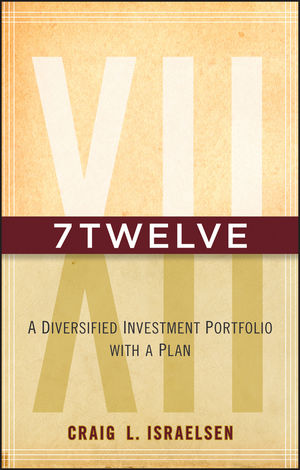 7Twelve: A Diversified Investment Portfolio with a Plan
ISBN: 978-0-470-64987-9
Jul 2010
204 pages
Description
A proven way to put together a portfolio that enhances performance and reduces risk
Professor Craig Israelsen of Brigham Young University is an important voice in the area of asset allocation. The reason? He keeps things simple. Now, in 7Twelve, he shows you how to do the same, and demonstrates how his approach to investing can help you grow your money as well as protect it.
7Twelve outlines a multi-asset balanced portfolio that is a logical starting point when assembling a portfolio-either as the blueprint for the entire portfolio or as a significant building block. Page by page, he will show you how to create a balanced portfolio utilizing multiple asset classes to enhance performance and reduce risk.
Discusses how the 7Twelve portfolio includes seven core asset classes and utilizes twelve specific mutual funds or exchange traded funds
Details the tax efficiency of this specific investment approach
Shows you how to use the 7Twelve portfolio as a pre-retirement accumulation portfolio or a post-retirement distribution portfolio
If you want to build a well-balanced, multi-asset portfolio, 7Twelve is the book for you.
Foreword.
Preface.
Acknowledgments.
Chapter 1 A Recipe for Success.
The 7Twelve Recipe.
Salsa Anyone?
U.S. Stock.
Non–U.S. Stock.
Real Estate.
Resources.
U.S. Bonds.
Non–U.S. Bonds.
Cash.
The Complete Recipe.
Chapter 2 Lining Up the Ingredients.
A Recipe That Goes Waaay Back.
Getting Better and Better.
Chapter 3 The More Ingredients, the Better.
Measuring Volatility and Risk.
Diversification by Design.
Diversification Requires Depth and Breadth.
Chapter 4 Growth of Money.
Why Measure Growth of Money?
Expect Ups and Downs.
Chapter 5 Combining Ingredients That Zig and Zag.
Getting Close to Zero.
Finding Assets That Play Nicely Together.
Don't Forget Broad Diversification.
Quantifying Correlation.
Chapter 6 Stirring the Mix.
Rebalancing versus Buy-and-Hold.
Choosing a Schedule.
Chapter 7 Adjusting the Secret Sauce.
The Saving Years and the Spending Years.
How Portfolio Mechanics Change in the Golden Years.
Allocation Age versus Chronological Age.
Life Stage Portfolios.
Chapter 8 How Long Will My Nest Egg Last?
Survival of the Fittest.
Reviewing the Nest Egg Guidelines.
Chapter 9 Should I Tilt toward Value or Growth?
Does It Make a Difference?
The 7Twelve's Value Bias
Chapter 10 Should I Jump in or Let the Pot Simmer?
To Stir or Not to Stir?
The 7Twelve Works Both Ways.
But If You Still Can't Decide . . .
Chapter 11 A Better 401(K).
Switching the Default.
Introducing Target Date Funds and Balanced Funds.
The 7Twelve Portfolio Approach.
Determining Your Lifecycle Phase.
Mismatch 101.
Chapter 12 The Problem of Undersaving.
Chasing Returns Is a Loser's Game.
Add Plenty of Patience, Perspective, and Persistence.
Chapter 13 Of Stocks, Bonds, and Risk.
A Tale of Two Time Frames.
The "Diversification" Premium.
Chapter 14 Assembling Your Portfolio.
Chapter 15 3 Secrets + 4 Principles = 7Twelve Perfection.
About the Author.
Index.
"Craig Israelsen has an interesting idea: Let's leave 1950 behind. The associate professor at Brigham Young University<
http://topics.dallasnews.com/topic/Brigham_Young_University
> in Utah<
http://topics.dallasnews.com/topic/Utah
> thinks it's time to include the world outside the United States, among other things, in our investments rather than just talk about it . . . . This is accomplished with what Israelsen dubs the '7Twelve Balanced Fund.' Rather than just domestic stocks and bonds, the new benchmark has seven asset classes. Those asset classes, in turn, are subdivided into a dozen subsets, all held in equal amounts. The payoff is huge. Over the last 10 years, his better balanced index provided a return of 7.52 percent annualized. The Vanguard Balanced Index fund did better than nearly 60 percent of its managed competitors but returned only 2.64 percent over the same period. That 7.52 percent return would have ranked Israelsen's passive index in the top 2 percent of all moderate allocation funds. Indeed, it would have ranked in the top 30 percent of all world allocation funds - funds that do invest in a broader menu of assets . . . . This is no guarantee of investment nirvana, but it's a good start for a new millennium."—Scott Burns, Syndicated Columnist, Dallas Morning News (March 27, 2010)