90 World-Class Activities by 90 World-Class Trainers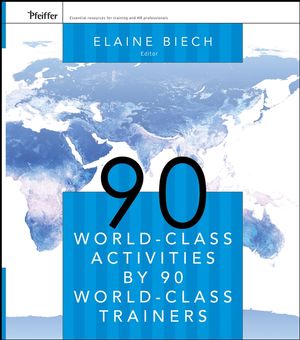 90 World-Class Activities by 90 World-Class Trainers
ISBN: 978-0-787-98198-3
Dec 2006, Pfeiffer
420 pages
Description
90 World-Class Activities by 90 World-Class Trainers gathers classic activities from ninety master trainers in one convenient place. The stellar list of trainers includes Bellman, Blanchard, Booher, Crum, de Bono, Kouzes, Masie, Pike, Robinson, Scannell, Silberman, Thiagi, Zenger, and 77 other names you'll know.

Elaine Biech (editor of the Pfeiffer Annuals and author of Training for Dummies) has gathered a powerful and exciting collection of activities from around the globe. The sixteen topics include change management, coaching, diversity, leadership, and teamwork. This invaluable resource presents the favorite activities of some of the most talented trainers in the world—all seven continents are represented.

All of these activities have stood the test of time and are presented here for your use to engage teams and groups in collaborative learning. The contributors provide helpful suggestions for adapting the activities to a particular setting or audience and present ideas for adding zest to their favorite activities to ensure that you are as successful with them as they have been.

The book is filled with experience and expertise. Combined, the contributors have written and edited almost 800 books and over 3,700 articles and have received hundreds of awards. Many are members of the HRD Hall of Fame and they advise some of the largest organizations in the world. Draw on their expertise and implement several of the activities. Your success is guaranteed.
Buy Both and Save 25%!
Original Price:$116.50
Purchased together:$87.38
save $29.12
Cannot be combined with any other offers.
Buy Both and Save 25%!
Original Price:$111.00
Purchased together:$83.25
save $27.75
Cannot be combined with any other offers.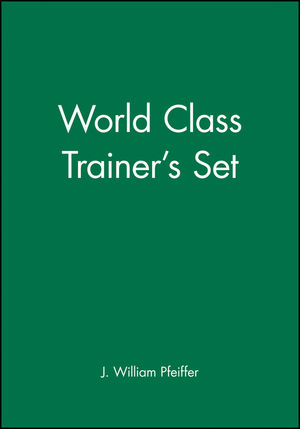 Purchased Together:$70.00
Presenting xix
Section 1:Training and Consulting Topics 1
Chapter 1: Change Management 3
Choosing Structure to Fit Intentions 5
Phil Grosnick
Benefits and Risks 8
Peggy G. Hutcheson, Ph.D.
Change—But Don't Drop the Customer 10
Muralidhar Rao,B.Tech,PGDM,with Max Rodrigues, M.Sc., LL.B,Dip Ind'l Mgt.
Hot Buttons 14
Joanne G. Sujansky, Ph.D.,CSP
Chapter 2: Coaching,Mentoring, and Feedback 19
How to Be Impressive When Meeting Someone New 21
Kevin Daley
Admiration/Fantasy Exercise 24
Beverly Kaye, Ed.D.
360 Feedback 27
Stephen K.Merman,Ed.D.,PCC,CPCC
The Last Time You Were Appreciated 29
Bob Nelson, Ph.D.
Chapter 3: Communication 31
The Truth Be Known 33
Dianna Booher,CSP,CPAE
Learn to Drive a Motorcycle—with Style 36
Marjorie Brody,CSP,CMC,PCC
Hello! Hello! Can You Hear Me Now?! 38
Debra A.Dinnocenzo, M.A.
Picture That 41
Deborah Dumaine
Mute Instructions 44
Jaime Galvez
Domination Identification 47
Kristina Gow
Metaphorically Speaking 51
Ann Herrmann-Nehdi

Open Their Fists 53
Elliott Masie
Line Up! 55
Agnieszka Niziol-Kaplucha
Four Facts 58
Bob Pike,CSP,CPAE
The Shape of Things to Come 61
Suzanne Adele Schmidt,Ph.D.
Chapter 4: Conflict and Collaboration 65
Force Follows Force Blindly 66
Thomas Crum
The Cost of Conflict 68
Herb Kindler,Ph.D.
Resolving Conflict: Easy as ABCD 71
Darryl L. Sink, Ed.D.
Magic Matters 79
Richard T.Whelan, M.A.
Cross the Line 82
Joe Willmore
Chapter 5: Creativity 85
Creativity and Collaboration Eggsperiment 86
Mimi Banta
Doubling Up on Creativity 89
M.K.Key, Ph.D.
What's in the Box? 94
Lenn Millbower,B.M., M.A.
Scavenger Bingo 97
Steve Sugar,M.B.A.
Tell Me Why 104
Arthur B.VanGundy, Ph.D.
Chapter 6: Customer Service 109
Special Delivery 110
Chip R. Bell, Ph.D.
A Customer Service Dream 113
William J. Rothwell, Ph.D., SPHR,FLMT,CTDP, with Dennis E. Gilbert
Chapter 7: Diversity and Differences 121
Building Cross-Cultural Awareness 122
Carol J. Friday, M.A.
Animal Magnetism 125
Phil Green,B.Ed.,Adv. Dipl. in Primary Ed.,Cert. Ed.
Diversity Crossword Puzzle 128
Julie O'Mara
Inspirational Parables in the Multiethnic Swirl 135
Edwina Pio, Ph.D.
Chapter 8: Leadership 143
Developing Your Leadership Point of View 144
Marjorie Blanchard, Ph.D.
Quotable Leaders 147
Marlene Caroselli, Ed.D.
Credo Memo 151
Jim Kouzes
Board of Encouragement 159
Jean G.Lamkin, Ph.D.
Leadership Beanbag Volleyball 165
Robert C.Preziosi,D.P.A.
Laser Beam Bounce 168
Lorraine L.Ukens, M.S.
Chapter 9: Organizations and Process Improvement 171
Diagramming a Complex System 173
Mary L.Broad
Process Improvement in Action 177
Richard Chang,Ph.D.
Training Vehicles 188
Jack Zenger,D.B.A.
Chapter 10: Self-Management:Time,Meetings, and Values 191
What's Your Priority? 192
Jean Barbazette
Meeting Norms 196
John H.O.Purnell, M.S.
Balancing Your Week 199
Benoit Savard,B.Sc.,M.B.A., and Daniel Genest,B.Sc.
Prioritize Your Values 208
Bob Younglove, M.Ed., M.A.
Chapter 11: Solving Problems and Making Decisions 211
Test for Consensus: A Straw Poll 212
Kristin J.Arnold,M.B.A.,CMC,CPF,CSP
Six Thinking Hats® Quick Assessment 215
Edward de Bono,Ph.D.
Three-Stage, Successive, Rotating Group Problem Resolution 219
David W. Jamieson, Ph.D.
Tri-State:A Multiple Role Play 225
Hank B. Karp,Ph.D.
Oh,You Animal 236
Richard V.Michaels, M.Ed.,CDP,CCP
Chapter 12:Teamwork 239

Paper Bridge 241
Dave Arch
T-Shirt Team 243
Elaine Biech
Tower Team 248
Barbara Pate Glacel, Ph.D.
Commonalities and Uniquenesses 256
Barbara A. Glanz,CSP
Our Similarities 259
Takako Kawashima, M.A.
Personal Responsibility Pledge 261
Jeffrey Russell and Linda Russell
What Do We Know About Teams? 264
Mary B.Wacker
The Paper Project 279
Edie West, M.Ed.
Section 2:Training Tools and Skill Development 283
Chapter 13:Trainer and Speaker Skills 285

Stand-Up Skills 286
Geoff Bellman
Eyecatching 291
Björn Fiedler
Ten Requirements for Effective Training 295
Donald L.Kirkpatrick, Ph.D.
Chapter 14:Tools for Trainers 299

Bearly There 301
Pole R. Bear
Are You Sure? 303
Andy Beaulieu
Online Q & A 309
Zane L. Berge, Ph.D.
Birds-of-a-Feather 313
Sharon L.Bowman,M.A.
Four Corners Exercise 317
Stephen L.Cohen, Ph.D.,CPT
People Hunt 319
Lois B.Hart, Ed.D.
Question Queue 324
Patricia A.McLagan, M.A.
Penny for Your Thoughts 327
Beth A. Schimel,Pharm.D.
Hit or Myth 330
Harold D. Stolovitch, Ph.D.,CPT, and Erica J.Keeps, M.Ed.,CPT
We're All a Piece of the Puzzle 333
Linda Byars Swindling, J.D.,CSP
Thirty-Five 335
Sivasailam "Thiagi"Thiagarajan, Ph.D.
Getting Senior Managers to Think Creatively 338
William N.Yeomans
Chapter 15: Icebreakers and Energizers 341
Incorporation 343
B.Kim Barnes
Little-Known Fact 346
Pat Cataldo,M.B.A.
What's My Line? 348
Peter R.Garber
At the Movies 350
Karen Lawson, Ph.D.,CSP
On Time Top Ten Trivia 354
Dana Gaines Robinson and James C. Robinson
Alphabet Adjectives 357
Max Rodrigues, M.Sc., LL.B,Dip Ind'l Mgt.
Bingo 359
Edward E. Scannell,CMP,CSP
Penny Toss 362
Michal Foriest Settles, Ed.D.
Chapter 16: Closure: Reviewing Content and Transferring Knowledge 365
Race to Remember 367
Brooke Broadbent, M.A.
I Got It 370
Fanny Caballero
Reviewing and Reinforcing with a Beat 372
Robert "Bob"W. Lucas,B.S., M.A.,CPLP
Quick Content Quiz 375
Anntoinette "Toni" Lucia
Overcoming Barriers 377
Jack J. Phillips,Ph.D.
Word Wheel 380
Bill Sewell, M.P.A.
Index Card Match 383
Mel Silberman, Ph.D.
About the Editor 387