A+® Complete Study Guide: Exams 220-301 & 220-302, Deluxe, 2nd Edition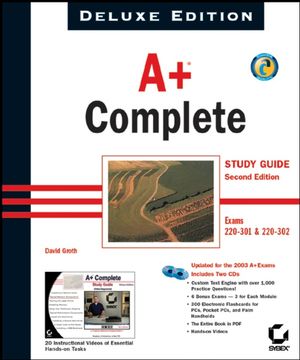 A+® Complete Study Guide: Exams 220-301 & 220-302, Deluxe, 2nd Edition
ISBN: 978-0-782-14244-0
Oct 2003
1008 pages
Product not available for purchase
Description
Here's the book you need to prepare for the latest versions of CompTIA's A+ Exams. This Deluxe Edition of Sybex's Best Selling A+ Study Guide provides:
Full coverage of every exam objective
Practical information on network hardware
Hundreds of challenging practice questions, in the book and on the CD
Leading-edge exam preparation software, including a test engine and electronic flashcards
Authoritative coverage of all exam objectives, including:
Core Hardware
Installation, configuration, and upgrading
Diagnosing and troubleshooting
Preventive maintenance
Motherboards, processors, and memory
Printers
Basic networking
Operating System Technologies
OS fundamentals
Installation, configuration, and upgrading
Diagnosing and troubleshooting
Networks
Note: CD-ROM/DVD and other supplementary materials are not included as part of eBook file.
Introduction.
Assessment Test.
Part I: A+ Hardware Service Technician Exam.
Chapter 1: PC Architecture.
Chapter 2: Motherboards, CPUs, and RAM.
Chapter 3: Disk Drive Storage.
Chapter 4: Printers.
Chapter 5: Networking Fundamentals.
Chapter 6: Building a PC.
Chapter 7: Portable Systems.
Chapter 8: Upgrading PC Components.
Chapter 9: Optimizing PC Performance, Preventative Maintenance, and Safety.
Chapter 10: Hardware Troubleshooting.
Part II: Operating Systems Technologies Exam.
Chapter 11: Introduction to Operating Systems.
Chapter 12: Using the Microsoft Operating System GUI.
Chapter 13: Major OS Architectures.
Chapter 14: Installing and Upgrading Your OS.
Chapter 15: Hardware Installation.
Chapter 16: Windows Networking.
Chapter 17: Windows Optimization.
Chapter 18: Windows Diagnostics and Troubleshooting.
Glossary.
Index.
Includes an hour of instructional video footage of key hands-on procedures
Six bonus exams included on CD--over 1,100 review questions in book and on CD!
Complete A+ courseware in a single volume: Covers both the Core Hardware and Operating System Technologies exams.
Maps directly to the CompTIA exam objectives---no fluff or extraneous material.
Previous edition (ISBN: 0782140521) sold over 25,000 copies
A+ is the industry-leading hardware-and software-support certification and has become a prerequisite for many leading vendor-specific certification programs, including Microsoft and Novell.
Authoritative coverage of all exam objectives, including:

Core Hardware
Installation, configuration, and upgrading
Diagnosing and troubleshooting
Preventive maintenance
Motherboards, processors, and memory
Printers
Basic networking
Operating System Technologies:

OS fundamentals
Installation, configuration, and upgrading
Diagnosing and troubleshooting
Networks
Chapter
Page
Details
Date
Print Run
Combined Errata


Page 0CD

Flash Cards - the question is AGP stands for ______ and the answer is Advanced Graphics Port . The correct answer is Accelerated Graphics Port .

Page 50

Under USB, see detailed description
Page 50 states that maximum connection of USB devices is 127 while page 91 states it is 128.

USB uses a maximum of 127 devices (http://www.usb.org/faq/ans1#q9)

Page 51

first mentioning of IEEE 1394 firewire is listed as 400MBps and 800MBps should be 400Mbps and 800Mbps

Page 85

vise versa should be vice versa

Page 101

Under Pentium IV, introduced November 14, 2002 should read introduced November 2000

Page 102

In Table 2.5, Pentium II and Pentium II Xeon should have 36 (not 32 ) Address Bus Width.

Page 103

In Table 2.5, Celeron, Pentium III, Pentium III Xeon, and Pentium 4 should have 36 (not 32 ) Address Bus Width.

Page 176 and 180

Under BASIC COMPONENTS . There are 9 components, not 8.

Page 188

Middle of the page, Warning: Change parenthetical to read (stray signals from adjacent wires that cause electrical interference) as opposed to chapter reference.

Page 238

Under NetBEUI/NetBIOS, 2nd para., NetBEUI did not ship will all versions of Windows. It does not come with XP

Page 257

Data Over Cable Service Internet Specification should be Data Over Cable Service Interface Specification

Page 258

satellite dish to received should be satellite dish to receive .

Page 317

Change the caption on Fig. 6.49 to be Standard peripheral power connectors .

Page 345

laptop can't outperform a laptop should be laptop can't outperform a desktop .

Page 368

top of page, 2nd line, Pentium III 400MHz. Pentium III started at 450MHz

new operating systems are available for your older devices should be newer drivers are available for your older devices .

Page 379

You may also need to format the laptop after replacement should be You may also need to format the hard drive after replacement .

Page 511

states that the period (.) character is prohibited in the filename. This is not true - there can be any number of periods in a filename (up to the 255 character limit).(holdover from DOS version)

Page 568

Return to OS Choices Menu is only present with Windows XP. should read Return to OS Choices Menu is present with Windows XP and Windows 2000.

Page 623

In Table 14.6, the Windows 95 row should have No (not Yes ) under Windows NT Workstation 4.0

Page 641

Answer to question #17 should be WINNT.EXE which is not listed.

Page 644

Question 17 Change the question option C to be WINNT.EXE , the correct answer should be C , with the same explanation (just replace the first WINNT32.EXE with WINNT.EXE)

Page 660

Firewire has a maximum transfer rate of 400MBps. should read Firewire has a maximum transfer rate of 400Mbps.

Page 674

Under No Access , A printer cannot use this printer at all should be A user cannot use this printer at all .

Page 754

In the description for NNTP , which service a different purpose should be serves a different purpose.

Page 823

CHKDSK indeed checks for and is able to correct cross-linked files. Remove the parenthetical on p. 823 in that para.

Page 862

DIMM - please add DIMMs have since been introduced with chips on one side of the memory stick.

Page xxxix

Assessment Test: Core Hardware Service Technician Exam, Question Number 25. What is the maximum data rate that can be transmitted over UTP Category 3 cable? should read What is the maximum data rate that can be transmitted over 2 pairs of UTP Category 3 cable?




---