A Beginner's Guide to Nietzsche's Beyond Good and Evil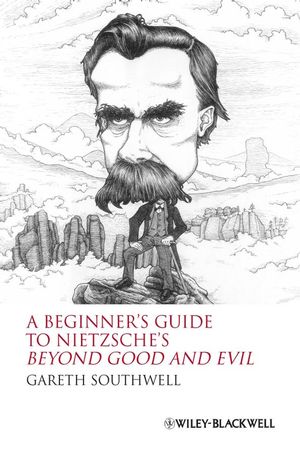 A Beginner's Guide to Nietzsche's Beyond Good and Evil
ISBN: 978-1-444-30615-6
Feb 2009, Wiley-Blackwell
232 pages
Description
A concise and very readable summary of Nietzsche's Beyond Good and Evil, geared toward students embarking on their studies and general readers. It is an ideal companion for those new to the study of this challenging and often misunderstood classic.


Offers clear explanations of the central themes and ideas, terminology, and arguments
Includes a glossary of difficult terms as well as helpful biographical and historical information
Illustrates arguments and ideas with useful tables, diagrams, and images; and includes references to further readings
Forms part of a series of Guides designed specifically for A-level philosophy students by an experienced teacher and founder of the popular website Philosophy Online
List of Illustrations vii
Acknowledgements viii
Introduction x
Chapter 1: Background 1
Life of Nietzsche 1
Nineteenth-century Europe 8
Romanticism and German Idealism 9
Pessimism 9
German Politics 11
The Text 12
Chapter 2: Explanation and Summary of the Main Arguments 14
Introduction 14
Preface 14
Part One: On the Prejudices of Philosophers 16
Part Two: The Free Spirit 34
Part Three: The Religious Nature 44
Part Four: Maxims and Interludes 52
Part Five: On the Natural History of Morals 55
Part Six: We Scholars 63
Part Seven: Our Virtues 68
Part Eight: Peoples and Fatherlands 81
Part Nine: What is Noble? 88
From High Mountains: Epode 103
Chapter 3: Critical Themes 105
Introduction 105
Reality, Truth and Philosophical Prejudice 106
Philosophical prejudices 106
1. The will to truth 108
2. Faith in antithetical values 110
3. Distinction between appearance and reality 112
4. Atomism 115
5. Teleological explanation 120
6. Immediate certainty 124
7. Causa sui 129
8. Reification 133
Nietzsche's anti-realism 135
God, Religion and the Saint 137
The question of God's existence 137
Religious neurosis and the saint 142
Beyond pessimism: the Übermensch and the eternal return 144
Morality, Ressentiment and the Will to Power 149
Ethical naturalism 149
A natural history of morality 151
Ressentiment 152
Will to power 155
Appendix: Overview of Beyond Good and Evil 161
Notes 169
Glossary 181
Bibliography and Suggested Reading 206
Index 210
"Anyone teaching Beyond Good and Evil will want to keep a copy of this close to hand. For those who are familiar with the texts it will help to reinvogorate their approach and for those teaching the text for the first time it will provide an excellent guide to the complexities of Nietzsche's ideas."
George
McWilliams, Head of Philosophy and Ethics, Ullswater Community College
"Gareth Southwell's Beginner's Guide is an outstanding introduction to Nietzsche's text: lively and approachable in tone, yet rigorous and insightful in its handling of the material. A comprehensive and well-informed treatment, this book judiciously blends detailed analysis and illuminating explanation with more wide-ranging discussion. It has some stand-out features that make it extremely helpful for the student, and represents an excellent guide not only to the text and its contexts, but more broadly to the terms and techniques of philosophical debate." Duncan Large, Swansea University and the Friedrich Nietzsche Society
Provides a concise, readable summary of the text
Offers clear explanations of the central themes and ideas, terminology, and arguments
Includes a glossary of difficult terms as well as helpful biographical and historical information
Illustrates arguments and ideas with useful tables, diagrams, and images and includes references to further readings
Forms part of a series of Guides designed specifically for A-level philosophy students by an experienced teacher and founder of the popular website Philosophy Online