A Brief History of the Olympic Games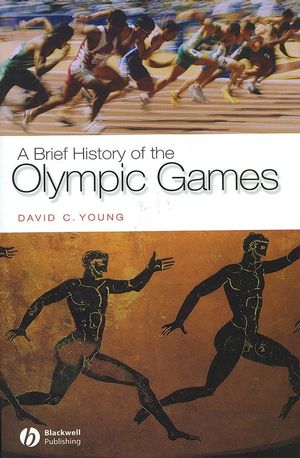 A Brief History of the Olympic Games
ISBN: 978-1-405-11129-4 July 2004 Wiley-Blackwell 200 Pages
Description
For more than a millennium, the ancient Olympics captured the imaginations of the Greeks, until a Christianized Rome terminated the competitions in the fourth century AD. But the Olympic ideal did not die and this book is a succinct history of the ancient Olympics and their modern resurgence.
Classics professor David Young, who has researched the subject for over 25 years, reveals how the ancient Olympics evolved from modest beginnings into a grand festival, attracting hundreds of highly trained athletes, tens of thousands of spectators, and the finest artists and poets.
Table of contents
List of Figures ix
Preface xi
1 Introduction 1
2 Beginnings and Evidence 12
3 Athletic Events 24
4 Combat and Equestrian Events 38
5 Zeus Country 52
6 Pindar and Immortality 67
7 Body, Mind, and Greek Athletics 80
8 Questions of Profit and Social Class 92
9 The Athletes 102
10 Women and Greek Athletics 113
11 Between the Greek and Roman Worlds 122
12 The Later Centuries of Olympia 130
13 The Origin and Authenticity of the Modern Olympic Games 138
Appendix A: Chronology and Schedule of the Athletic Circuit 158
Appendix B: Technical Note on Discus and Long Jump 161
Appendix C: Modern Issues: The Marathon and Torch Relay 165
Notes 170
Glossary 175
Bibliography 177
Index 181
Reviews
"David Young is one of the world's foremost experts on the Olympic Games, and this book contains many interesting details that have remained in the deep shadows of history much too long. An excellent read!" Anthony Th. Bijkerk, Secretary-General,
International Society of Olympic Historians end!->
"An impressively comprehensive, clear and often vivid survey of the ancient Olympics ... The book is packed with carefully considered interventions in long-standing debates." The Journal of Hellenic Studies
What's New


A succinct history of the ancient Olympics and their modern resurgence.

Written by a classics professor who has researched the subject for over 25 years.

Explains how, from modest beginnings, the ancient Olympics evolved into a grand festival.

Features original studies of special subjects, such as individual athletes and athletic families in ancient times, athletic record-keeping, and the ancient form of long jump.

Offers a unique account of the nineteenth-century re-kindling of the Olympic 'spirit' and of the early years of the modern Olympics.

Includes photographs and drawings illustrating the topography and buildings of Olympia.