A Casebook for Business Statistics: Laboratories for Decision Making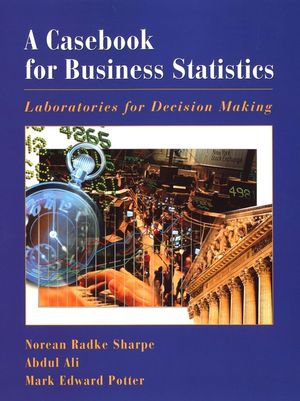 A Casebook for Business Statistics: Laboratories for Decision Making
ISBN: 978-0-471-38240-9 October 2000 160 Pages
Description
The book entitled, A Casebook for Business Statistics: Laboratories for Decision Making, is a unique supplement for basic business statistics textbooks and provides (1) cases/labs at the introductory level; (2) integrated material for a cross-disciplinary curriculum; and (3) data sets containing recent and real data in a business setting. In addition, this book uses the perspective of recent reforms in statistics education and includes both guided and open-ended questions to emphasize: conceptual understanding; interactive data analysis; and discussion of interpretation of analysis. The laboratory exercises, which cover topics ranging from descriptive analysis to forecasting, were written to build in difficulty and complexity sequentially as the student progresses through the casebook.

This casebook includes seventeen cases, all based on real data, from the Statistics, Finance and Marketing disciplines. Each case offers Excel and Minitab as tools in analyzing problems in the business-world setting.

Suitable for a one or two-semster course in Introductory Business Statistics.
Decisions in New Product Development (A)
Decisions in New Product Development (B)
Risk and Return in World Markets
Decisions in New Product Development (C)
Decisions in New Product Development (D)
Relationship between Market Returns and Interest Rates
Break-Even Time for New Products
Mutual Fund Flows (A)
Baseball Stadium Age and Attendance
Mutual Fund Flows (B)
Mutual Fund Flows (C)
Sales in a Seasonal Industry
Boston Sunday Globe (A)
Boston Sunday Globe (B)
Boston Sunday Globe (C)
Motor Vehicle Fatalities
Quarterly Sales at Home Depot
Emphasizes applied Inter-disciplinary approach in business context- Provides increased motivation in classroom and linkage to other courses outside the classroom.
Includes guided analysis and open-ended discussion questions at the end of each case- Provides necessary analysis framework for introductory student, as well as requires the student to think beyond the "output" and discuss managerial interpretation of results.
Contains marketing survey and several data sets of recent and real data- Provides good examples of real-world applications and sources of data.
Organizes cases in the sequence of topics typically taught in a basic business statistics course- Provides sequential series of cases/labs, many of which use the same data set, thus providing continuity across topics.