A Century of Constitutional Reform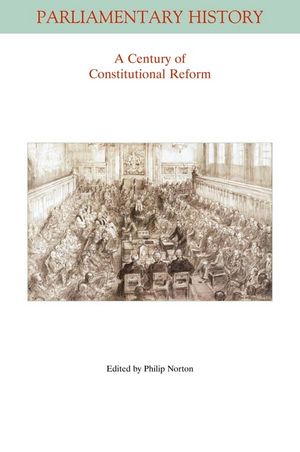 A Century of Constitutional Reform
ISBN: 978-1-444-33894-2 February 2011 Wiley-Blackwell 124 Pages
Description
A Century of Constitutional Reform is a detailed study of the introduction, passage and consequences of major constitutional legislation in the United Kingdom. The book covers legislation enacted since the passage of the Parliament Act 1911, with contributions from leading specialists.
Examines in depth the legislation that has shaped the constitution of the United Kingdom since the passage of the Parliament Act 1911 Provides a systematic study of the reasons for the introduction of the measures, their passage through Parliament Discusses the effects of legislation and the extent to which the laws both achieved their purpose and their unintended consequences Each contribution is written by a specialist in the field
List of Contributors.
1. Introduction: A Century of Change (Philip Norton).
2. Hedging and Ditching: The Parliament Act 1911 (Chris Ballinger).
3. Laying the Foundations of the Modern Voting System: The Representation of the People Act 1918 (Robert Blackburn).
4. Divided Loyalties: The European Communities Act 1972 (Philip Norton).
5. Extending the Role of the Courts: The Human Rights Act 1998 (David Feldman).
6. Enacting Scotland's 'Written Constitution': The Scotland Act 1998 (Barry K. Winetrobe).
7. Stages and Muddles: The House of Lords Act 1999 (Alexandra Kelso).
Index.