A Chemical History Tour: Picturing Chemistry from Alchemy to Modern Molecular Science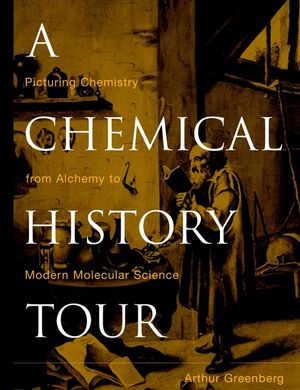 A Chemical History Tour: Picturing Chemistry from Alchemy to Modern Molecular Science
ISBN: 978-0-471-35408-6 March 2000 336 Pages
Description
Take a stroll through this one-of-a-kind book that offers readers an illustrated tour of how chemistry developed, from alchemy to the emergence of chemistry as a scientific discipline in the early 17th century, and, finally, modern-day chemistry. Discover this rare collection of more than 180 illustrations spanning 400 years of chemical publications, with each illustration accompanied by an essay discussing its significance in the context of historical scientific beliefs as well as modern chemical science. The author's knowledge and enthusiasm for the books, images, and subject matter are clearly reflected throughout the very readable, informative, and frequently funny essays. High-quality, full-page reproductions from the author's art collection, published from 1599 to the present, are eloquently displayed.
Cannot be combined with any other offers.
Original Price:$268.00
Purchased together:$201.00
save $67.00
Cannot be combined with any other offers.
Original Price:$243.95
Purchased together:$182.96
save $60.99
Table of contents
Partial table of contents: PRACTICAL CHEMISTRY, MINING, AND METALLURGY.

What Fresh Hell Is This?

The Essence of Matter: Four Elements (or Five);
Three Principles (or Two); or Three Subatomic Particles (or More).

Practical Chemistry: Mining, Assaying, and Refining.

SPIRITUAL AND ALLEGORICAL ALCHEMY.

The Philosopher's Stone Can No Longer Be Protected By Patent.

The Twelve Keys of Basil Valentine. First Key: The Wolf of Metals and the Impure King.

What Is Wrong with this Picture?

Protecting the Roman Empire's Currency from the Black Art.

The Wordless Book.

IATROCHEMISTRY AND SPAGYRICALL PREPARATIONS.

Paracelsus.

The Dream Team of Alchemy.

Distillation By Fire, Hot Water, Sand, or Steamed Boar Dung.

CHEMISTRY BEGINS TO EMERGE AS A SCIENCE.

The First Ten-Pound Chemistry Text.

A Salty Conversation.

The Alchemist in the Pit of My Stomach.

Black's Magic.

Cavendish Weighed the Earth but Thought He Had Captured Phlogiston in a Bottle.

Saltpetre, Abigail. Pins, John.

MODERN CHEMISTRY IS BORN.

Fire Air (Oxygen): Who Knew What and When Did They Know It?

Nice to His Mice.

Chemistry in the Barrel of a Gun.

A Boring Experiment.

Was Avogadro's Hypothesis a Premature Discovery?

Chemistry Is Not Applied Physics.

CHEMISTRY BEGINS TO SPECIALIZE AND HELPS FARMING AND INDUSTRY.

The Electric Scalpel.

Chemical Scalpels Through the Ages.

Taming The Primeval Forest.

The Atomic Weight of Carbon and Related Confusions.

The People's Chemistry.

Ink from Peanuts and the Finest Sugar in the South.

TEACHING CHEMISTRY TO THE MASSES.

Michael Faraday's First Chemistry Teacher.

"Chemistry No Mystery".

Molecular Mechanics In The Year 1866.

THE APPROACH TO MODERN VIEWS OF CHEMICAL BONDING.

Riding Pegasus to Visit Chemistry in Space.

Is the Archeus a Southpaw?

X-Rays Measure the Distances Between Atoms or Ions.

Where Did We Dig Up The Mole?

Nanoscopic "Heavens".

Moving Matter Atom-By-Atom.

POST-SCRIPT.

Ending In Imagery.

Index.
Reviews
"Overall, as intended...a fascinating book to browse through and an excellent starting point for anyone interested in the strange and wonderful history of our collective discipline." (Today's Chemist, Vol. 10, No. 2, February 2001)
"This is a delightful book that has no equal. It is a joy to read and well worth its retail price.... Sentences are short; words are familiar; humor and well-turned phrases abound." (Chemical Heritage, Spring 2001)
"Greenberg offers chemistry teachers, practicing professionals...and lay readers a light-hearted tour of his discipline's history." (SciTech Book News, Vol. 24, No. 4, December 2000)
"This is not an encyclopedic work on the entire history of the science, but a picture book to be read an enjoyed by chemists and nonchemists alike. Nevertheless, it will serve as a valuable secondary source for historians of science..." (American Scientist, Vol. 89, May/June 2001)
"...will captivate younger chemists...there has been nothing like it available since [...] 'A pictorial history of chemistry', 1939..." (Chemistry & Industry, 20th November 2000)
"...a work of art as well as of science.... I highly recommend it to practicing chemists, chemical educators, bibliophiles and book collectors, and anyone interested in chemistry, art and culture, and even to historians.... The author obviously had a lot of fun and enjoyed himself in writing it...in reading it you'll experience the same feelings." (Endeavor, Vol. 26, No. 2, June 2002)