A Colour Atlas of Cucurbit Diseases: Observation, Identification and Control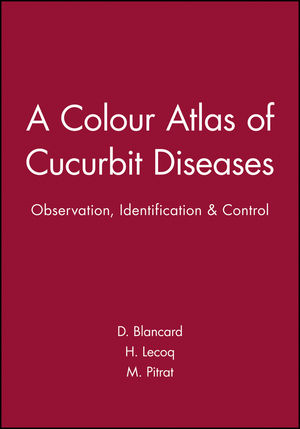 A Colour Atlas of Cucurbit Diseases: Observation, Identification and Control
ISBN: 978-0-470-23416-7
Feb 1995
299 pages
Description
A unique and comprehensive guide to the diagnosis and control of diseases of cucurbits The main aim of this beautifully illustrated and practical book is to enable the reader quickly to diagnose parasitic and non-parasitic conditions in cucurbits, and to give valuable information for treating them. Containing 472 high quality colour illustrations and analytical text, this superb atlas covers cucumbers, melons, watermelons, courgettes, squash and pumpkins, among others. For each, diseases of the foliage, roots, neck, stalk and fruit are addressed. For maximum ease of use, the book is organised in two sections. The first is a diagnostic tool, devised to help observe and identify the diseases. The second part is concerned with control and contains data on parasitic micro-organisms, their biological characteristics and methods of treatment. As well as immediate measures, recommendations are included to prevent recurrence. A Colour Atlas of Cucurbit Diseases is an important resource for practitioners, scientists and students in agriculture, agronomy, biology, horticulture, mycology and plant pathology, for crop consultants, professional growers and serious gardeners. Of related interest, and also from Manson Publishing, is A Colour Atlas of Tomato Diseases, by D. Blancard.
DIAGNOSIS OF PARASITIC AND NON-PARASITIC DISEASES.
Abnormalities and Decay in Leaves.
Deformation of Leaves.
Discoloration of Leaves.
Spots on Leaves.
Wilted, Desiccated Leaves.
Abnormalities and Decay in Roots and/or Collar and/or Stem Base.
External/Internal Abnormalities and Decay of the Stem.
Abnormalities and Decay in Flowers and Fruits.
MAIN CHARACTERISTICS OF THE PATHOGENIC AGENTS AND METHODS OF CONTROL.
Bacteria.
Fungi.
Fungi Affecting the Leaves.
Fungi Causing Fruit Rot.
Fungi (and Nematodes) Attacking Mainly Roots, Collar and Stem.
Vascular Fungi.
Viruses.
Viruses Transmitted by Seeds and Contact.
Viruses Transmitted by Fungi.
Viruses Transmitted by Aphids.
Viruses Transmitted by Whitefly.
Appendices.
Index.