A Companion to American Fiction, 1780 - 1865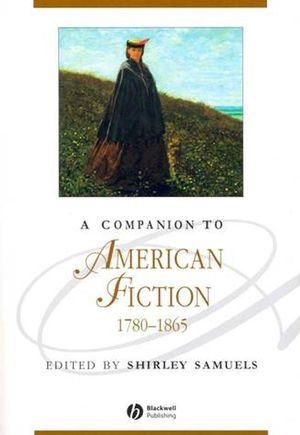 A Companion to American Fiction, 1780 - 1865
ISBN: 978-0-470-99920-2 April 2008 Wiley-Blackwell 488 Pages
Download Product Flyer
Download Product Flyer
Download Product Flyer is to download PDF in new tab. This is a dummy description. Download Product Flyer is to download PDF in new tab. This is a dummy description. Download Product Flyer is to download PDF in new tab. This is a dummy description. Download Product Flyer is to download PDF in new tab. This is a dummy description.
Description
This Companion presents the current state of criticism in the field of American fiction from the earliest declarations of nationhood to secession and civil war.
Draws heavily on historical and cultural contexts in its consideration of American fiction
Relates the fiction of the period to conflicts about territory and sovereignty and to issues of gender, race, ethnicity and identity
Covers different forms of fiction, including children's literature, sketches, polemical pieces, historical romances, Gothic novels and novels of exploration
Considers both canonical and lesser-known authors, including James Fennimore Cooper, Hannah Foster, Nathaniel Hawthorne, Herman Melville and Harriet Beecher Stowe
Treats neglected topics, such as the Western novel, science and the novel, and American fiction in languages other than English
Table of contents
List of Illustrations viii
Notes on Contributors ix
Acknowledgments xvi
Introduction 1
Shirley Samuels
PART I Historical and Cultural Contexts 5
1 National Narrative and the Problem of American Nationhood 7
J. Gerald Kennedy
2 Fiction and Democracy 20
Paul Downes
3 Democratic Fictions 31
Sandra M. Gustafson
4 Engendering American Fictions 40
Martha J. Cutter and Caroline F. Levander
5 Race and Ethnicity 52
Robert S. Levine
6 Class 64
Philip Gould
7 Sexualities 75
Valerie Rohy
8 Religion 87
Paul Gutjahr
9 Education and Polemic 97
Stephanie Foote
10 Marriage and Contract 108
Naomi Morgenstern
11 Transatlantic Ventures 119
Wil Verhoeven and Stephen Shapiro
12 Other Languages, Other Americas 131
Kirsten Silva Gruesz
PART II Forms of Fiction 145
13 Literary Histories 147
Michael Drexler and Ed White
14 Breeding and Reading: Chesterfieldian Civility in the Early Republic 158
Christopher Lukasik
15 The American Gothic 168
Marianne Noble
16 Sensational Fiction 179
Shelley Streeby
17 Melodrama and American Fiction 191
Lori Merish
18 Delicate Boundaries: Passing and Other ''Crossings'' in Fictionalized Slave Narratives 204
Cherene Sherrard-Johnson
19 Doctors, Bodies, and Fiction 216
Stephanie P. Browner
20 Law and the American Novel 228
Laura H. Korobkin
21 Labor and Fiction 239
Cindy Weinstein
22 Words for Children 249
Carol J. Singley
23 Dime Novels 262
Colin T. Ramsey and Kathryn Zabelle Derounian-Stodola
24 Reform and Antebellum Fiction 274
Chris Castiglia
PART III Authors, Locations, Purposes 285
25 The Problem of the City 287
Heather Roberts
26 New Landscapes 301
Timothy Sweet
27 The Gothic Meets Sensation: Charles Brockden Brown, Edgar Allan Poe, George Lippard, and E. D. E. N. Southworth 314
Dana Luciano
28 Retold Legends: Washington Irving, James Kirke Paulding, and John Pendleton Kennedy 330
Philip Barnard
29 Captivity and Freedom: Ann Eliza Bleecker, Harriet Prescott Spofford, and Washington Irving's ''Rip Van Winkle'' 342
Eric Gary Anderson
30 New England Tales: Catharine Sedgwick, Catherine Brown, and the Dislocations of Indian Land 353
Bethany Schneider
31 Harriet Beecher Stowe, Caroline Lee Hentz, Herman Melville, and American Racialist Exceptionalism 365
Katherine Adams
32 Fictions of the South: Southern Portraits of Slavery 378
Nancy Buffington
33 The West 388
Edward Watts
34 The Old Southwest: Mike Fink, Augustus Baldwin Longstreet, Johnson Jones Hooper, and George Washington Harris 400
David Rachels
35 James Fenimore Cooper and the Invention of the American Novel 411
Wayne Franklin
36 The Sea: Herman Melville and Moby-Dick 425
Stephanie A. Smith
37 National Narrative and National History 434
Russ Castronovo
Index 445
Reviews
"Particularly impressive... Taken together the essays constitute a dense realization of a critically resurgent period, with the historical dimension emphatic throughout."
American Literary Scholarship
"A good resource for those just embarking on the study of American literature. Recommended."
Choice
Features


Spansthe period from the earliest declarations of nationhood until secession and civil war

Draws heavily on historical and cultural contexts in its consideration of American fiction

Relates the fiction of the period to conflicts about territory and sovereignty and to issues of gender, race, ethnicity and identity

Covers different forms of fiction, including children's literature, sketches, polemical pieces, historical romances, Gothic novels and novels of exploration

Considers both canonical and lesser-known authors, including James Fennimore Cooper, Hannah Foster, Nathaniel Hawthorne, Herman Melville and Harriet Beecher Stowe

Treats neglected topics, such as the Western novel, science and the novel, and American fiction in languages other than English