A Companion to American Fiction, 1865 - 1914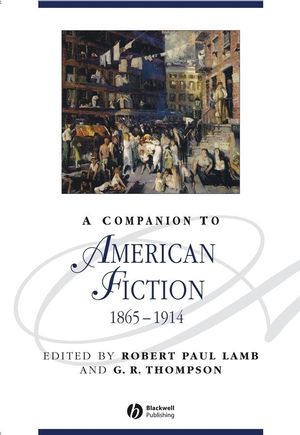 A Companion to American Fiction, 1865 - 1914
ISBN: 978-1-405-17831-0 April 2008 Wiley-Blackwell 640 Pages
Description
A Companion to American Fiction, 1865-1914 is a groundbreaking collection of essays written by leading critics for a wide audience of scholars, students, and interested general readers.



An exceptionally broad-ranging and accessible Companion to the study of American fiction of the post-civil war period and the early twentieth century Brings together 29 essays by top scholars, each of which presents a synthesis of the best research and offers an original perspective

Divided into sections on historical traditions and genres, contexts and themes, and major authors

Covers a mixture of canonical and the non-canonical themes, authors, literatures, and critical approaches

Explores innovative topics, such as ecological literature and ecocriticism, children's literature, and the influence of Darwin on fiction
List of Illustrations x
Notes on Contributors xi
Acknowledgments xviii
Editors' Introduction 1
Robert Paul Lamb and G. R. Thompson
PART I Historical Traditions and Genres 13
1 The Practice and Promotion of American Literary Realism 15
Nancy Glazener
2 Excitement and Consciousness in the Romance Tradition 35
William J. Scheick
3 The Sentimental and Domestic Traditions, 1865–1900 53
Gregg Camfield
4 Morality, Modernity, and "Malarial Restlessness": American Realism in its Anglo-European Contexts 77
Winfried Fluck
5 American Literary Naturalism 96
Christophe Den Tandt
6 American Regionalism: Local Color, National Literature, Global Circuits 119
June Howard
7 Women Authors and the Roots of American Modernism 140
Linda Wagner-Martin
8 The Short Story and the Short-Story Sequence, 1865–1914 149
J. Gerald Kennedy
PART II Contexts and Themes 175
9 Ecological Narrative and Nature Writing 177
S. K. Robisch
10 "The Frontier Story": The Violence of Literary History 201
Christine Bold
11 Native American Narratives: Resistance and Survivance 222
Gerald Vizenor
12 Representing the Civil War and Reconstruction: From Uncle Tom to Uncle Remus 240
Kathleen Diffley
13 Engendering the Canon: Women's Narratives, 1865–1914 260
Grace Farrell
14 Confronting the Crisis: African American Narratives 279
Dickson D. Bruce, Jr.
15 Fiction's Many Cities 296
Sidney H. Bremer
16 Mapping the Culture of Abundance: Literary Narratives and Consumer Culture 318
Sarah Way Sherman
17 Secrets of the Master's Deed Box: Narrative and Class 340
Christopher P. Wilson
18 Ethnic Realism 356
Robert M. Dowling
19 Darwin, Science, and Narrative 377
Bert Bender
20 Writing in the "Vulgar Tongue": Law and American Narrative 395
William E. Moddelmog
21 Planning Utopia 411
Thomas Peyser
22 American Children's Narrative as Social Criticism, 1865–1914 428
Gwen Athene Tarbox
PART III Major Authors 449
23 An Idea of Order at Concord: Soul and Society in the Mind of Louisa May Alcott 451
John Matteson
24 America Can Break Your Heart: On the Significance of Mark Twain 468
Robert Paul Lamb
25 William Dean Howells and the Bourgeois Quotidian: Affection, Skepticism, Disillusion 499
Michael Anesko
26 Henry James in a New Century 518
John Carlos Rowe
27 Toward a Modernist Aesthetic: The Literary Legacy of Edith Wharton 536
Candace Waid and Clare Colquitt
28 Sensations of Style: The Literary Realism of Stephen Crane 557
William E. Cain
29 Theodore Dreiser and the Force of the Personal 572
Clare Virginia Eby
Index 587
"All praise to Lamb and Thompson … Comprehensive, well written and carefully edited ... Essential."
Choice
"The editors have intended the Companion to be an introduction to the field and a reference tool for 'advanced undergraduates, graduate students, faculty members and general intellectuals'. In this they have succeeded admirably."
Reference Reviews


An exceptionally broad-ranging and accessible Companion to the study of American fiction of the post-civil war period and the early twentieth century

Brings together 29 essays by top scholars, each of which presents a synthesis of the best research and offers an original perspective

Divided into sections on historical traditions and genres, contexts and themes, and major authors

Covers a mixture of canonical and the non-canonical themes, authors, literatures, and critical approaches

Explores innovative topics, such as ecological literature and ecocriticism, children's literature, and the influence of Darwin on fiction