A Companion to American Literature and Culture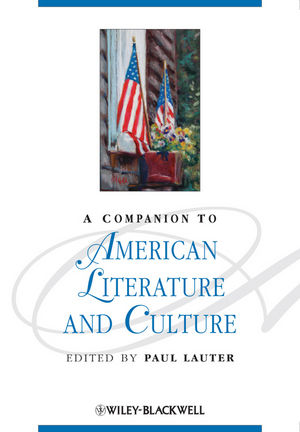 A Companion to American Literature and Culture
ISBN: 978-0-631-20892-1 April 2010 Wiley-Blackwell 708 Pages
Description
This expansive Companion offers a set of fresh perspectives on the wealth of texts produced in and around what is now the United States.


* Highlights the diverse voices that constitute American literature, embracing oral traditions, slave narratives, regional writing, literature of the environment, and more


* Demonstrates that American literature was multicultural before Europeans arrived on the continent, and even more so thereafter


* Offers three distinct paradigms for thinking about American literature, focusing on: genealogies of American literary study; writers and issues; and contemporary theories and practices


* Enables students and researchers to generate richer, more varied and more comprehensive readings of American literature
List of Contributors xi
Introduction 1
Paul Lauter
Part A Genealogies of American Literary Study 7
1 The Emergence of the Literatures of the United States 9
Emory Elliott
2 Politics, Sentiment, and Literature in Nineteenth-Century America 26
John Carlos Rowe
3 Making It New: Constructions of Modernism 40
Carla Kaplan
4 Academicizing "American Literature" 57
Elizabeth Renker
5 Cold War and Culture War 72
Christopher Newfield
6 Re-Historicizing Literature 96
T.V. Reed
7 Multiculturalism and Forging New Canons 110
Shelley Streeby
Part B Writers and Issues 123
8 Indigenous Oral Traditions of North America, Then and Now 125
Lisa Brooks (Abenaki)
9 The New Worlds and the Old: Transatlantic Politics of Conversion 143
Susan Castillo and Ivy Schweitzer
10 Unspeakable Fears: Politics and Style in the Enlightenment 160
Frank Shuffelton
11 Slave Narrative and Captivity Narrative: American Genres 179
Gordon M. Sayre
12 The Early Republic: Forms and Readers 192
Trish Loughran
13 "Indians" Constructed and Speaking 206
Scott Richard Lyons
14 Sentiment and Style 221
Tara Penry
15 Transcendental Politics 237
Paul Lauter
16 Melville, Whitman, and the Tribulations of Democracy 250
Betsy Erkkila
17 Emily Dickinson and Her Peers 284
Paula Bernat Bennett
18 Race and Literary Politics 316
Frances Smith Foster and Cassandra Jackson
19 American Regionalism 328
Susan K. Harris
20 Magazines and Fictions 339
Ellen Gruber Garvey
21 Realism and Victorian Protestantism in African American Literature 354
Phillip M. Richards
22 The Maturation of American Fictions 364
Gary Scharnhorst
23 Making It New: Constructions of Modernisms 377
Heinz Ickstadt
24 Wests, Westerns, Westerners 394
Martha Viehmann
25 The Early Modern Writers of the US South 410
John Lowe
26 Writers on the Left 427
Alan Wald
27 From Objectivism to the Haight 441
Charles Molesworth
28 New Aestheticisms: the Artfulness of Art 458
Stephen Burt
29 Drama in American Culture 478
Brenda Murphy
Part C Contemporary Theories and Practices 491
30 Constructions of "Ethnicity" and "Diasporas" 493
Aviva Taubenfeld
31 Narrating Terror and Trauma: Racial Formations and "Homeland Security" in Ethnic American Literature 508
Shirley Geok-lin Lim
32 Feminisms and Literatures 528
Deborah S. Rosenfelt
33 Blackness/Whiteness 563
James Smethurst
34 Borderlands: Ethnicity, Multiculturalism, and Hybridity 576
Ana Maria Manzanas and Jesús Benito Sánchez
35 Literature-and-Environment Studies and the Influence of the Environmental Justice Movement 593
Joni Adamson
36 Endowed by Their Creator: Queer American Literature 608
David Bergman
37 Contemporary Native American Fiction as Resistance Literature 622
Arnold Krupat and Michael A. Elliott
38 From Virgin Land to Ground Zero: Interrogating the Mythological Foundations of the Master Fiction
of the Homeland Security State 637
Donald Pease
Afterword 655
Paul Lauter
Index 657
"I believe this book is well worth dipping into. It is, I suggest, a volume of solid scholarship that should have a significant impact in what is already a quite crowded publishing area. It is highly recommended, if only for the reason that—as Lauter explains—'the literatures of this America illuminate as nothing else has done the aspirations, the contradictions, the dangers and possibilities of this society'" (M/C Reviews, November 2010)


An expansive Companion, offering a set of fresh perspectives on the wealth of texts produced in and around what is now the United States.

Highlights the diverse voices that constitute American literature, embracing oral traditions, slave narratives, regional writing, literature of the environment, and more.

Demonstrates that American literature was multicultural before Europeans arrived on the continent, and even more so thereafter.

Offers three distinct paradigms for thinking about American literature, focusing on: genealogies of American literary study; writers and issues; and contemporary theories and practices.

Enables students and researchers to generate richer, more varied and more comprehensive readings of American literature.