A Companion to Ancient Epic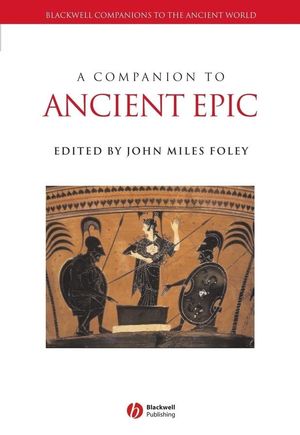 A Companion to Ancient Epic
ISBN: 978-1-405-15304-1 April 2008 Wiley-Blackwell 696 Pages
Download Product Flyer
Download Product Flyer
Download Product Flyer is to download PDF in new tab. This is a dummy description. Download Product Flyer is to download PDF in new tab. This is a dummy description. Download Product Flyer is to download PDF in new tab. This is a dummy description. Download Product Flyer is to download PDF in new tab. This is a dummy description.
Description
A Companion to Ancient Epic
presents for the first time a comprehensive, up-to-date overview of ancient Near Eastern, Greek and Roman epic. It offers a multi-disciplinary discussion of both longstanding ideas and newer perspectives.
A Companion to the Near Eastern, Greek, and Roman epic traditions
Considers the interrelation between these different traditions
Provides a balanced overview of longstanding ideas and newer perspectives in the study of epic
Shows how scholarship over the last forty years has transformed the ways that we conceive of and understand the genre
Covers recently introduced topics, such as the role of women, the history of reception, and comparison with living analogues from oral tradition
The editor and contributors are leading scholars in the field
Includes a detailed index of poems, poets, technical terms, and important figures and events
Table of contents
List of Illustrations ix
Notes on Contributors xi
Abbreviated Source Editions and Lexica xvii
Maps xx
Introduction: A Prolegomenon to Ancient Greek Government 1
Hans Beck
PART I Greek Government in History 7
1 The Rise of State Action in the Archaic Age 9
Jonathan M. Hall
2 The Classical Greek Polis and Its Government 22
Barry Strauss
3 Dynastic Courts of the Hellenistic Empires 38
Rolf Strootman
4 Hellenistic Cities: The End of Greek Democracy? 54
Hans-Ulrich Wiemer
PART II Ancient Templates and Typologies 71
5 Archaic and Classical Greek Reflections on Politics and Government: From Description to Conceptualization, Analysis, and Theory 73
Kurt A. Raaflaub
6 Plato's View on Greek Government 93
Luc Brisson
7 Aristotle 105
Peter L.P. Simpson
8 Polybios on Government, Interstate Relations, and Imperial Expansion 119
Craige B. Champion
9 One-Man Government: The Greeks and Monarchy 131
Nino Luraghi
10 Unlike(ly) Twins? Democracy and Oligarchy in Context 146
Hartmut Leppin
PART III To Rule and Be Ruled: Greek Governing Bodies 159
11 Citizenship, the Citizen Body, and its Assemblies 161
Josine Blok
12 Officials and Office-Holding 176
Alex McAuley
13 Councils in Greek Oligarchies and Democracies 191
Robert W. Wallace
14 Law Courts 205
Domingo Avil´es and David C. Mirhady
PART IV Process and Procedure 219
15 Laws and Legislation in Ancient Greece 221
Michael Gagarin
16 Tyche's Force: Lottery and Chance in Greek Government 235
Elizabeth Kosmetatou
17 Governmental Checks and Balances 252
Pierre Fr¨ohlich
18 Forms and Forums of Public Speech 267
Loren J. Samons II
PART V Responsibilities and Realms of Action 285
19 Public Administration 287
Frances Pownall
20 Greek Government and Education: Re-examining the eph¯ebeia 302
Lynn Kozak
21 Government and Warfare 317
John Serrati
22 Finance and Taxes 332
Vincent Gabrielsen
23 Greek Government and the Organization of Time 349
Robert Hannah
24 The Religious Management of the polis: Oracles and Political Decision-Making 366
Pierre Bonnechere
PART VI Space and Memory 383
25 Spaces of Government: Civic Architecture and Memory 385
Charles W. Hedrick, Jr.
26 Keeping Record, Making Public: The Epigraphy of Government 400
Adele C. Scafuro
27 Monumental Representations of Government 417
Jenifer Neils
28 State Festivals and Celebrations 432
Pauline Schmitt Pantel
PART VII Government Beyond the City-State 449
29 Greek Amphiktyonies: An Experiment in Transregional Governance 451
Peter Funke
30 Polis and koinon: Federal Government in Greece 466
Jeremy McInerney
31 Governing Interstate Alliances 480
Thomas Figueira and Sean R. Jensen
32 Interstate Governance: Arbitration and Peacekeeping 497
Sheila L. Ager
Epilogue: The Legacy of Greek Government – Something That Has ''Never Occurred Again''? 512
Uwe Walter
Bibliography 525
Index 581
Reviews
"For those who are interested in Greek and Roman epic, the book is a treasure-house of splendid variety.... The editor and the publisher both deserve praise for a very fine volume." (
Journal of the Royal Asiatic Society
)
"Blackwell's Companion to Ancient Epic does just what the title suggests: it accompanies readers on journeys of exploration in this huge (in every sense) field. Just as importantly, the Companion will show new readers why they might want to immerse themselves in these poems.... The many highlights in this Companion demonstrate the value of asking scholars to write for non-specialists. That endeavor provides a stimulus for new levels of focus and clarity; even ideas and materials that may be familiar become fresh again when they are presented in such succinct distillations." (Bryn Mawr Classical Review)
Features
A Companion to the Near Eastern, Greek, and Roman epic traditions
Considers the interrelations between these different traditions
Provides a balanced overview of longstanding ideas and newer perspectives in the study of ancient epic
Shows how scholarship over the last forty years has transformed the ways that we conceive of and understand the epic genre
Covers recently introduced topics, such as the role of women, the history of reception, and comparison with living analogues from oral tradition
The editor and contributors are leading scholars in the field
Includes a detailed index of poems, poets, technical terms, and important figures and events