A Companion to Business Ethics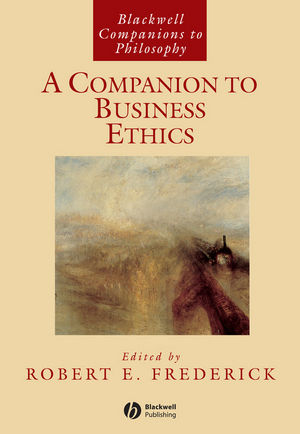 A Companion to Business Ethics
ISBN: 978-0-470-99839-7 December 2007 Wiley-Blackwell 480 Pages
Description
In a series of articles specifically commissioned for this volume, some of today's most distinguished business ethicists survey the main areas of interest and concern in the field of business ethics.
Sections of the book cover topics such as the often easy relation between business ethics and capitalism, the link between business ethics and ethical theory, how ethics applies to specific problems in the business world, the connection between business ethics and related academic disciplines, and the practice of business ethics in modern corporations.
Includes extensive, accessible discussion of all of the main areas of interest and debate in business ethics
Features all original contributions by distinguished authors in business ethics
Includes an annotated table of contents, bibliographies of the relevant literature and a list of internet sources of material on business ethics
Perfect, comprehensive book for use in business ethics courses
Table of contents
List of Contributors ix
Preface xiii
PART I BUSINESS ETHICS AND NORMATIVE THEORIES 1
1 A Kantian approach to business ethics 3
Norman E. Bowie
2 Utilitarianism and business ethics 17
Milton Snoeyenbos and James Humber
3 Business ethics and virtue 30
Robert C. Solomon
4 Social contract approaches to business ethics: bridging the "is–ought" gap 38
Thomas W. Dunfee and Thomas Donaldson
5 Business ethics and the pragmatic attitude 56
Douglas R. Anderson
6 An outline of ethical relativism and ethical absolutism 65
Robert E. Frederick
7 Feminist theory and business ethics 81
Robbin Derry
8 Business ethics in a free society 88
Tibor R. Machan
9 Nature and business ethics 100
William C. Frederick
10 Toward new directions in business ethics: some pragmatic pathways 112
Sandra B. Rosenthal and Rogene A. Buchholz
11 Business ethics: pragmatism and postmodernism 128
R. Edward Freeman and Robert A. Phillips
PART II BUSINESS ETHICS AND THE BUSINESS DISCIPLINES 139
12 Ethics in management 141
Archie B. Carroll
13 Finance ethics 153
John R. Boatright
14 Ethics in the public accounting profession 164
Mohammad J. Abdolmohammadi and Mark R. Nixon
15 Marketing ethics 178
George G. Brenkert
16 Law, ethics, and managerial judgment 194
Lynn S. Paine
17 Business ethics and economics 207
Diane L. Swanson
18 Business ethics and the social sciences 218
Linda Klebe Treviño
PART III ISSUES IN BUSINESS ETHICS 231
19 International business ethics 233
Richard T. De George
20 Corporate moral agency 243
John R. Danley
21 Employee rights 257
Ronald Duska
22 Business ethics and work: questions for the twenty-first century 269
Joanne B. Ciulla
23 Business's environmental responsibility 280
Joseph R. Desjardins
24 Business ethics and religion 290
Ronald M. Green
25 Social responsibility and business ethics 303
Rogene A. Buchholz and Sandra B. Rosenthal
PART IV BUSINESS ETHICS: ORIGINS AND CONTEMPORARY PRACTICE 323
26 Business ethics and the origins of contemporary capitalism: economics and ethics in the work of Adam Smith and Herbert Spencer 325
Patricia H. Werhane
27 A brief history of American business ethics 342
Thomas F. McMahon
28 Business ethics in Europe: a tale of two efforts 353
Henk Van Luijk
29 Ethics and the regulatory environment 366
Jeffrey M. Kaplan and Rebecca S. Walker
30 A passport for the corporate code: from Borg Warner to the Caux Principles 374
Lisa H. Newton
31 Investigations and due process 386
Joan Elise Dubinsky
32 Ethics and corporate leadership 399
Keith Darcy
Bibliography 409
Appendix A: BUSINESS ETHICS: ELECTRONIC RESOURCES 423
Appendix B: DOMESTIC AND INTERNATIONAL BUSINESS ETHICS ORGANIZATIONS 425
Index 447
Reviews
"Frederick has orchestrated a marvelous business ethics symphony in this Companion. The articles are original, targeted at essential issues, and written by recognized scholars of the movement. It promises to become one of the field's classic collections."
W. Michael Hoffman, Center for Business Ethics, Bentley College
<!--end-->
"The pace of change and the unexpected challenges that managers now confront every day make it all the more important that they have a clear sense of business ethics to guide their decision making. This book provides that handrail and shows how good business and good ethics go hand in hand." John Quelch, London Business School

"This is a valuable resource with thoughtful essays by the best minds in business ethics today. The organization of the book by ethical theories, business diciplines, and contemporary ethical issues makes it particularly useful as a reference book for academics and practitioners alike." Brad Brown, University of Virginia
Features
Includes extensive, accessible discussion of all of the main areas of interest and debate in business ethics
Features all original contributions by distinguished authors in business ethics
Includes an annotated table of contents, bibliographies of the relevant literature and a list of internet sources of material on business ethics
Perfect, comprehensive book for use in business ethics courses