A Companion to Byzantium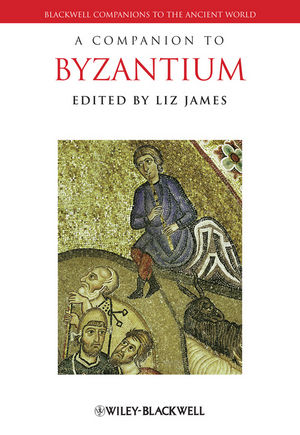 A Companion to Byzantium
ISBN: 978-1-405-12654-0 April 2010 Wiley-Blackwell 482 Pages
Description
Using new methodological and theoretical approaches,
A Companion to Byzantium
presents an overview of the Byzantine world from its inception in 330 A.D. to its fall to the Ottoman Turks in 1453.
Provides an accessible overview of eleven centuries of Byzantine society
Introduces the most recent scholarship that is transforming the field of Byzantine studies
Emphasizes Byzantium's social and cultural history, as well as its material culture
Explores traditional topics and themes through fresh perspectives
Cannot be combined with any other offers.
Original Price:$297.90
Purchased together:$223.42
save $74.48
Table of contents
List of Figures ix
List of Maps xiii
Notes on Contributors xv
Acknowledgments xix
Some Relevant Dates xxi
List of Byzantine Rulers xxv
List of Abbreviations xxix
1. Byzantium: a Very, Very Short Introduction 1
Liz James
2. Writing Histories of Byzantium: the Historiography of Byzantine History 9
F. K. Haarer
Part I Being Byzantine 23
3. Economics, Trade, and "Feudalism" 25
Peter Sarris
4. Byzantium ?­?nConstantinople 43
Paul Magdalino
5. Provinces and Capital 55
Catherine Holmes
6. Insiders and Outsiders 67
Dion C. Smythe
7. Young People in Byzantium 81
Cecily Hennessy
8. The Good, the Bad and the Ugly 93
Myrto Hatzaki
9. The Memory Culture of Byzantium 108
Amy Papalexandrou
10. Emotions in Byzantium 123
Martin Hinterberger
11. Having Fun in Byzantium 135
Shaun Tougher
Part II God and the World 147
12. Byzantine Views of God and the Universe 149
Mary Cunningham
13. Giving Gifts to God: Aspects of Patronage in Byzantine Art 161
Vassiliki Dimitropoulou
14. Orthodoxy and Northern Peoples: Goods, Gods and Guidelines 171
Jonathan Shepard
15. Christology and Heresy 187
Andrew Louth
16. Beyond Byzantium: the Non-Chalcedonian Churches 199
Niall Finneran
Part III Reading Byzantine Texts 225
17. No Drama, No Poetry, No Fiction, No Readership, No Literature 227
Margaret Mullett
18. Rhetorical Questions 239
Mary Whitby
19. Text and Context in Byzantine Historiography 251
Roger Scott
20. Byzantine Narrative: the Form of Storytelling in Byzantium 263
Emmanuel C. Bourbouhakis and Ingela Nilsson
21. Byzantine Book Culture 275
Judith Waring
Part IV Some Questions in Material Culture 289
22. Archaeology 291
James Crow
23. Makers and Users 301
Anthony Cutler
24. The Limits of Byzantine Art 313
Antony Eastmond
25. Icons and Iconomachy 323
Leslie Brubaker
26. The Rise and Fall of the Macedonian Renaissance 338
John Hanson
27. Late and Post-Byzantine Art under Venetian Rule: Frescoes versus Icons, and Crete in the Middle 351
Angeliki Lymberopoulou
Bibliography—Primary Sources 371
Bibliography 384
Index 443
Reviews
"If someday A Companion to a Companion to Byzantium is assembled, perhaps at last the histories, cultures, and experiences of Greeks and non-Greeks within the commonwealth, on both sides of the imperial border, will be combined into an integrated vision of this diverse yet interconnected world. Diversity and all the cooperation and tension which accompanied it are, after all, essential and inescapable dimensions of what it meant to be "Byzantine." (Bmcreview, 5 March 2011)
"The bibliography is impressive.  The list of primary sources, with editions, is particularly useful.  The secondary sources include items published as recently as 2010.  Summing up: Highly recommended.  All research collections." (CHOICE, January 2011)"The collection ends with a 71-page bibliography. I note that this and other front and end matter (including a full list of contents, and a handy list of Byzantine rulers and key dates) is available currently as 'free content' at 'Wiley Online Library'. A subscription to this service appears to provide access to all chapters as PDF files, which would be of great benefit to those wishing to use the collection in teaching." (International History Review, January 2011)
"Written by an impressive group of scholars, the 27 chapters of this companion offer their musings on the state of research in the fields considered, divided into sections on "being Byzantine," God and the world, texts, and material culture. The purpose of the chapters is not to describe the subject, but to describe its study and the current understanding and questions being brought by scholars. The result is a fascinating introduction to the topics and questions of interest in a broad field that will be of interest to the specialized reader as well as the student. Individual chapter topics include the relationship of the provinces to Constantinople, young people, the non-Chalcedonian churches, rhetoric, book culture, archaeology, and the Macedonian renaissance." (Book News Inc, November 2010)
What's New


Provides an overview of eleven centuries of Byzantine history


Includes an accessible introduction to the recent scholarship that has transformed the field


Emphasizes Byzantium's social and cultural history and material culture.