A Companion to California History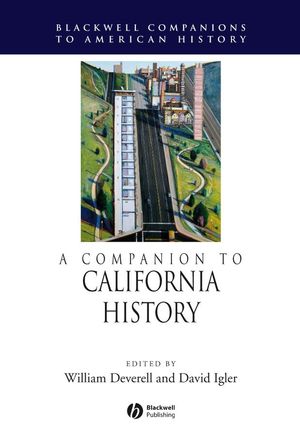 A Companion to California History
ISBN: 978-1-444-30504-3 November 2013 Wiley-Blackwell 544 Pages
Description
This volume of original essays by leading scholars is an innovative, thorough introduction to the history and culture of California.
Includes 30 essays by leading scholars in the field
Essays range widely across perspectives, including political, social, economic, and environmental history
Essays with similar approaches are paired and grouped to work as individual pieces and as companions to each other throughout the text
Produced in association with the Huntington-USC Institute on California and the West
List of Figures viii
Notes on Contributors ix
Introduction xiii
Part I Introductory Essays 1
1. Beyond Dreams and Disappointments: Defining California through Culture 3
James Quay
2. Rereading, Misreading, and Redeeming the Golden State: Defining California through History 22
D. J. Waldie
3. I Thought California Would Be Different: Defining California through Visual Culture 40
Catherine Gudis
4. At the Crossroads: Defi ning California through the Global Economy 75
Richard A. Walker
Part II Early California 97
5. Junípero Serra across the Generations 99
Steven W. Hackel
6. Alta California, the Pacifi c, and International Commerce before the Gold Rush 116
David Igler
7. Licit and Illicit Unions: Engendering Mexican Society 127
Rosamaría Toruño Tanghetti
8. Race and Immigration in the Nineteenth Century 145
Omar Valerio-Jiménez
Part III Conquest and Statehood 159
9. The 1850s 161
William Deverell
10. Nature and Conquest: After the Deluge of '49 175
Douglas Cazaux Sackman
11. Native Californians in the Nineteenth Century 192
William Bauer, Jr.
12. Transformations in Late Nineteenth-century Rural California 215
David Vaught
13. Transnational Commercial Orbits 230
Robert Chao Romero
14. Reconsidering Conservation 246
Benjamin Heber Johnson
15. Religion in the Early Twentieth Century 262
Darren Dochuk
16. Immigration, Race, and the Progressives 278
Lon Kurashige
17. New Deal, No Deal: The 1930s 292
Rick Wartzman
Part IV Modern California 309
18. World War II 311
Arthur Verge
19. Between Liberation and Oppression: Gay Politics and Identity 322
Daniel Hurewitz
20. Making Multiculturalism: Immigration, Race, and the Twentieth Century 339
Kevin Allen Leonard
21. The Long 1950s 358
Shana Bernstein
22. Apportionment Politics, 1920–70 375
Douglas Smith
23. Under the Warm California Sun: Youth Culture in the Postwar Decades 391
Kirse Granat May
24. At the Center of Indian Country 405
Nicolas G. Rosenthal
25. Sexual Revolutions and Sexual Politics 416
Josh Sides
26. A Generation of Leaders, but Not in the Fields: The Legacy of Cesar Chavez 428
Miriam Pawel
27. Hollywood Changes its Script 443
John Horn
Part V California Prospects in the Twenty-first Century 453
28. Immigration and Race in the Twenty-first Century 455
Bill Ong Hing
29. Political Prospects in the Twenty-first Century 472
Raphael J. Sonenshein
30. Environmental Prospects in the Twenty-first Century 483
Jon Christensen
Index 499
"This volume of original essays by leading scholars is an innovative, thorough introduction to the history and culture of California."  (Native American Encyclopedia, 8 January 2014)
"This is a useful book. For somebody whose training is in history, like me, there is enough substance in each chapter to make it worthwhile.... Like all Blackwell Companions, this volume is pleasant to use and handle." (
Reference Reviews
, 2009)
An innovative and thorough volume of 30 original essays by leading scholars on the history and culture of California - from its inception to the present day
Covers the political, social, economic, and environmental history of California
Essays with similar approaches are paired and grouped to work as individual pieces and as companions to each other throughout the text
Produced in association with the Huntington-USC Institute on California and the West