A Companion to Chaucer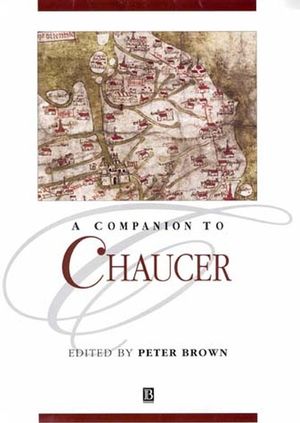 A Companion to Chaucer
ISBN: 978-0-470-69274-5 April 2008 Wiley-Blackwell 536 Pages
Download Product Flyer
Download Product Flyer
Download Product Flyer is to download PDF in new tab. This is a dummy description. Download Product Flyer is to download PDF in new tab. This is a dummy description. Download Product Flyer is to download PDF in new tab. This is a dummy description. Download Product Flyer is to download PDF in new tab. This is a dummy description.
Description
Designed as both a contribution to original research and as a stimulating and accessible text, this volume is a helpful, reliable, responsive and adaptable resource for students of Chaucer at all levels.
Table of contents
List of Illustrations viii
The Contributors ix
Acknowledgements xv
Abbreviations of Chaucer's Works xvi
The Idea of a Chaucer Companion 1
Peter Brown
1 Afterlife 8
Carolyn Collette
2 Authority 23
Andrew Galloway
3 Bodies 40
Linda Ehrsam Voigts
4 Chivalry 58
Derek Brewer
5 Christian Ideologies 75
Nicholas Watson
6 Comedy 90
Laura Kendrick
7 Contemporary English Writers 114
James Simpson
8 Crisis and Dissent 133
Alcuin Blamires
9 France 149
Michael Hanly
10 Games 167
Malcolm Andrew
11 Genre 180
Caroline D. Eckhardt
12 Geography and Travel 195
Scott D. Westrem
13 Italy 218
David Wallace
14 Language 235
David Burnley
15 Life Histories 251
Janette Dillon
16 London 266
Michael Hanrahan
17 Love 281
Helen Phillips
18 Modes of Representation 296
Edward Wheatley
19 Narrative 312
Robert R. Edwards
20 Other Thought-worlds 332
Susanna Fein
21 Pagan Survivals 349
John M. Fyler
22 Personal Identity 360
Lynn Staley
23 Science 378
Irma Taavitsainen
24 Social Structures 397
Robert Swanson
25 Style 414
John F. Plummer
26 Texts 428
Tim William Machan
27 Translation 443
Roger Ellis
28 Visualizing 459
Sarah Stanbury
29 Women 480
Nicky Hallett
Index 495
Reviews
'This collection of accessible, informative essays provides students and teachers with a balance of textual analysis and cultural contexts designed to enhance the understanding of Chaucer's major and minor works . . . Both serious first-time readers of Chaucer and veterans looking for credible information on more recent avenues of inquiry will find this a valuable source of information and bibliography.'
Choice
"This work, the latest entry in Blackwell's "Companions to Literature and Culture" series. . . provides an inclusive and scholarly orientation to current theories and interpretation of Chaucer's works." "Each essay. . . places Chaucer's texts into cultural context by examining the medieval point of view, and includes notes, references, and suggestions for further readings." "The text. . . will serve well as a one-volume introduction for new students. It also provides access to original research and new ideas sought by graduate students and faculty." Library Journal

"Overall, this is useful book. providing an up-to-date survey of the state of Chaucer scholarship on a wide range of issues...it will provoke interesting and educational debates in and out of the classroom." Reference Reviews

"[This book] is both highly readable and rich in its diversity, a book which any Chaucerian, novice or seasoned, will often pick up simply for the pleasure of browsing[...] Every student of Chaucer, from undergraduate to emiritus professor, will want to have access to it." English Studies: A Journal of English Language and Literature
Features


Contains both original research and accessible coverage of the key issues - makes it ideal for students of Chaucer at all levels.


Completely new approach - the volume highlights themes and issues, rather than being arranged by Chaucer's works.


The authors are a distinguished team of scholars drawn from both Europe and North America.


Chapters are written from different perspectives, encouraging independence of thought.