A Companion to Cultural Geography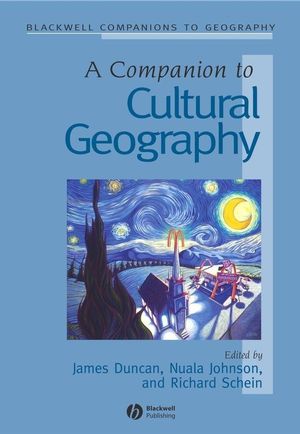 A Companion to Cultural Geography
ISBN: 978-0-470-99725-3 April 2008 Wiley-Blackwell 544 Pages
Download Product Flyer
Download Product Flyer
Download Product Flyer is to download PDF in new tab. This is a dummy description. Download Product Flyer is to download PDF in new tab. This is a dummy description. Download Product Flyer is to download PDF in new tab. This is a dummy description. Download Product Flyer is to download PDF in new tab. This is a dummy description.
Description
A Companion to Cultural Geography
brings together original contributions from 35 distinguished international scholars to provide a critical overview of this dynamic and influential field of study.
Provides accessible overviews of key themes, debates and controversies from a variety of historical and theoretical vantage points
Charts significant changes in cultural geography in the twentieth century as well as the principal approaches that currently animate work in the field
A valuable resource not just for geographers but also those working in allied fields who wish to get a clear understanding of the contribution geography is making to cross-disciplinary debates
Table of contents
Notes on Contributors viii
List of Figures and Tables xiii
1 Introduction 1
James S. Duncan, Nuala C. Johnson, and Richard H. Schein
Part I Introducing Cultural Geographies 9
2 Cultural Traditions 11
Richard H. Schein
3 Cultural Turns 24
Heidi Scott
4 A Critique of the Cultural Turn 38
Clive Barnett
Part II Theoretical Intersections 49
5 Historical Materialism and Marxism 51
Don Mitchell
6 Feminisms 66
Joanne Sharp
7 Poststructuralism 79
Deborah P. Dixon and John Paul Jones III
8 Psychoanalytic Approaches 108
Paul Kingsbury
9 Performance and Performativity: A Geography of Unknown Lands 121
Nigel Thrift
Part III Nature/Culture 137
10 Cultures of Science 139
David N. Livingstone
11 Nature and Culture: On the Career of a False Problem 151
Bruce Braun
12 Cultural Ecology 180
Paul Robbins
13 Environmental History 194
Gerry Kearns
14 Ethics and the Human Environment 209
Jonathan M. Smith
Part IV Culture And Identity 221
15 Nationalism 223
John Agnew
16 Critical 'Race' Approaches to Cultural Geography 238
Audrey Kobayashi
17 Social Class 250
Nancy Duncan and Stephen Legg
18 Sexuality 265
Richard Phillips
19 The Body 279
Michael Landzelius
20 Consumption 298
James Kneale and Claire Dwyer
21 Public Memory 316
Nuala C. Johnson
Part V Landscapes 329
22 Economic Landscapes 331
Susan Roberts
23 Political Landscapes 347
Karen E. Till
24 Religious Landscapes 365
Lily Kong
25 Landscapes of Home 382
James S. Duncan and David Lambert
26 Landscapes of Childhood and Youth 404
Elizabeth A. Gagen
27 Landscape in Film 420
Robert Shannan Peckham
28 Landscape and Art 430
Stephen Daniels
Part VI Colonial and Postcolonial Geographies 447
29 Imperial Geographies 449
Daniel Clayton
30 Postcolonial Geographies 469
James R. Ryan
31 Diaspora 485
Carl Dahlman
32 Transnationalism 499
Cheryl McEwan
Index 513
Reviews
"Finally, a text that brings the major contributions of the 'new cultural geography' and its relationship to cultural studies into rich relief.
A Companion to Cultural Geography
comprises a series of outstanding essays on contemporary cultural geographies of nature, identity, landscape, and power. Each of the essays engages with broader debates in cultural studies and social theory, and with the role of theory, methodology and practice in contemporary human geography. This
Companion
will be invaluable to students, teachers, and researchers alike."
John Pickles, UNC Chapel Hill <!--end-->
"A Companion to Cultural Geography provides excellent company for a range of journeys that cultural geographers may be planning to embark upon... This is a book that academics cultural geographers will want to have on their bookshelves, and on the shelves of their libraries, as a resource for themselves and their senior undergraduate and postgraduate students, because these companions will speed many an academic journey."
Cultural Geographies
Features
An in-depth survey of the dynamic and influential field of cultural geography
Brings together original contributions from 35 distinguished international scholars whose work has helped to shape the field
Provides accessible overviews of key themes and debates from a variety of historical and theoretical vantage points as well as charting significant changes in cultural geography in the twentieth century
Charts significant changes in cultural geography in the twentieth century as well as the principal approaches that currently animate work in the field
A valuable resource not just for geographers but also those working in allied fields who wish to get a clear understanding of the contribution geography is making to cross-disciplinary debates