A Companion to Early Modern Women's Writing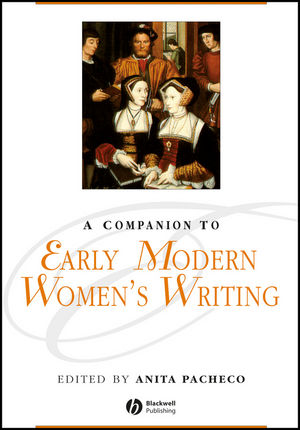 A Companion to Early Modern Women's Writing
ISBN: 978-1-405-17611-8
Feb 2008, Wiley-Blackwell
416 pages
Description
This timely volume represents one of the first comprehensive, student-oriented guides to the under-published field of early modern women's writing.



Brings together more than twenty leading international scholars to provide the definitive survey volume to the field of early modern women's writing

Examines individual texts, including works by Mary Sidney, Margaret Cavendish and Aphra Behn

Explores the historical context and generic diversity of early modern women's writing, as well as the theoretical issues that underpin its study

Provides a clear sense of the full extent of women's contributions to early modern literary culture
Notes on Contributors x
Introduction xiv
PART ONE Contexts 1
1 Women and Education 3
Kenneth Charlton
2 Religion and the Construction of the Feminine 22
Diane Willen
3 Women, Property and Law 40
Tim Stretton
4 Women and Work 58
Sara H. Mendelson
5 Women and Writing 77
Margaret J. M. Ezell
PART TWO Readings 95
6 Isabella Whitney, A Sweet Nosegay 97
Patricia Brace
7 Mary Sidney, Countess of Pembroke, Psalmes 110
Debra K. Rienstra
8 Aemilia Lanyer, Salve Deus Rex Judaeorum 125
Susanne Woods
9 Elizabeth Cary, The Tragedy of Mariam and History 136
Elaine Beilin
10 Mary Wroth, The Countess of Montgomery's Urania 150
Naomi J. Miller
11 Margaret Cavendish, A True Relation of My Birth, Breeding and Life 165
Gweno Williams
12 Anna Trapnel, Anna Trapnel's Report and Plea 177
Hilary Hinds
13 Katherine Philips, Poems 189
Elizabeth H. Hageman
14 Aphra Behn, The Rover, Part One 203
Anita Pacheco
15 Mary Astell, Critic of the Marriage Contract/Social Contract Analogue 216
Patricia Springborg
PART THREE Genres 229
16 Autobiography 231
Sheila Ottway
17 Defences of Women 248
Frances Teague and Rebecca De Haas
18 Prophecy 264
Elaine Hobby
19 Women's Poetry 1550–1700: 'Not Unfit to be Read' 282
Bronwen Price
20 Prose Fiction 303
Paul Salzman
21 Drama 317
Sophie Tomlinson
PART FOUR Issues and Debates 337
22 The Work of Women in the Age of Electronic Reproduction: The Canon, Early Modern Women Writers and the Postmodern Reader 339
Melinda Alliker Rabb
23 Feminist Historiography 361
Margo Hendricks
Index 377
"Pacheco (humanities, Univ. of Hertfordshire) has produced a much-needed collection that puts into historical and literary perspective the study of early modern women and their writings. [...] In scholarship and critical depth, this volume compares favourably to the many recent publications on early modern women; what makes it particularly useful is its accessibility to students just becoming acquainted with the field."
Choice
"This is a worthwhile and well-produced volume ... [it] would make an excellent core text for students on courses on early modern women's writing or gender studies[.]"
English Historical Review


Brings together more than twenty leading international scholars to provide the definitive survey volume to the field of early modern women's writing

Examines individual texts, including works by Mary Sidney, Margaret Cavendish and Aphra Behn

Explores the historical context and generic diversity of early modern women's writing, as well as the theoretical issues that underpin its study

Provides a clear sense of the full extent of women's contributions to early modern literary culture