A Companion to Eastern European Cinemas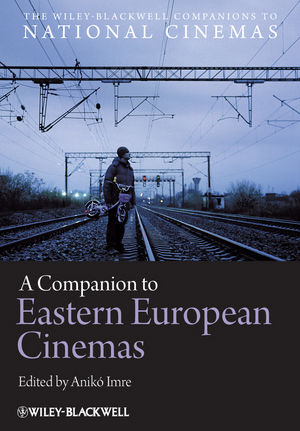 A Companion to Eastern European Cinemas
ISBN: 978-1-118-29435-2 August 2012 Wiley-Blackwell 544 Pages
Description
A Companion to Eastern European Cinemas showcases twenty-five essays written by established and emerging film scholars that trace the history of Eastern European cinemas and offer an up-to-date assessment of post-socialist film cultures.


Showcases critical historical work and up-to-date assessments of post-socialist film cultures
Features consideration of lesser known areas of study, such as Albanian and Baltic cinemas, popular genre films, cross-national distribution and aesthetics, animation and documentary
Places the cinemas of the region in a European and global context
Resists the Cold War classification of Eastern European cinemas as "other" art cinemas by reconnecting them with the main circulation of film studies
Includes discussion of such films as Taxidermia, El Perro Negro, 12:08 East of Bucharest Big Tõll, and Breakfast on the Grass and explores the work of directors including Tamás Almási, Walerian Borowczyk, Roman Polanski, Jerzy Skolimowski, Andrzej ¯u³awski, and Karel Vachek amongst many others
Notes on the Editor and Contributors viii
Foreword xv
Dina Iordanova
1 Introduction: Eastern European Cinema From No End to the End (As We Know It) 1
Anikó Imre
Part I New Theoretical and Critical Frameworks 23
2 Body Horror and Post-Socialist Cinema: György Pálfi's Taxidermia 25
Steven Shaviro
3 El perro negro : Transnational Readings of Database Documentaries from Spain 41
Marsha Kinder
4 Did Somebody Say Communism in the Classroom? or The Value of Analyzing Totality in Recent Serbian Cinema 63
Zoran Samardzija
5 Laughing into an Abyss: Cinema and Balkanization 77
Kriss Ravetto-Biagioli
6 Jewish Identities and Generational Perspectives 101
Catherine Portuges
7 Aftereffects of 1989: Corneliu Porumboiu's 12:08 East of Bucharest (2006) and Romanian Cinema 125
Alice Bardan
8 Cinema Beyond Borders: Slovenian Cinema in a World Context 148
Meta Mazaj and Shekhar Deshpande

Part II Historical and Spatial Redefinitions 167
9 Center and Periphery, or How Karel Vachek Formed a New Government 169
Alice Lovejoy
10 The Polish Black Series Documentary and the British Free Cinema Movement 183
Bjørn Sørenssen
11 Socialists in Outer Space: East German Film's Venusian Adventure 201
Stefan Soldovieri
12 Red Shift: New Albanian Cinema and its Dialogue with the Old 224
Bruce Williams
13 National Space, (Trans)National Cinema: Estonian Film in the 1960s 244
Eva Näripea
14 For the Peace, For a New Man, For a Better World! Italian Leftist Culture and Czechoslovak Cinema, 1945–1968 265
Francesco Pitassio
Part III Aesthetic (Re)visions 289
15 The Impossible Polish New Wave and its Accursed Émigré Auteurs: Borowczyk, Polañski, Skolimowski, and ¯u³awski 291
Michael Goddard
16 Documentary and Industrial Decline in Hungary: The "Ózd Series" of Tamás Almási 311
John Cunningham
17 Investigating the Past, Envisioning the Future: An Exploration of Post-1991 Latvian Documentary 325
Maruta Z. Vitols
18 Eastern European Historical Epics: Genre Cinema and the Visualization of a Heroic National Past 344
Nikolina Dobreva
19 Nation, Gender, and History in Latvian Genre Cinema 366
Irina Novikova
20 A Comparative Study: Rein Raamat's Big Tõll and Priit Pärn's Luncheon on the Grass 385
Andreas Trossek
21 The Yugoslav Black Wave: The History and Poetics of Polemical Cinema in the 1960s and 1970s in Yugoslavia 403
Greg De Cuir, Jr .
Part IV Industries and Institutions 425
22 Follow the Money – Financing Contemporary Cinema in Romania 427
Ioana Uricaru
23 An Alternative Model of Film Production: Film Units in Poland after World War Two 453
Dorota Ostrowska
24 The Hussite Heritage Film: A Dream for all Czech Seasons 466
Petra Hanáková
25 International Co-productions as Productions of Heterotopias 483
Ewa Mazierska
26 East is East? New Turkish Cinema and Eastern Europe 504
Melis Behlil
Index 518
"Imre's volume will doubtlessly prove to be an indispensible resource for scholars and educators alike, and one can only hope that the marvelous scholarship that abounds in the space of this volume will inspire further research into the cinema of the 'other' Europe."  (Film International, 5 December 2013)
"This is an extremely scholarly work which will be welcomed by dedicated students of Eastern European cinema and those seeking detailed source material on pre and post-Cold War East European cinema."  (Reference Reviews, 1 October 2013)
"Challenges outdated modes of examination, revealing Eastern European cinema's connection to European, transnational, and global media productions ... Summing Up: Highly recommended. Upper-division undergraduates and above." (Choice, 1 July 2013)