A Companion to Eighteenth-Century Europe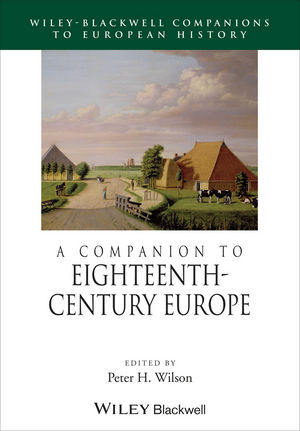 A Companion to Eighteenth-Century Europe
ISBN: 978-1-405-13947-2 July 2008 Wiley-Blackwell 616 Pages
Description
This Companion contains 31 essays by leading international scholars to provide an overview of the key debates on eighteenth-century Europe.



Examines the social, intellectual, economic, cultural, and political changes that took place throughout eighteenth-century Europe

Focuses on Europe while placing it within its international context

Considers not just major western European states, but also the often neglected countries of eastern and northern Europe
Buy Both and Save 25%!
Original Price:$78.90
Purchased together:$59.18
save $19.72
Cannot be combined with any other offers.
List of Illustrations viii
Notes on Contributors xi
Acknowledgments xv
Maps xvi
Introduction 1
Peter H. Wilson
PART I PEOPLE, PRODUCTION, AND CONSUMPTION 9
1 Eighteenth-Century History and the European Environment 11
Dennis Wheeler
2 Gender 27
Deborah Simonton
3 Rural Economy and Society 47
Markus Cerman
4 Manufacturing, Markets, and Consumption 66
Beverly Lemire
5 Towns and their Inhabitants 82
Marc Schalenberg
6 The Eighteenth-Century Nobility: Challenge and Renewal 94
Hamish Scott
7 Poverty 109
Peter H. Wilson
PART II CULTURES 123
8 The Public Sphere 125
Michael Schaich
9 Enlightened Thought, its Critics and Competitors 141
Thomas Munck
10 Medicine, Medical Practice, and Public Health 158
Mary Lindemann
11 Religion 176
Joachim Whaley
12 Popular Culture and Sociability 192
Beat Kümin
13 The Arts 208
Mark Berry
PART III STATE AND SOCIETY 225
14 Russia 227
Lindsey Hughes
15 Poland-Lithuania 244
Jerzy Lukowski
16 The Empire, Austria, and Prussia 260
Peter H. Wilson
17 The Scandinavian Kingdoms 276
Michael Bregnsbo
18 The Dutch Republic 289
J. L. Price
19 The Italian States 304
Gregory Hanlon
20 Iberia: Spain and Portugal in the Eighteenth Century 322
Christopher Storrs
21 France 338
Michael Rapport
22 Britain and Hanover 354
Torsten Riotte
PART IV INTERNATIONAL CONNECTIONS 369
23 Diplomacy and the Great Powers 371
Andrew C. Thompson
24 Islam and Europe 387
Molly Greene
25 Europe and the World 402
Philippe R. Girard
26 Europe and the Sea 418
Jan Glete
PART V POLITICS AND THE STATE 433
27 Dynasticism and the World of the Court 435
Clarissa Campbell Orr
28 Absolutism and Royal Government 451
Ronald G. Asch
29 War, 1688–1812 464
Ciro Paoletti
30 Participatory Politics 479
David M. Luebke
31 The French and European Revolutions 495
Alan Forrest
Bibliography 512
Index 556
"This is a useful book. It starts the student off with the idea if interrelationships between social, economic, cultural and political change.... University libraries catering for a wide range of courses in historical subjects will want to consider this for acquisition." (
Reference Reviews
, 2009)
"This is an impressive volume, with leading experts providing a wide-ranging coverage that should satisfy most requirements for effective and thoughtful introductory surveys.... All specialists on this period will find much of value in this excellent volume." (History, January 2009)
"A vivid portrait of 18th-century Europe…. Inclusion of diverse interpretative methodologies, including gender studies … brings fascinating illumination to period sociology. Recommended for European history collections." (Library Journal)


Includes 31 original essays by an international team of expert scholars


Examines the social, intellectual, economic, cultural, and political changes that took place throughout eighteenth-century Europe


Focuses on Europe while placing it within its international context


Considers not just major western European states, but also the often neglected countries of eastern and northern Europe