A Companion to Europe Since 1945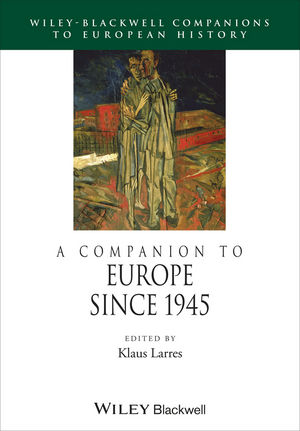 A Companion to Europe Since 1945
ISBN: 978-1-118-89024-0 January 2014 Wiley-Blackwell 536 Pages
Description
A Companion to Europe Since 1945 provides a stimulating guide to numerous important developments which have influenced the political, economic, social, and cultural character of Europe during and since the Cold War.
Includes 22 original essays by an international team of expert scholars

Examines the social, intellectual, economic, cultural, and political changes that took place throughout Europe in the Cold War and Post Cold War periods

Discusses a wide range of topics including the Single Market, European-American relations, family life and employment, globalization, consumption, political parties, European decolonization, European identity, security and defence policies, and Europe's fight against international terrorism

Presents Europe in a broad geographical conception, to give equal weighting to developments in the Eastern and Western European states
Notes on Contributors ix
Acknowledgments xi
Maps xii-xiii
Introduction 1
Klaus Larres
PART I EUROPE IN TRANSITION: FROM WAR TO COLD WAR 5
1 From War to Cold War 7
Mark Gilbert
2 Federalism and the Beginnings of European Union 25
John Pinder
PART II EUROPE AND THE COLD WAR WORLD 45
3 The Cold War: The Western European Perspective 47
Ian Jackson
4 The Soviet Bloc and the Cold War in Europe 67
Mark Kramer
5 Economic Developments in Western and Eastern Europe since 1945 95
Ian Jackson
6 The End of Empires: Decolonization and Its Repercussions 113
David R. Devereux
7 European Integration: From the Common Market to the Single Market 133
Desmond Dinan
8 The United States and European Integration, 1945-1990 151
Klaus Larres
9 The Churches and Christianity in Cold War Europe 183
Dianne Kirby
10 The End of the Cold War and the Unifi cation of the European Continent 208
Carine Germond
PART III EUROPE SINCE 1990: POLITICAL AND ECONOMIC DEVELOPMENTS 229
11 Transatlantic Relations since the End of the Cold War: Permanent Alliance or Partnership in Peril? 231
Robert Hutchings
12 Europe and Economic Globalization since 1945 249
Alfred E. Eckes Jr.
13 Economic Integration since Maastricht 270
Christopher Flockton
14 Political Parties in Europe since 1945 302
Roger Eatwell
15 The Genesis of a European Security and Defence Policy 323
Ralph Dietl
16 Europe's Experience of Terrorism since 1945: A Brief Overview 355
Paul Wilkinson
PART IV EUROPE SINCE 1990: SOCIAL AND CULTURAL DEVELOPMENTS 367
17 The Quest for a European Identity: A Europe without Europeans? 369
Ruth Wittlinger
18 Europe and Post-Cold War Nationalism 387
Claire Sutherland
19 The Participatory Revolution: New Social Movements and Civil Society 407
Ingolfur Blühdorn
20 Postwar Europe: A Continent Built on Migration 432
Panikos Panayi
21 Changing Norms of Masculinity and Femininity: Development in Gender Relations and Family Structures in Europe 450
Laura den Dulk
22 Europe and the Welfare State since 1945 472
Steen P. Mangen
Index 501
"This volume does indeed deliver high quality results in the areas on which it concentrates." (Reviews in History, June 2010)




Includes 22 original essays by an international team of expert scholars

Examines the social, intellectual, economic, cultural, and political changes that took place throughout Europe in the Cold War and Post Cold War periods

Discusses a wide range of topics including the Single Market, European-American relations, family life and employment, globalization, consumption, political parties, European decolonization, European identity, security and defence policies, and Europe's fight against international terrorism

Presents Europe in a broad geographical conception, to give equal weighting to developments in the Eastern and Western European states