A Companion to Feminist Philosophy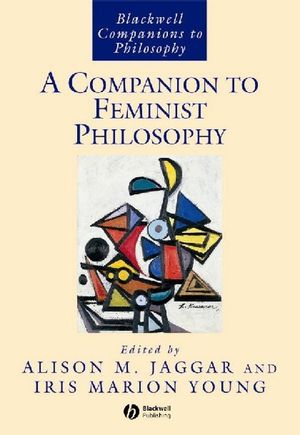 A Companion to Feminist Philosophy
ISBN: 978-0-631-22067-1
Feb 2000, Wiley-Blackwell
724 pages
Description
Including over 50 newly-commissioned survey articles, this outstanding volume represents the first truly comprehensive guide to feminist philosophy.
Introduction: Alison M. Jaggar and Iris Marion Young.
Part I: The Western Canonical Tradition:.
1. Ancient Greek Philosophy: Rhoda Kotzin.
2. Modern Rationalism: Moira Gatens.
3. Empiricism: Lynn Hankinson Nelson.
4. Kant: Robin Schott.
5. Pragmatism: Charlene Haddock Seigried.
6. Modern Moral and Political Philosophy: Herta Nagl-Docekal.
7. Existentialism and Phenomenology: Sonia Kruks.
8. Post-modernism: Chris Weedon.
Part II: Africa, Asia, Latin America and Eastern Europe:.
9. Latin America: Ofelia Schutte.
10. Africa: Sophie Oluwele.
11. China: Chun Lin, Bohong Liu and Yihong Jin.
12. Indian subcontinent: Vrinda Dalmiya.
13. Eastern Europe: Gordana Duhacek.
Part III: Language:.
14. Language and Power: Lynne Tirrell.
15. Semantics: Andrea Nye.
Part IV: Knowledge and Nature:.
16. Rationality: Genevieve Lloyd.
17. Epistemology: Lorraine Code.
18. Natural Sciences: Kathleen Lennon.
19. Biological Sciences: Lynda Birke.
20. Social Sciences: Mary Hawkesworth.
21. The Environment: Val Plumwood.
Part V: Religion:.
22. Christianity: Catherine Keller.
23. Islam: Bafarat Tayyab.
24. Judaism: Rachel Adler.
Part VI: Subjectivity and Embodiment:.
25. Self/Other: Michelle Moody Adams.
26. Post-Modern Subjectivity: Tina Chanter.
27. Psychoanalytic feminism: Teresa Brennan.
28. Human Nature: Nancy Holmstrom.
29. Gender: Linda Nicholson.
30. Sexual Difference Theory: Rosi Braidotti.
31. Sexuality: Jacqueline Zita.
32. Body Politics: Sandra Bartky.
33. Disability: Anita Silvers.
Part VII: Art:.
34. Aesthetics: Cornelia Klinger.
35. Film Theory: Cynthia Freeland.
Part VIII: Ethics:.
36. Moral Epistemology: Margaret Walker.
37. Agency: Diana Meyers.
38. Care: Andrea Maihofer.
39. Impartiality: Marilyn Friedman.
40. Lesbian Ethics: Sarah Lucia Hoagland.
41. Communicative Ethics: Joanna Meehan.
42. Health Care: Susan Sherwin.
43. Procreation: Laura Shanner.
Part IX: Society:.
44. Education: Jane Martin.
45. Work: Barbara Hilkert Andolsen.
46. Privacy: Anita Allen.
47. Community: Maria Lugones.
48. Racism: Linda Martin Alcoff.
Part X: Politics:.
49. Justice: Elizabeth Kiss.
50. Rights: Virginia Held.
51. Democracy: Anne Phillips.
52. Socialism: Ann Ferguson.
53. Anglo-American Law: Katharine T. Bartlett.
54. Islamic Law: Azizah al-Hibri.
55. International Justice: Natalie Dandekar.
56. Equal Opportunity: Laurie Shrage.
57. Social Policy: Eva Kittay.
58. War and Peace: Sara Ruddick.
"Finally, an anthology that places the power and range of feminist theory in the context not just of the Western tradition but also the concerns of the Two thirds World. The essays in this collection, many of which stress the performative and normalizing function of language, invite us to mark what has gone before in the hope of moving forward into a new era of Feminist theorizing. Broad in scope and rich in information, it is the best guide available to the range and depth of Feminist theory."
Donn Welton, State University of New York at Stony Brook
"Jaggar and Young's Companion to Feminist Philosophy successfully introduces the uninitiated to the full scope of this rapidly burgeoning subject and, at the same time, provides a truly authoritative consolidation which will serve as an invaluable platform for further developments. Ranging across several continents and even more traditions, its three score chapters touch upon all the main branches of philosophy - language, knowledge and nature, religion, aesthetics and ethics, politics and society - showing in each case what difference is made by distinctively feminist concerns, such as subjectivity and embodiment. It is a tour de force that will impress sceptics and confirm the committed." Robert E. Goodin, Australian National University

"This monumental work will serve as a moral and intellectual touchstone for thinkers concerned to grasp ever more fully the abiding contributions of women to philosophical thought. A fount of information and inspiration, this work is an invaluable guide through the history of ideas." Laurence Thomas, Syracuse University

"It contains more than 50 very substantial survey articles on a very wide range of topics that include all the major standard subfields of general philosophy. These are supported by a substantial bibliography covering over 80 pages and a well constructed subject index. The level and vocabulary is advanced." Sarah Gash, University of Central England

"Companions of this ultra-compendious kind will always be monumental in a certain way, but this one seems especially so. Its publication marks the fact that now is an exciting moment in feminist philosophy. This Companion captures the moment, and one would hope that anyone who consults it, whether out of special interest or simple intellectual curiosity, will be stimulated by it." Miranda Fricker, Times Literary Supplement

"The editors of this volume, Jaggar and Young, have produced a valuable resource for teachers and students alike...The articles in the volume do not, in general, reflect any strict Anglo-American/Continental divide but display a rich mix, eloquent of the range of feminist engagements and interventions in philosophy...The Companion should be a valuable addition to any philosopher's library...It should also be of significant interest to those engaged in women's studies and cultural studies." Jo Sullivan, Women's Philosophy Review, Special Issue no. 25, 2000

"The Companion is an excellent resource for all levels of courses on feminist philosophy...this is truly an excellent collection, a great resource, and, in short, a book I plan to use extensively in the coming years". Barbara S. Andrew, University of Oregon, Ethics, October 2001
* Provides over 50 newly commissioned survey articles.
* Includes a series of essays tracing the emergence of feminist philosophy in Africa, Asia, Latin America, and Eastern Europe.
* Features a single comprehensive bibliography that serves as a valuable guide to the burgeoning literature in the field.
* Covers a number of topics absent from mainstream philosophy.