A Companion to Film Noir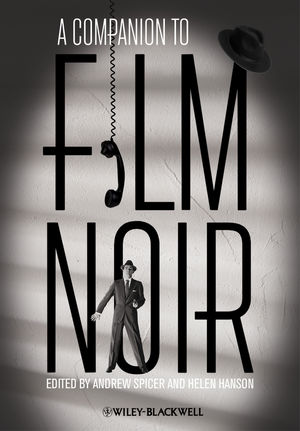 A Companion to Film Noir
ISBN: 978-1-444-33627-6
Sep 2013, Wiley-Blackwell
542 pages
Description
An authoritative companion that offers a wide-ranging thematic survey of this enduringly popular cultural form and includes scholarship from both established and emerging scholars as well as analysis of film noir's influence on other media including television and graphic novels.
Covers a wealth of new approaches to film noir and neo-noir that explore issues ranging from conceptualization to cross-media influences
Features chapters exploring the wider 'noir mediascape' of television, graphic novels and radio
Reflects the historical and geographical reach of film noir, from the 1920s to the present and in a variety of national cinemas
Includes contributions from both established and emerging scholars
Buy Both and Save 25%!
Original Price:$420.90
Purchased together:$315.67
save $105.23
Cannot be combined with any other offers.
List of Illustrations viii
Notes on Contributors x
Acknowledgments xviii
Foreword xix
James Naremore
Introduction: The Problem of Film Noir 1
Andrew Spicer
Part I Conceptualizing Film Noir 15
1 The Strange Case of Film Noir 17
Robert Porfirio
2 Genre, Hybridity, Heterogeneity: or, the Noir-SF-Vampire-Zombie-Splatter-Romance-Comedy-Action-Thriller Problem 33
Mark Bould
3 A Wet Emptiness: The Phenomenology of Film Noir 50
Henrik Gustafsson
4 Cinephilia and Film Noir 67
Corey K. Creekmur
Part II Hidden, Hybrid, and Transmedia Histories and Influences 77
5 Precursors to Film Noir 79
Wheeler Winston Dixon
6 Crisscrossed? Film Noir and the Politics of Mobility and Exchange 94
Alastair Phillips
7 Film Noir and Horror 111
Peter Hutchings
8 Borderings: The Film Noir Semi-Documentary 125
R. Barton Palmer
9 Crime Fiction and Film Noir 142
William Marling
10 Film Noir, American Painting and Photography: Questions of Influence 158
Tom Ryall
Part III Social, Industrial, and Commercial Contexts 175
11 The Politics of Film Noir 177
Brian Neve
12 The Black Typewriter: Who Wrote Film Noir? 193
David Wilt
13 Film Noir and Studio Production Practices 211
Geoff Mayer
14 Film Noir and Post-Studio Production Practices 229
John Berra
15 Selling Noir: Stars, Gender, and Genre in Film Noir Posters and Publicity 245
Mary Beth Haralovich
Part IV The Fabric of Film Noir: Style and Performance 265
16 Out of the Shadows: Noir Lighting and Hollywood Cinematography 267
Patrick Keating
17 The Ambience of Film Noir: Soundscapes, Design, and Mood 284
Helen Hanson
18 In a Lonely Tone: Music in Film Noir 302
David Butler
19 Acting and Performance in Film Noir 318
Donna Peberdy
Part V Identities and Film Noir 335
20 Film Noir and Subjectivity 337
Christophe Gelly
21 Women in Film Noir 353
Yvonne Tasker
22 "The Corpse on Reprieve": Film Noir's Cautionary Tales of "Tough Guy" Masculinity 369
Gaylyn Studlar
23 Ethnicity and Race in American Film Noir 387
Dan Flory
24 The Climb and the Chase: Film Noir and the Urban Scene – Representations of the City in Three Classic Noirs 405
Murray Pomerance
Part VI Noir in Other Forms 421
25 Radio Noir in the USA 423
Jesse Schlotterbeck
26 Television Noir 440
Steven Sanders
27 "It Rhymes with Lust": The Twisted History of Noir Comics 458
James Lyons
Part VII New Geographies of Film Noir 477
28 Film Noir in Asia: Historicizing South Korean Crime Thrillers 479
Nikki J.Y. Lee and Julian Stringer
29 Bombay Noir 496
Lalitha Gopalan
Index 512
"This is recommended for film studies and for humanities collections." (Reference Reviews, 1 September 2015)
"The twenty-eight essays in this collection represent a landmark in noir criticism. Written by some of the most accomplished veterans in the field, as well as many new and promising voices, these essays are both deeply engaged with previously contested critical territory and agressively turned toward undiscovered and untilled terrain ... This is a collection that will be studied, cited, and, as with all of the most influential film noir criticism, contested for many years to come." (Wide Angle, 1 March 2014)