A Companion to Food in the Ancient World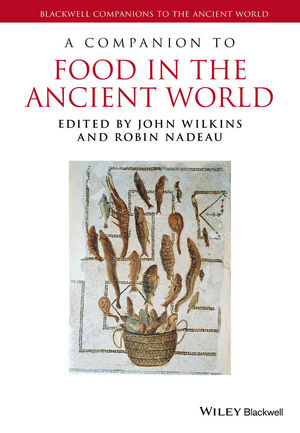 A Companion to Food in the Ancient World
ISBN: 978-1-405-17940-9 August 2015 Wiley-Blackwell 472 Pages
Description
A Companion to Food in the Ancient World presents a comprehensive overview of the cultural aspects relating to the production, preparation, and consumption of food and drink in antiquity.
• Provides an up-to-date overview of the study of food in the ancient world
• Addresses all aspects of food production, distribution, preparation, and consumption during antiquity
• Features original scholarship from some of the most influential North American and European specialists in Classical history, ancient history, and archaeology
• Covers a wide geographical range from Britain to ancient Asia, including Egypt and Mesopotamia, Asia Minor, regions surrounding the Black Sea, and China
• Considers the relationships of food in relation to ancient diet, nutrition, philosophy, gender, class, religion, and more
List of Illustrations viii
Notes on Contributors ix
Abbreviations xiii
Introduction 1
John Wilkins and Robin Nadeau
PART 1 Literature and Approaches 17
1 Food in Greek Literature 19
Richard Hunter and Demetra Koukouzika
2 Athenaeus the Encyclopedist 30
Oswyn Murray
3 Food in Latin Literature 43
Matthew Leigh
4 Cookery Books 53
Robin Nadeau
5 Medical Literature, Diet, and Health 59
John Wilkins
6 Food and Ancient Philosophy 67
Paul Scade
7 Food, Gender, and Sexuality 76
Florence Dupont
8 Class and Power 85
Elke Stein]Hölkeskamp
9 The Archaeology of Food Consumption 95
Martin Pitts
10 Roman Food Remains in Archaeology and the Contents of a Roman Sewer at Herculaneum 105
Mark Robinson and Erica Rowan
11 Anthropology and Food Studies 116
Sarah Hitch
12 Art and Images: Feasting in Ancient Greece and Rome 123
François Lissarrague
PART 2 Production and Transport 133
13 Animals, Meat, and Alimentary By]products: Patterns of Production and Consumption 135
Christophe Chandezon
14 Fish 147
Dimitra Mylona
15 Agriculture 160
Geoffrey Kron
16 Storage and Transport 173
Robert I. Curtis
17 Supplying Cities 183
Paul Erdkamp
PART 3 Preparation 193
18 Men, Women, and Slaves 195
Andrew Dalby
19 Kitchens 206
Bradley A. Ault
20 Baking and Cooking 212
Nicolas Monteix
21 Dining in Ancient Greece 224
Pauline Schmitt Pantel
22 Symposium 234
Sean Corner
23 Royal Feasting 243
Konrad Vössing
24 Roman Dining 253
John F. Donahue
25 Table Manners 265
Robin Nadeau
26 Wine Appreciation in Ancient Greece 273
Thibaut Boulay
PART 4 Cultures Beyond Athens and Rome 283
27 Food, Culture, and Environment in Ancient Asia Minor 285
Stephen Mitchell
28 Food among Greeks of the Black Sea: the Challenging Diet of Olbia 296
David Braund
29 Mesopotamia 309
Brigitte Lion
30 Food in Ancient Egypt 319
Pierre Tallet
31 "Celtic" Food: Perspectives from Britain 326
Martin Pitts
PART 5 Food and Religion/Great Food Cultures 335
32 Sacrifice 337
Sarah Hitch
33 Jewish Meals in Antiquity 348
Jordan D. Rosenblum
34 Food and Dining in Early Christianity 357
Dennis E. Smith
35 Byzantium 365
Béatrice Caseau
36 Medieval Food 377
Bruno Laurioux
37 Food in Antiquity: the Islamic Dimension 383
David Waines
38 The Ideological Foundations of the Food Culture of Pre]Imperial China 393
Françoise Sabban
Bibliography 403
Index 453
"Food and drink reveal to us the heart of a culture. Much can be learnt through the essays in this significant and important study." (Reference Reviews 2016).
'Whether one's passion is cookery books, baking, sacrifice, or butchery, or if kitchens, viniculture, and archaeobotany are more to your taste, readers of all types will find something relevant to dip into here.' (Tyler Jo Smith, Religious Studies Review, Vol 43, No 2, June 2017).