A Companion to German Cinema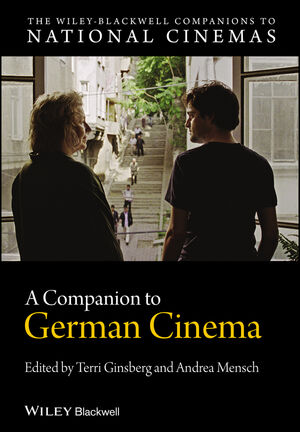 A Companion to German Cinema
ISBN: 978-1-444-34558-2
Nov 2011, Wiley-Blackwell
560 pages
Description
A Companion to German Cinema offers a wide-ranging collection of essays demonstrating state-of-play scholarship on German cinema at a time during which cinema studies as well as German cinema have once again begun to flourish.
Offers a careful combination of theoretical rigor, conceptual accessibility, and intellectual inclusiveness
Includes essays by well-known writers as well as up-and-coming scholars who take innovative critical approaches to both time-honored and emergent areas in the field, especially regarding race, gender, sexuality, and (trans)nationalism
Distinctive for its contemporary relevance, reorienting the field to the global twenty-first century
Fills critical gaps in the extant scholarship, opening the field onto new terrains of critical engagement
Notes on Editors and Contributors vii
Acknowledgments xii
Abbreviations xiii
Introduction
Terri Ginsberg and Andrea Mensch 1
First Movement: Destabilization 23
1 Have Dialectic, Will Travel: The GDR Indianerfilme as Critique and Radical Imaginary 27
Dennis Broe
2 Coming Out into Socialism: Heiner Carow's Third Way 55
David Brandon Dennis
3 German Identity, Myth, and Documentary Film 82
Julia Knight
4 Post-Reunification Cinema: Horror, Nostalgia, Redemption 110
Anthony Enns
5 "Capitalism Has No More Natural Enemies": The Berlin School 134
David Clarke
6 Projecting Heimat: On the Regional and the Urban in Recent Cinema 155
Jennifer Ruth Hosek
7 No Happily Ever After: Disembodying Gender, Destabilizing Nation in Angelina Maccarone's Unveiled 175
Gayatri Devi
Second Movement: Dislocation 193
8 Views across the Rhine: Border Poetics in Straub–Huillet's Machorka-Muff (1962) and Lothringen! (1994) 197
Claudia Pummer
9 Contested Spaces: Kamal Aljafari's Transnational Palestinian Films 218
Peter Limbrick
10 Fatih Akýn's Homecomings 249
Savas Arslan
11 Lessons in Liberation: Fassbinder's Whity at the Crossroads of Hollywood Melodrama and Blaxploitation 260
Priscilla Layne
12 Sexploitation Film from West Germany 287
Harald Steinwender and Alexander Zahlten
13 A Documentarist at the Limits of Queer: The Films of Jochen Hick 318
Robert M. Gillett
14 Models of Masculinity in Postwar Germany: The Sissi Films and the West German Wiederbewaffnungsdebatte 341
Nadja Krämer
15 Crossdressing, Remakes, and National Stereotypes: The Germany–Hollywood Connection 379
Silke Arnold-de Simine
Third Movement: Disidentification 405
16 The Aesthetics of Ethnic Cleansing: A Historiographic and Filmic Analysis of Andres Veiel's Balagan 409
Domenica Vilhotti
17 Margarethe von Trotta's Rosenstrasse: "Feminist Re-Visions" of a Historical Controversy 429
Sally Winkle
18 The Baader Oedipus Complex 462
Vojin Saša Vukadinovic´
19 Dislocations: Videograms of a Revolution and the Search for Images 483
Frances Guerin
20 Germany Welcomes Back Its Jews: Go for Zucker! and the Women in German Debate (aka Wiggie-leaks: A Polemical Analysis) 507
Terri Ginsberg
21 Screening the German Social Divide: Aelrun Goette's Die Kinder sind tot 526
David James Prickett
22 A Negative Utopia: Michael Haneke's Fragmentary Cinema 553
Tara Forrest
Index 573
"Any academic library that has students that might get the merest whiff of cinema as part of their curriculum should ensure this work is available to them."  (Reference Reviews, 1 December 2012)
"[T]he carefully constructed essays in [this volume] contribute to elevating this reference book so much more than its component parts could have achieved - much like German cinema itself. It is a volume that contributes significantly to reference works on German cinema, European cinema, and cinematic history. Any academic library that has students that might get the merest whiff of cinema as part of their curriculum should ensure this work is available to them."
- Matt Borg, Sheffield Hallam University, Reference Reviews