A Companion to Greek Mythology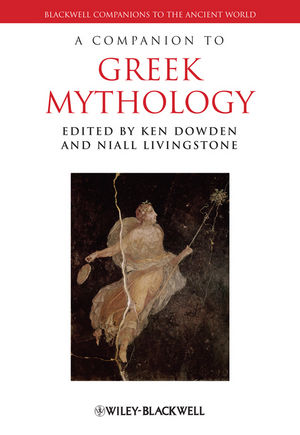 A Companion to Greek Mythology
ISBN: 978-1-405-11178-2
May 2011, Wiley-Blackwell
672 pages
Description
A Companion to Greek Mythology presents a series of essays that explore the phenomenon of Greek myth from its origins in shared Indo-European story patterns and the Greeks' contacts with their Eastern Mediterranean neighbours through its development as a shared language and thought-system for the Greco-Roman world.
Features essays from a prestigious international team of literary experts
Includes coverage of Greek myth's intersection with history, philosophy and religion
Introduces readers to topics in mythology that are often inaccessible to non-specialists
Addresses the Hellenistic and Roman periods as well as Archaic and Classical Greece
Buy Both and Save 25%!
Original Price:$292.90
Purchased together:$219.67
save $73.23
Cannot be combined with any other offers.
List of Illustrations viii
List of Maps xi
List of Tables xii
Notes on Contributors xiii
To the Reader xviii
Acknowledgements xxi
Glossary xxii
Abbreviations xxv
Approaching Myth 1
1 Thinking through Myth, Thinking Myth Through 3
Ken Dowden and Niall Livingstone
PART I Establishing the Canon 25
2 Homer's Use of Myth 27
Françoise Létoublon
3 Telling the Mythology: From Hesiod to the Fifth Century 47
Ken Dowden
4 Orphic Mythology 73
Radcliffe G. Edmonds III
PART II Myth Performed, Myth Believed 107
5 Singing Myth: Pindar 109
Ian Rutherford
6 Instructing Myth: From Homer to the Sophists 125
Niall Livingstone
7 Acting Myth: Athenian Drama 141
Jean Alaux
8 Displaying Myth: The Visual Arts 157
Susan Woodford
9 Platonic 'Myths' 179
Penelope Murray
10 Myth in History 195
Alan Griffiths
PART III New Traditions 209
11 Myth and Hellenic Identities 211
Fritz Graf
12 Names and Places: Myth in Alexandria 227
Anatole Mori
13 The Myth of Rome 243
Matthew Fox
14 Displaying Myth for Roman Eyes 265
Zahra Newby
15 The Myth that Saves: Mysteries and Mysteriosophies 283
Ken Dowden
16 Myth and Death: Roman Mythological Sarcophagi 301
Zahra Newby
17 Myth in Christian Authors 319
Fritz Graf
PART IV Older Traditions 339
18 The Indo-European Background to Greek Mythology 341
Nicholas J. Allen
19 Near Eastern Mythologies 357
Alasdair Livingstone and Birgit Haskamp
20 Levantine, Egyptian, and Greek Mythological Conceptions of the Beyond 383
Nanno Marinatos and Nicolas Wyatt
PART V Interpretation 411
21 Interpreting Images: Mysteries, Mistakes, and Misunderstandings 413
Susan Woodford
22 The Myth of History: The Case of Troy 425
Dieter Hertel
23 Women and Myth 443
Sian Lewis
24 Mythology of the Black Land: Greek Myths and Egyptian Origins 459
Ian Rutherford
25 Psychoanalysis: The Wellspring of Myth? 471
Richard H. Armstrong
26 Initiation: The Key to Myth? 487
Ken Dowden
27 The Semiotics and Pragmatics of Myth 507
Claude Calame, translated by Ken Dowden
PART VI Conspectus 525
28 A Brief History of the Study of Greek Mythology 527
Jan N. Bremmer
Bibliography 549
Index of Texts Discussed 605
Index of Names 613
Index of Subjects 635
"Highly recommended. Upper-division undergraduates and above." (Choice, 1 November 2011)
"This collection of twenty eight articles on interpreting Greco-Roman culture presents a comprehensive, multidisciplinary approach to examining Greek mythology within the broader context of the intellectual and cultural development of the ancient world and provides an in depth discussion of the influence of traditional stories on the development of a shared historical culture." (Book News, 1 August 2011)