A Companion to Heidegger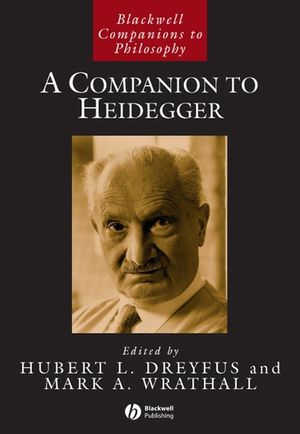 A Companion to Heidegger
ISBN: 978-0-470-99724-6 April 2008 Wiley-Blackwell 560 Pages
Description
The
Blackwell Companion to Heidegger
is a complete guide to the work and thought of Martin Heidegger, one of the most influential philosophers of the twentieth century.


Considers the most important elements of Heidegger's intellectual biography, including his notorious involvement with National Socialism

Provides a systematic and comprehensive exploration of Heidegger's work

One of the few books on Heidegger to cover his later work as well as Being and Time

Includes key critical responses to Heidegger's philosophy

Contributors include many of the leading interpreters of, and commentators on, the work of Heidegger
Table of contents
Notes on Contributors viii
Acknowledgments xii
References xiii
1 Martin Heidegger: An Introduction to His Thought, Work, and Life 1
HUBERT DREYFUS AND MARK WRATHALL
2 The Earliest Heidegger: A New Field of Research 19
JOHN VAN BUREN
3 Heidegger and National Socialism 32
IAIN THOMSON
4 Heidegger and Husserl: The Matter and Method of Philosophy 49
STEVEN GALT CROWELL
5 Heidegger and German Idealism 65
DANIEL O. DAHLSTROM
6 Early Heidegger's Appropriation of Kant 80
BÉATRICE HAN-PILE
7 Heidegger's Nietzsche 102
HANS SLUGA
8 Heidegger and the Greeks 121
CAROL J. WHITE
9 Logic 141
STEPHAN KÄUFER
10 Phenomenology 156
EDGAR C. BOEDEKER JR
11 Heidegger's Philosophy of Science 173
JOSEPH ROUSE
Part II BEING AND TIME 191
12 Dasein 193
THOMAS SHEEHAN
13 Heidegger's Categories in Being and Time 214
ROBERT BRANDOM
14 Early Heidegger on Sociality 233
THEODORE R. SCHATZKI
15 Realism and Truth 248
DAVID R. CERBONE
16 Hermeneutics 265
CRISTINA LAFONT
17 Authenticity 285
TAYLOR CARMAN
18 Human Mortality: Heidegger on How to Portray the Impossible Possibility of Dasein 297
STEPHEN MULHALL
19 Temporality 311
WILLIAM BLATTNER
20 Dasein and "Its" Time 325
PIOTR HOFFMAN
Part III HEIDEGGER'S LATER THOUGHT 335
21 Unconcealment 337
MARK A. WRATHALL
22 Contributions to Philosophy 358
HANS RUIN
23 Ereignis 375
RICHARD POLT
24 The History of Being 392
CHARLES GUIGNON
25 Heidegger's Ontology of Art 407
HUBERT L. DREYFUS
26 Technology 420
ALBERT BORGMANN
27 Heidegger on Language 433
CHARLES TAYLOR
28 The Thinging of the Thing: The Ethic of Conditionality in Heidegger's Later Work 456
JAMES C. EDWARDS
29 The Truth of Being and the History of Philosophy 468
MARK B. OKRENT
30 Derrida and Heidegger: Iterability and Ereignis 484
CHARLES SPINOSA
31 Heidegger, Contingency, and Pragmatism 511
RICHARD RORTY
Index 533
Reviews
"The 31 essays in this volume make an important, illuminating contribution to explaining the complexity of Heidegger's thought and the strongly idiomatic nature of his language and conceptual framework. Highly recommended."
Choice<!--end-->
"This volume of papers on Heidegger is unrivalled in its scope and quality … Its comprehensiveness makes it the most useful secondary volume on Heidegger now available."
John Richardson, New York University

Features


A complete guide to the work and thought of Martin Heidegger, one of the most influential philosophers of the twentieth century

Considers the most important elements of Heidegger's intellectual biography, including his notorious involvement with National Socialism

Provides a systematic and comprehensive exploration of Heidegger's work

One of the few books on Heidegger to cover his later work as well as Being and Time

Includes key critical responses to Heidegger's philosophy

Contributors include many of the leading interpreters of, and commentators on, the work of Heidegger