A Companion to Japanese History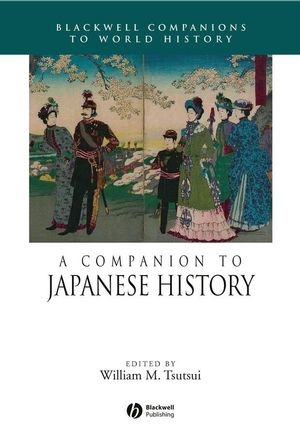 A Companion to Japanese History
ISBN: 978-1-405-19339-9 July 2009 Wiley-Blackwell 632 Pages
Description
A Companion to Japanese History provides an authoritative overview of current debates and approaches within the study of Japan's history.

Composed of 30 chapters written by an international group of scholars

Combines traditional perspectives with the most recent scholarly concerns

Supplements a chronological survey with targeted thematic analyses

Presents stimulating interventions into individual controversies
Buy Both and Save 25%!
Original Price:$129.90
Purchased together:$97.43
save $32.47
Cannot be combined with any other offers.
List of Maps viii
Notes on Contributors ix
Introduction 1
William M. Tsutsui
PART I JAPAN BEFORE 1600 11
1 Japanese Beginnings 13
Mark J. Hudson
2 The Heian Period 30
G. Cameron Hurst III
3 Medieval Japan 47
Andrew Edmund Goble
PART II EARLY MODERN JAPAN 67
4 Unification, Consolidation, and Tokugawa Rule 69
Philip C. Brown
5 Social and Economic Change in Tokugawa Japan 86
Edward E. Pratt
6 Intellectual Change in Tokugawa Japan 101
Peter Nosco
7 Cultural Developments in Tokugawa Japan 117
Lawrence E. Marceau
PART III MODERN JAPAN: FROM THE MEIJI RESTORATION THROUGH WORLD WAR II 137
8 Restoration and Revolution 139
James L. Huffman
9 Oligarchy, Democracy, and Fascism 156
Stephen S. Large
10 Social and Economic Change in Prewar Japan 172
Mark Jones and Steven Ericson
11 Intellectual Life, Culture, and the Challenge of Modernity 189
Elise K. Tipton
12 External Relations 207
Frederick R. Dickinson
13 The Japanese Empire 224
Y. Tak Matsusaka
14 The Fifteen-Year War 241
W. Miles Fletcher III
PART IV JAPAN SINCE 1945 263
15 The Occupation 265
Mark Metzler
16 Postwar Politics 281
Ray Christensen
17 The Postwar Japanese Economy 299
Bai Gao
18 Postwar Society and Culture 315
Wesley Sasaki-Uemura
19 Japan in the World 333
Glenn D. Hook
PART V THEMES IN JAPANESE HISTORY 349
20 Women and Sexuality in Premodern Japan 351
Hitomi Tonomura
21 Gender and Sexuality in Modern Japan 372
Sally A. Hastings
22 Class and Social Stratification 389
Ian Neary
23 Japan in Asia 407
Leo Ching
24 Center and Periphery in Japanese Historical Studies 424
Michael Lewis
25 Modernity, Water, and the Environment in Japan 443
Gavan McCormack
26 Popular Culture 460
E. Taylor Atkins
27 Rural Japan and Agriculture 477
Eric C. Rath
28 Business and Labor 493
Charles Weathers
29 Authority and the Individual 511
J. Victor Koschmann
30 National Identity and Nationalism 528
Kevin M. Doak
Consolidated Bibliography 545
Index 593
"William M. Tsutsui introduces A C:oml~anion to Japanese History as an ambitious snapshot of Japan studies since the breakdown of the authority of modernization theory in the last half of the twentieth century." (Journal of World History, June 2010)
"The well-written contributions, which blend together skillfully to form a unified whole, reflect the authors' authoritative knowledge of Japan … As a one-volume tour-de-force of Japanese history, this book stands out." (
American Reference Books Annual
)
A Choice Outstanding Academic Title for 2007
"Tsutsui has edited an invaluable and authoritative overview of current scholarship on the history of Japan. The 30 chapters, written by an international group of scholars, provide balanced treatment of traditional themes with coverage of recent trends, debates, and emerging perspectives … Essential. All levels/libraries." (Choice)
"A vital reference tool for a large reference or academic library, providing a much needed fresh approach to the subject areas covered." (Reference Reviews)


An authoritative overview of current debates and approaches within the study of Japan's history

Composed of 30 chapters written by an international group of scholars

Combines traditional perspectives with the most recent scholarly concerns

Supplements a chronological survey with targeted thematic analyses

Presents stimulating interventions into individual controversies