A Companion to Latin American Philosophy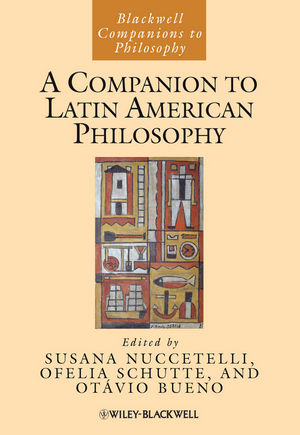 A Companion to Latin American Philosophy
ISBN: 978-1-118-59261-8
Apr 2013
576 pages
Description
This comprehensive collection of original essays written by an international group of scholars addresses the central themes in Latin American philosophy.
Represents the most comprehensive survey of historical and contemporary Latin American philosophy available today
Comprises a specially commissioned collection of essays, many of them written by Latin American authors
Examines the history of Latin American philosophy and its current issues, traces the development of the discipline, and offers biographical sketches of key Latin American thinkers
Showcases the diversity of approaches, issues, and styles that characterize the field
Buy Both and Save 25%!
Original Price:$102.90
Purchased together:$77.18
save $25.72
Cannot be combined with any other offers.
About the Editors viii
Contributors ix
Acknowledgments xiii
Introduction 1
Part I Historical Perspectives 7
1 Pre-Columbian Philosophies 9
James Maffie
2 The Rights of the American Indians 23
Bernardo J. Canteñs
3 Colonial Thought 36
Luis Fernando Restrepo
4 The Emergence and Transformation of Positivism 53
Meri L. Clark
5 Early Critics of Positivism 68
Oscar R. Martí
6 The Anti-Positivist Movement in Mexico 82
Guillermo Hurtado
7 Darwinism 95
Adriana Novoa and Alex Levine
8 Krausism 110
Claus Dierksmeier
9 'Normal' Philosophy 128
William F. Cooper
10 Ortega y Gasset's Heritage in Latin America 142
Manuel Garrido
11 Phenomenology 156
Nythamar de Oliveira
12 Marxism 170
Renzo Llorente
13 Liberation Philosophy 185
David Ignatius Gandolfo
14 Analytic Philosophy 199
Diana I. Pérez and Gustavo Ortiz-Millán
Part II Current Issues 215
15 Paraconsistent Logic 217
Newton C. A. da Costa and Otávio Bueno
16 Language and Colonization 230
Ilan Stavans
17 Ethnic-Group Terms 241
Susana Nuccetelli and Roderick Stewart
18 Identity and Latin American Philosophy 253
Jorge J. E. Gracia
19 Latinos on Race and Ethnicity: Alcoff, Corlett, and Gracia 269
Lawrence Blum
20 Mestizaje and Hispanic Identity 283
Gregory Velazco y Trianosky
21 Liberation in Theology, Philosophy, and Pedagogy 297
Iván Márquez
22 Philosophy, Postcoloniality, and Postmodernity 312
Ofelia Schutte
23 Globalization and Latin American Thought 327
A. Pablo Iannone
Part III Disciplinary Developments 341
24 Latin American Philosophy 343
Susana Nuccetelli
25 Contemporary Ethics and Political Philosophy 357
Eduardo Rivera-López
26 Philosophy of Science 370
Alberto Cordero
27 Philosophy and Latin American Literature 383
Jesús H. Aguilar
28 Feminist Philosophy 397
Ofelia Schutte and María Luisa Femenías
29 Teaching Philosophy 412
María Cristina González and Noa Stigol
30 Cultural Studies 425
Arturo Arias

31 Deontic Logic and Legal Philosophy 439
Pablo Navarro

32 Metaphysics 454
Liza Skidelsky
33 Epistemology 468
Eleonora Cresto
34 Formal Epistemology and Logic 482
Horacio Arló-Costa and Eduardo Fermé
Part IV Biographical Sketches 497
35 Some Great Figures 499
Gregory D. Gilson and Gregory Fernando Pappas
36 From Philosophy to Physics, and Back 525
Mario Bunge
Index 540
""It will no doubt serve as the field's standard for years to come."" (Hum Stud, 2011)
""A welcome addition to the growing body of literature on Latin American philosophy. Highly recommended. Upper-level undergraduates through researchers/faculty; general readers."" (Choice, 1 March 2011)