A Companion to Modern European History: 1871-1945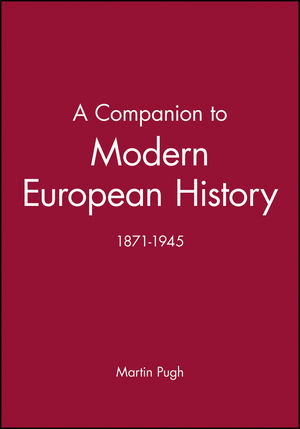 A Companion to Modern European History: 1871-1945
ISBN: 978-0-631-19217-6 October 1997 Wiley-Blackwell 422 Pages
Description
Its sixteen thematic chapters - each written by an expert in the field - cover social and economic developments, the rise and fall of all the major political movements as well as the immense changes generated by war and international diplomacy across Europe.
Table of contents
Tables, Figures, Appendices.
Maps.
Contributors.
Introduction.
Part I: Society and the State.
1. Population: Patterns and Processes. (Michael Drake).
2. Prosperity and Depression: The International Economy. (Sidney Pollard).
3. The State and the Development of Social Welfare. (Rodney Lowe).
4. Leisure and Society in Europe, 1871-1945. (Lynn Abrams).
Part II: Political Movements and Ideologies.
5. Conservatism and Nationalism. (E. J. Feuchtwanger).
6. The Dilemmas of Liberalism. (Eugenio Biagini).
7. Socialist Parties and Policies. (Duncan Tanner).
8. The Rise of European Feminism. (Martin Pugh).
9. Revolutionary Europe. (James D. White).
10. European Fascism. (Richard Thurlow).
Part III: Diplomacy, Defence and War.
11. European Diplomacy, 1871-1914. (Keith Wilson).
12. European Imperialism, 1871-1945. (David Omissi).
13. The First World War as Total War. (Gerard J. DeGroot).
14. Warfare and National Defence. (David French).
15. Appeasement. (P. M. H. Bell).
16. The Second World War. (A. W. Purdue).
Chronology.
Biographies.
Guide to Further Reading.
Index.
What's New
* Provides an analytical, historiographical and thematic companion to the period.
* Offers a bridge between introductory survey courses and library and research work of advanced students.
* Covers social, economic and intellectual movements as well as politics and international affairs.
* Supported by biographies of the major figures, a guide to further reading, and a chronology of the main events.