A Companion to Plato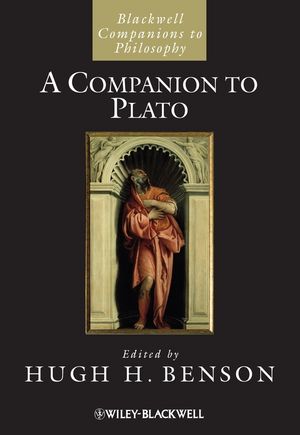 A Companion to Plato
ISBN: 978-0-470-99625-6 November 2007 Wiley-Blackwell 496 Pages
Description
This broad-ranging
Companion
comprises original contributions from leading Platonic scholars and reflects the different ways in which they are dealing with Plato's legacy.
Covers an exceptionally broad range of subjects from diverse perspectives


Contributions are devoted to topics, ranging from perception and knowledge to politics and cosmology


Allows readers to see how a position advocated in one of Plato's dialogues compares with positions advocated in others


Permits readers to engage the debate concerning Plato's philosophical development on particular topics


Also includes overviews of Plato's life, works and philosophical method

Table of contents
Notes on Contributors viii
Preface xii
Abbreviations xiv
1 The Life of Plato of Athens 1
DEBRA NAILS
2 Interpreting Plato 13
CHRISTOPHER ROWE
3 The Socratic Problem 25
WILLIAM J. PRIOR
Part I PLATONIC METHOD AND THE DIALOGUE FORM 37
4 Form and the Platonic Dialogues 39
MARY MARGARET MCCABE
5 The Socratic Elenchus 55
CHARLES M. YOUNG
6 Platonic Definitions and Forms 70
R. M. DANCY
7 Plato's Method of Dialectic 85
HUGH H. BENSON
Part II PLATONIC EPISTEMOLOGY 101
8 Socratic Ignorance 103
GARETH B. MATTHEWS
9 Plato on Recollection 119
CHARLES KAHN
10 Plato: A Theory of Perception or a Nod to Sensation? 133
DEBORAH K. W. MODRAK
11 Knowledge and the Forms in Plato 146
MICHAEL FEREJOHN
Part III PLATONIC METAPHYSICS 163
12 The Forms and the Sciences in Socrates and Plato 165
TERRY PENNER
13 Problems for Forms 184
MARY LOUISE GILL
14 The Role of Cosmology in Plato's Philosophy 199
CYNTHIA FREELAND
15 Plato on Language 214
DAVID SEDLEY
16 Plato and Mathematics 228
MICHAEL J. WHITE
17 Platonic Religion 244
MARK L. MCPHERRAN
Part IV PLATONIC PSYCHOLOGY 261
18 The Socratic Paradoxes 263
THOMAS C. BRICKHOUSE and NICHOLAS D. SMITH
19 The Platonic Soul 278
FRED D. MILLER, JR.
20 Plato on Eros and Friendship 294
C. D. C. REEVE
21 Plato on Pleasure as the Human Good 308
GERASIMOS SANTAS
Part V PLATONIC ETHICS, POLITICS, AND AESTHETICS 323
22 The Unity of the Virtues 325
DANIEL DEVEREUX
23 Plato on Justice 341
DAVID KEYT
24 Plato's Concept of Goodness 356
NICHOLAS WHITE
25 Plato on the Law 373
SUSAN SAUVÉ MEYER
26 Plato and the Arts 388
CHRISTOPHER JANAWAY
Part VI PLATONIC LEGACY 401
27 Learning about Plato from Aristotle 403
CHRISTOPHER SHIELDS
28 Plato and Hellenistic Philosophy 418
A. A. LONG
29 Plato's Influence on Jewish, Christian, and Islamic Philosophy 434
SARA AHBEL-RAPPE
Index 452
Reviews
"The essays are generally well-written, informative and thought-provoking, and the collection as a whole is aptly designed to bring a reader face to face with the major themes in the current discussion of Plato's philosophy." (
The Classical Review
, 2008)
"This hefty volume differs from many anthologies on Plato in its comprehensiveness...The essays represent recent scholarship on Plato, with bibliographical references at the end of each essay to literature almost exclusively within the last 50 years...To a lover of Plato, another volume of essays on his thought is always welcome." (Choice)
"A work avowedly for the philosopher and the student philosopher, but accessible too by other students, this will be a welcome addition in a wide range of libraries from undergraduate level upwards." (Reference Reviews)
Features
Comprises original contributions from some of the best Platonic scholars in the world
Reflects the various ways in which today's philosophers are dealing with Plato's legacy
Covers an exceptionally broad range of subjects from diverse perspectives
Contributions are devoted to topics, ranging from perception and knowledge to politics and cosmology
Allows readers to see how a position advocated in one of Plato's dialogues compares with positions advocated in others
Permits readers to engage the debate concerning Plato's philosophical development on particular topics
Also includes overviews of Plato's life, works and philosophical method