A Companion to Political Geography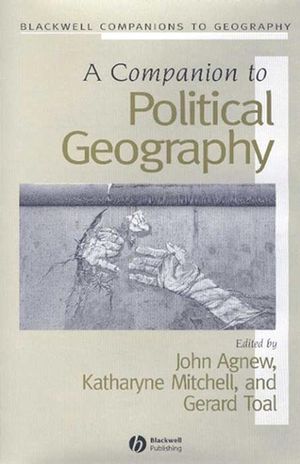 A Companion to Political Geography
ISBN: 978-0-470-99893-9 April 2008 Wiley-Blackwell 512 Pages
Description
A Companion to Political Geography
presents students and researchers with a substantial survey of this active and vibrant field.


Introduces the best thinking in contemporary political geography.

Contributions written by scholars whose work has helped to shape the discipline.

Includes work at the cutting edge of the field.

Covers the latest theoretical developments.
Table of contents
List of Contributors.
1. Introduction (Katharyne Mitchell (University of Washington) and Gerard Toal (Virginia Tech).
Part I: Modes of Thinking:.
2. Politics from Nature (Mark Bassin (University College London).
3. Spatial Analysis in Political Geography (John O'Loughlin (University of Colorado).
4. Radical Political Geographies (Peter J. Taylor (Loughborough University).
5. Feminist and Postcolonial Engagements (Joanne P. Sharp (University of Glasgow).
6. Geopolitical Themes and Postmodern Thought (David Slater (Loughborough University).
Part II: Essentially Contested Concepts:.
7. Power (John Allen (The Open University).
8. Territory (Anssi Paasi (University of Oulu).
9. Boundaries (David Newman (Ben Guriion University of the Negev).
10. Scale (Richard Howitt (Macquarie University).
11. Place (Lynn A. Staeheli (University of Colorado).
Part III: Critical Geopolitics:.
12. Imperial Geopolitics (Gerry Kearns (University of Cambridge).
13. Geopolitics in Germany, 1919-45 (Wolfgang Natter (University of Kentucky).
14. Cold War Geopolitics (Klaus Dodds (Royal Holloway University of London).
15. Postmodern Geopolitics (Timothy W. Luke (Virginia Polytechnic Institute and State University).
16. Anti-Geopolitics (Paul Routledge (University of Glasgow).
Part IV: States, Territory, and Identity:.
17. After Empire (Vladimir Kolossov (Institute of Geography of the Russian Academy of Sciences).
18. Nation-States (Michael J. Shapiro (University of Hawaii).
19. Places of Memory (Karen E. Till (University of Minnesota).
20. Boundaries in Question (Sankaran Krishna (University of Hawaii).
21. Entreprenurial Geoegraphies of Global-Local Governance (Matthew Sparke and Victoria Lawson (University of Washington).
Part V: Geographies of Political and Social Movements:.
22. Representative Democracy and Electoral Geography (Ron Johnson (University of Bristol) and Charles Pattie (University of Sheffield).
23. Nationalism in a Democratic Context (Colin H. Williams (University of Wales).
24. Fundamentalist and Nationalist Religious Movements (R. Scott Appleby (University of Notre Dame).
25. Rights and Citizenship (Eleonore Kofman (Nottingham Trent University).
26. Sexual Politics (Gill Valentine (University of Sheffield).
Part VI: Geographies of Environmental Politics:.
27. The Geopolitics of Nature (Noel Castree (University of Manchester).
28. Green Geopolitics (Simon Dalby (Carleton University).
29. Environmental Justice (Brendan Gleeson (University of Western Sydney) and Nicholas Low (University of Melbourne).
30. Planetary Politics (Karen T. Litfin (University of Washington).
Index
Reviews
"This book brings together some of the best writers currently working in political geography. It offers a wonderful array of challenging and provocative ideas. It pushes the boundaries of the subject by engaging with many of the key debates in contemporary social and political theory and research. Agnew, Mitchell and Toal are to be congratulated on setting an exciting and innovative agenda for the development of political geography in the future."
Joe Painter, University of Durham <!--end-->
"This is a book that simply exudes authority. It is an excellent buy that will satisfy a broad readership within and outside political geography from advanced undergraduate level upwards."
Simon Barrett, Reference Reviews

"I encourage anyone with an interest in political geography to purchase this book... There is a need for more books like this in political geography."
Progress in Human Geography
What's New


Introduces a wide-variety of crucial themes and developments in contemporary political geography

Contributions written by prominent scholars whose work has helped to shape the discipline and define directions for further research

Includes key debates and controversies at the cutting edge of the field