A Companion to Post-1945 America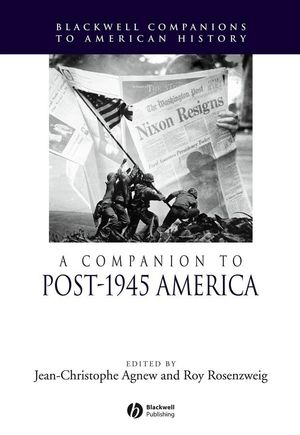 A Companion to Post-1945 America
ISBN: 978-0-470-99620-1 November 2007 Wiley-Blackwell 608 Pages
Description
A Companion to Post-1945 America is an original collection of 34 essays by key scholars on the history and historiography of Post-1945 America.
Covers society and culture, people and movements, politics and foreign policy
Surveys and evaluates the best scholarship on every important era and topic
Includes book review section on essential readings
List of Illustrations viii
About the Contributors ix
Introduction xiii
PART I SOCIETY AND CULTURE 1
1 Family and Demography in Postwar America: A Hazard of New Fortunes? 3
Stephen Lassonde
2 The Power of Place: Race, Political Economy, and Identity in the Postwar Metropolis 20
Robert O. Self and Thomas J. Sugrue
3 American Religion Since 1945 44
James T. Fisher
4 Time Out: Leisure and Tourism 64
Susan G. Davis
5 Mass Media: From 1945 to the Present 78
Susan J. Douglas
6 What the Traffic Bares: Popular Music "Back in the USA" 96
Allen Tullos
7 The Visual Arts in Post-1945 America 113
Erika Doss
8 American Intellectual History and Social Thought Since 1945 134
Patrick N. Allitt
PART II PEOPLE AND MOVEMENTS 153
9 American Political Culture Since 1945 155
Richard H. King
10 Hyphen Nation: Ethnicity in American Intellectual and Political Life 175
Matthew Frye Jacobson
11 Labor During the American Century: Work, Workers, and Unions Since 1945 192
Joshua B. Freeman
12 The Historiography of the Struggle for Black Equality Since 1945 211
Kevin Gaines
13 Postwar Women's History: The "Second Wave" or the End of the Family Wage? 235
Nancy MacLean
14 Sexuality and the Movements for Sexual Liberation 260
Beth Bailey
15 A Movement of Movements: The Definition and Periodization of the New Left 277
Van Gosse
16 The Triumph of Conservatives in a Liberal Age 303
David L. Chappell
17 Modern Environmentalism 328
Ian Tyrrell
PART III POLITICS AND FOREIGN POLICY 343
18 Beyond the Presidential Synthesis: Reordering Political Time 345
Julian E. Zelizer
19 McCarthyism and the Red Scare 371
Ellen Schrecker
20 The Politics of "The Least Dangerous Branch": The Court, the Constitution, and Constitutional Politics Since 1945 385
Mary L. Dudziak
21 The Cold War in Europe 406
Carolyn Eisenberg
22 Off the Beach: The United States, Latin America, and the Cold War 426
Greg Grandin
23 The United States and East Asia in the Postwar Era 446
James I. Matray
24 Washington Quagmire: US Presidents and the Vietnam Wars –A Pattern of Intervention 464
David Hunt
25 The End of the Cold War 479
David S. Painter and Thomas S. Blanton
26 From the "Atomic Age" to the "Anti-Nuclear Age": Nuclear Energy in Politics, Diplomacy, and Culture 501
J. Samuel Walker
PART IV ESSENTIAL READING 519
27 J. Anthony Lukas, Common Ground: A Turbulent Decade in the Lives of Three American Families (1985) 521
Alan Brinkley
28 Charles Payne, I've Got the Light of Freedom (1995) 525
Linda Gordon
29 Samuel Lubell, The Future of American Politics (1952, 1956, 1965) 529
Nelson Lichtenstein
30 Stephanie Coontz, The Way We Never Were (1992) 534
Elaine Tyler May
31 Alphonso Pinkney, The Myth of Black Progress (1984) 537
Robert E. Weems, Jr.
32 Garry Wills, Nixon Agonistes: The Crisis of the Self-Made Man (1970) 540
Robert Westbrook
33 Victor Navasky, Naming Names (1980) 545
Jon Wiener
34 Edward Said, Orientalism (1978) 550
Melani McAlister
Index 557
"These 34 valuable essays review the current state of historical research on a wide range of issues and contribute to the scholarly study of US history following World War II. The issues reflect the diverse directions that historical inquiry has recently taken … This book will help define the new historiography: highly recommended."
Choice
"This is a gem of a book that will fascinate anyone whose interest in recent US history goes beyond nostalgia and personalities. Broad enough to cover both tourism and the Cold War, it will quickly become required reading for scholars of the period." Michael Kazin, Georgetown University and co-author, America Divided: The Civil War of the 1960s


Contains 34 original essays by leading experts in Post-1945 American history.

Covers society and culture, people and movements, politics and foreign policy.

Surveys and evaluates the best scholarship on every important era and topic.

Includes a book review section on essential readings.