A Companion to Restoration Drama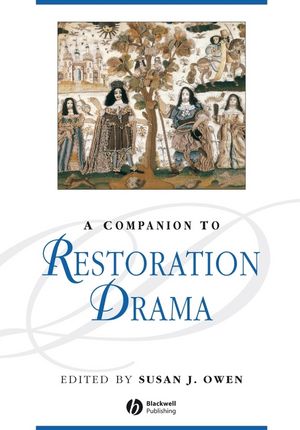 A Companion to Restoration Drama
ISBN: 978-0-631-21923-1
Jan 2002, Wiley-Blackwell
476 pages
Description
This Companion illustrates the vitality and diversity of dramatic work 1660 to 1710. Twenty-five essays by leading scholars in the field bring together the best recent insights into the full range of dramatic practice and innovation at the time.



Introduces readers to the recent boom in scholarship that has revitalised Restoration drama

Explores historical and cultural contexts, genres of Restoration drama, and key dramatists, among them Dryden and Behn
About the Contributors viii
Preface and Acknowledgements xii
PART I The Drama in Context 1
1 The Post-1660 Theatres as Performance Spaces 3
Edward A.. Langhans
2 Restoration Dramatic Theory and Criticism 19
Paul D. Cannan
3 Theatrical Regulation during the Restoration Period 36
Matthew J. Kinservik
4 Libertinism and Sexuality 53
Maximillian E. Novak
5 The Restoration Actress 69
Deborah Payne Fisk
6 Masculinity in Restoration Drama 92
Laura J. Rosenthal
7 Images of Monarchy on the Restoration Stage 109
Jessica Munns
8 Restoration Drama and Politics: An Overview 126
Susan J. Owen
9 Restoration Drama and Social Class 140
Aparna Dharwadker
10 Race, Performance and the Silenced Prince of Angola 161
Mita Choudhury
11 Restoration Drama after the Restoration: The Critics, the Repertory and the Canon 177
Brian Corman
PART II Kinds of Drama 193
12 Heroic Drama and Tragicomedy 195
Derek Hughes
13 Restoration Comedy 211
J. Douglas Canfield
14 Tragedy and Varieties of Serious Drama 228
Jean I. Marsden
15 London Theatre Music, 1660-1719 243
Todd S. Gilman
16 Shakespeare and Other Adaptations 274
Sandra Clark
17 Rakes, Wives and Merchants: Shifts from the Satirical to the Sentimental 291
Kirk Combe
PART III Dramatists 309
18 William Davenant and John Dryden 311
Richard Kroll
19 'Still on the Criminal's Side, against the Innocent': Etherege, Wycherley and the Ironies of Wit 326
Robert Markley
20 'Who Vices Dare Explode': Thomas Shadwell, Thomas Durfey and Didactic Drama of the Restoration 340
Christopher J. Wheatley
21 Otway, Lee and the Restoration History Play 355
Paulina Kewes
22 Elkanah Settle, John Crowne and Nahum Täte 378
Don-John Dugas
23 Two Female Playwrights of the Restoration: Aphra Behn and Susanna Centlivre 396
Cynthia Lowenthal
24 William Congreve and Thomas Southerne 412
Miriam Handley
25 Sir John Vanbrugh and George Farquhar in the Post-Restoration Age 429
John Bull
Index 446
"The book will serve its audience very well, and those needing further guidance will profit from the list of further reading at the end of each essay. Highly recommended for academic libraries, the volume will be especially helpful to upper-division undergraduate and graduate students."
Choice
"[...] the riches of Susan Owen's book are sufficient to ensure it a place on anyone's list of essential reading on Restoration Drama."
Notes and Queries


Illustrates the vitality and diversity of dramatic work between 1660 to 1710 in twenty five essays by leading scholars

Brings together the best recent insights into the range of dramatic practice in this period

Introduces readers to the recent boom in scholarship that has revitalised Restoration drama

Explores historical and cultural contexts, genres of Restoration drama, and key dramatists, among them Dryden and Behn