A Companion to Tudor Britain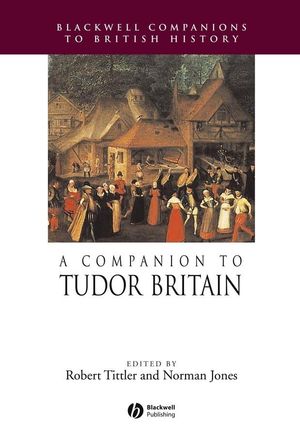 A Companion to Tudor Britain
ISBN: 978-1-405-13740-9 April 2008 Wiley-Blackwell 608 Pages
Description
A Companion to Tudor Britain provides an authoritative overview of historical debates about this period, focusing on the whole British Isles.
An authoritative overview of scholarly debates about Tudor Britain
Focuses on the whole British Isles, exploring what was common and what was distinct to its four constituent elements
Emphasises big cultural, social, intellectual, religious and economic themes
Describes differing political and personal experiences of the time
Discusses unusual subjects, such as the sense of the past amongst British constituent identities, the relationship of cultural forms to social and political issues, and the role of scientific inquiry
Bibliographies point readers to further sources of information
List of Plates x
List of Maps xi
Notes on Contributors xiii
Preface and Acknowledgements xvii
Introduction 1
Robert Tittler and Norman Jones
Part I Government and Politics.
Introduction 9
1 The Establishment of the Tudor Dynasty 13
David Grummitt
2 The Rise of the Tudor State 29
Joseph S. Block
3 Elizabethan Government and Politics 44
David Dean
4 The Court 61
Retha Warnicke
5 Law 77
DeLloyd J. Guth
6 County Government in England 98
Steve Hindle
7 Town and City Government 116
Catherine F. Patterson
8 Centre and Periphery in the Tudor State 133
Steven G. Ellis
9 Politics and Government of Scotland 151
Jenny Wormald
10 Anglo-Scottish Relations: Security and Succession 167
Jane E. A. Dawson
11 Britain and the Wider World 182
David Potter
Part II Belief.
Introduction 203
12 Traditional Religion 207
Ben R. McRee
13 The Dissolutions and their Aftermath 221
Peter Cunich
14 Religious Settlements 238
Norman Jones
15 Catholics and Recusants 254
William Sheils
16 The Protestant Opposition to Elizabethan Religious Reform 271
Peter Iver Kaufman
17 The Scottish Reformation 289
Michael Graham
Part III People and Groups.
Introduction 309
18 Rural Economy and Society 311
R. W. Hoyle
19 The Urban Economy 330
Alan Dyer
20 Metropolitan London 347
Joseph P. Ward
21 Society and Social Relations in British Provincial Towns 363
Robert Tittler
22 Women in the British Isles in the Sixteenth Century 381
Anne Laurence
Part IV Culture.
Introduction 403
23 Senses of the Past in Tudor Britain 407
Daniel Woolf
24 Tudor Drama, Theatre and Society 430
Alexandra F. Johnston
25 Portraiture, Politics and Society 448
Robert Tittler
26 Architecture, Politics and Society 470
Malcolm Airs
27 Music, Politics and Society 492
John Milsom
28 Science and Technology 509
Lesley B. Cormack
Bibliography 526
Index 563
An authoritative overview of scholarly debates about Tudor Britain
Focuses on the whole British Isles, exploring what was common and what was distinct to its four constituent elements
Emphasises big cultural, social, intellectual, religious, and economic themes
Describes differing political and personal experiences of the time
Discusses unusual subjects, such as the sense of the past amongst British constituent identities, the relationship of cultural forms to social and political issues, and the role of scientific inquiry
Bibliographies point readers to further sources of information