A Companion to William Faulkner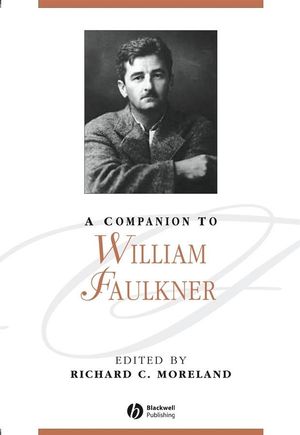 A Companion to William Faulkner
ISBN: 978-0-470-99688-1 November 2007 Wiley-Blackwell 552 Pages
Description
This comprehensive Companion to William Faulkner reflects the current dynamic state of Faulkner studies.
Explores the contexts, criticism, genres and interpretations of Nobel Prize-winning writer William Faulkner, arguably the greatest American novelist
Comprises newly-commissioned essays written by an international contributor team of leading scholars
Guides readers through the plethora of critical approaches to Faulkner over the past few decades
Draws upon current Faulkner scholarship, as well as critically reflecting on previous interpretations
Table of contents
Notes on Contributors viii
Acknowledgments xiv
Introduction 1
Richard C. Moreland
PART I Contexts 5
1 A Difficult Economy: Faulkner and the Poetics of Plantation Labor 7
Richard Godden
2 "We're Trying Hard as Hell to Free Ourselves": Southern History and Race in the Making of William Faulkner's Literary Terrain 28
Grace Elizabeth Hale and Robert Jackson
3 A Loving Gentleman and the Corncob Man: Faulkner, Gender, Sexuality, and The Reivers 46
Anne Goodwyn Jones
4 "C'est Vraiment Dégueulasse": Meaning and Ending in A bout de souffle and If I Forget Thee, Jerusalem 65
Catherine Gunther Kodat
5 The Synthesis of Marx and Freud in Recent Faulkner Criticism 85
Michael Zeitlin
6 Faulkner's Lives 104
Jay Parini
PART II Questions 113
7 Refl ections on Language and Narrative 115
Owen Robinson
8 Race as Fact and Fiction in William Faulkner 133
Barbara Ladd
9 "Why Are You So Black?" Faulkner's Whiteface Minstrels, Primitivism, and Perversion 148
John N. Duvall
10 Shifting Sands: The Myth of Class Mobility 165
Julia Leyda
11 Faulkner's Families 180
Arthur F. Kinney
12 Changing the Subject of Place in Faulkner 202
Cheryl Lester
13 The State 220
Ted Atkinson
14 Violence in Faulkner's Major Novels 236
Lothar Hönnighausen
15 An Impossible Resignation: William Faulkner's Post-Colonial Imagination 252
Sean Latham
16 Religion: Desire and Ideology 269
Leigh Anne Duck
17 Cinematic Fascination in Light in August 284
Peter Lurie
18 Faulkner's Brazen Yoke: Pop Art, Modernism, and the Myth of the Great Divide 301
Vincent Allan King
PART III Genres and Forms 319
19 Faulkner's Genre Experiments 321
Thomas L. McHaney
20 "Make It New": Faulkner and Modernism 342
Philip Weinstein
21 Faulkner's Versions of Pastoral, Gothic, and the Sublime 359
Susan V. Donaldson
22 Faulkner, Trauma, and the Uses of Crime Fiction 373
Greg Forter
23 William Faulkner's Short Stories 394
Hans H. Skei
24 Faulkner's Non-Fiction 410
Noel Polk
25 Faulkner's Texts 420
Noel Polk
PART IV Sample Readings 427
26 "By It I Would Stand or Fall": Life and Death in As I Lay Dying 429
Donald M. Kartiganer
27 Faulkner and the Southern Arts of Mystifi cation in Absalom, Absalom! 445
John Carlos Rowe
28 "The Cradle of Your Nativity": Codes of Class Culture and Southern Desire in Faulkner's Snopes Trilogy 459
Evelyn Jaffe Schreiber
PART V After Faulkner 477
29 "He Doth Bestride the Narrow World Like a Colossus": Faulkner's Critical Reception 479
Timothy P. Caron
30 Faulkner, Latin America, and the Caribbean: Infl uence, Politics, and Academic Disciplines 499
Deborah Cohn
31 Faulkner's Continuance 519
Patrick O'Donnell
Index 528
Reviews
"Recommended. Graduate students, researchers, faculty." Choice
Features


A Companion to William Faulkner, arguably the greatest American novelist

Reflects the current dynamic state of Faulkner studies

Written by leading Faulkner scholars

Guides readers through the plethora of critical approaches to Faulkner over the past few decades

Coherently organised around: contexts; questions; genres and forms; sample readings; and responses

Combines demonstrations of current scholarship with critical reflections on previous interpretations.